Nightlife: Gypsy Bar
Downtown venue offers innovative décor, subpar service
Part jellyfish sanctuary, part high-end lounge, part basement dance party replete with sticky floors and plastic cups—Boston's Gypsy Bar is a sensory experience.
The long lines outside the bar on Friday and Saturday nights usually deter us from stopping by, especially during the winter months when the idea of standing outside for at least 20 minutes then having to pay a cover charge proves too much. But on a recent mild Friday evening, we decided to try this Theater District fixture.
Arriving around 11 p.m., we were pleased to see that the line was moving quickly. Bouncers were careful to collect the $10 cover charge. If you want to avoid the cover, arrive before 10 p.m.
The décor alone is worth the wait and the modest fee. The sultry red-tinged lighting inside the front room provides a surreal contrast to the aquariums that line the wall behind the bar. The tanks' jellyfish add a brilliant touch to the ambiance, something you won't find in a typical bar-lounge setting.
While the main bar itself wasn't crowded the night we stopped by, attempting to get a bartender's attention proved to be an ordeal. We spent 10 minutes trying to flag down one of the two bartenders. Finally, our aggravated glances and impatient waving caught a server's attention and we were able to order. Patrons should come prepared to wait. And the drinks aren't cheap. A basic vodka tonic or whiskey sour, with house, not premium liquor, will run you $9.50.
Drinks finally in hand, we made our way toward the dance floor and soon discovered why all beverages at Gypsy Bar are served in plastic cups. Approaching the dance floor, the lounge-like atmosphere gave way to a full-blown club. One of the bar's resident DJs—three rotate from night to night—played a surprisingly original top-40 mash-up that kept the dance floor packed until the 2 a.m. closing.
Although the dance floor's square footage is more than adequate, the hoard of people dancing sent drinks flying everywhere—thus necessitating plastic tumblers. The floor around us was littered with discarded cups, some empty, some still half full, making walking through the crowd treacherous. When the soles of your shoes weren't stuck to the floor, you were slipping every which way. We felt as if we were at the House of Blues in the aftermath of a sold-out show, minus the efforts of a cleanup crew.
Gypsy Bar's dance floor is flanked on either side by two bars, but after our earlier frustration attempting to order in the front bar, we decided our patience couldn't handle another round.
A separate room next to the dance floor, featuring couches and tables, offers a more relaxed atmosphere for those wanting to take a break from dancing or needing a chance to dry off and nurse their twisted ankles.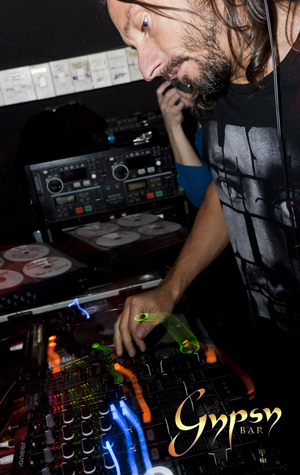 Gypsy Bar, which is 21+ only, also has a number of special events. This Saturday, October 27, it is sponsoring a Ghost Ball, which will include a $1,000 prize for the best Halloween costume. The club also offers semiprivate suites, each accommodating 15 to 25 people. Directly adjacent to the dance floor, each suite is equipped with its own dedicated bar service and security. Suites require advance reservations.
Like many clubs of its kind, Gypsy Bar has a fairly rigorous dress code: no sweats, rugby or polo shirts, sneakers, construction boots, shorts, hats, athletic wear, or excessively baggy clothing are permitted.
While the jellyfish were a sight to see and the music a welcome variation on the predictably tired top-40 mix in a lot of clubs, our recommendation if you're looking for a service-centered or sanitary experience, is that Gypsy Bar is not your place. Come for the ambiance and stay just long enough to keep your clothes Red Bull– and vodka-free.
Gypsy Bar, 116 Boylston St., Boston, is in the Theater District, a two-minute walk from the Boylston T station, directly across from Boston Common. Hours: 6:30 p.m. to 2 a.m. Thursday (front bar only); 8 p.m. to 2 a.m. Friday and Saturday.) It is always 21+. Phone: 617-482-7799. Gypsy Bar accepts all major credit cards.
This is part of a series featuring Boston nightlife venues of interest to the BU community. If you have any suggestions for places we should feature, leave them in the comments section below.
Ashleigh Fryer can be reached at afryer@bu.edu.