Nightlife: BU Central
Student-run, student-centered, and best of all, free
On a recent Thursday night, the GSU basement resonated with the music of Allston band Love in Stockholm. The six band members sporting buttoned-down shirts and wide smiles rocked out under the glow of colored lights for an enthusiastic, dance-happy audience. Armed with horns, guitars, a keyboard, drums, and energetic vocals, they pounded out an irresistible blend of rock, soul, folk, and R&B. Love in Stockholm was one of four bands headlining the BU Central stage that night as part of LIVE: Local Licks, an ongoing series featuring some of Boston's best up-and-coming bands.
BU Central is refreshingly unique among Boston venues. First, its events are free for students with a valid BU ID—including all of its weekend programming. (Students can also bring up to two non-BU guests for free as well). And because it holds no more than 400 people, BU Central offers an intimate and casual setting, which many of the city's clubs don't.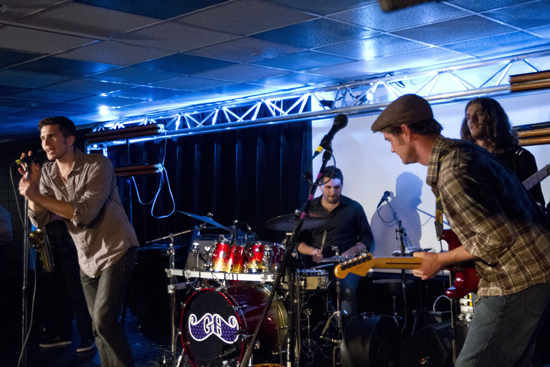 "BU Central is different—and perfect for BU—because our goal is to provide entertainment for BU students, and we really try to center our space around the student community," says Reese Lichtenstein (SED'13), one of the venue's two managers, along with Jake Cox (SMG'14). Lichtenstein says something else makes BU Central unique: "Our entire staff is students—we're student-run and student-centered."
The managers and staff plan events based on their own ideas and suggestions from other students. The space hosts all kinds of programming, including the Adult Spelling Bee, Red Sox Nation, 60 Seconds to Fame, Drag Bingo, and the Dating Game Show, a live version of the classic 1960s television game show that has become an annual Valentine's Day event. BU Central is also an important showcase for student performers. Events like BU for Show (an open mic night for talent from magic acts and stand-up comedy to musical acts and poetry) and competitions like Battle of the Bands and BU's Funniest Student are popular drawing cards for performers and audience alike. Foodies can enjoy Taste of BU, the annual free food night that features samples from local restaurants.
Student groups "plan everything from awards ceremonies to fashion shows and hold events in the space," as well, according to Lichtenstein. It has become so popular that much of its fall calendar is booked by the end of the summer.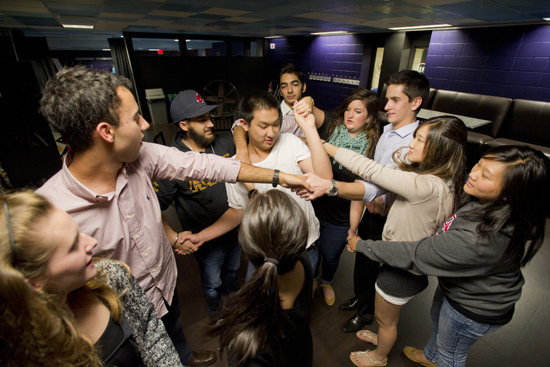 BU Central is also known for bringing big name acts to BU. The LIVE concert series presents four concerts each semester. Among past performers are such popular acts as Chiddy Bang, Dan Deacon, Questlove, Ted Leo, Tokyo Police Club, and Ra Ra Riot.
If all this isn't enough of an incentive to become a regular patron, BU Central plans to soon launch a loyalty program that will offer perks for students who frequent its events. The space is open during the day for people to hang out, listen to music, eat free popcorn, and play board games and pool (coming soon: ping-pong and air hockey).
BU Central is in the basement of the George Sherman Union, 775 Commonwealth Ave. Events are free with your BU ID. Students can bring two guests to any event, space permitting. Visit the BU Central Facebook page here. Check out the fall 2012 event schedule here.
Interested in finding out what BU Central is all about? Stop by tonight, Thursday, October 4, for an open mic night featuring show tunes. Titled Bring Your Own Broadway, it will be hosted by BU's premier musical theater group, On Broadway. Later this month, check out performances by BU a cappella groups the Dear Abbeys and the Bostones, as well as sketch comedy group Slow Children at Play and improv comedy troupe Liquid Fun.
Erin Thibeau can be reached at ethibeau@bu.edu; follow her on Twitter at @erinthibeau.