New Bus Service Caters to College Club-Goers
BU alums' Boston Nightlife Express takes off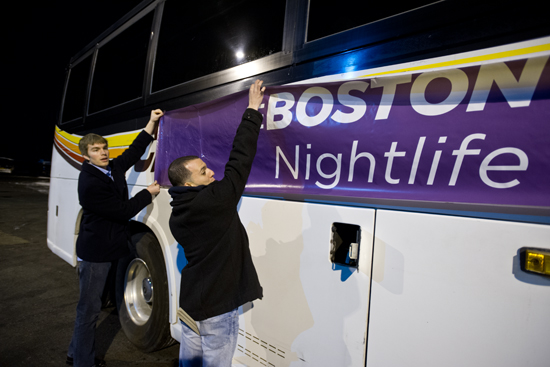 With the thermostat hovering in the 20s last Friday night, BU alums Ryan Kaplan, Eric Pasinski, and Jonathan Castillo gingerly applied a sticky sign the size of a giant toboggan to the side of a charter bus. They were shooting for zero bubbling and a level presentation, and they nailed it. Castillo squeezed out extra air with a yardstick.
"This is the most stressful part of our night," Kaplan (SMG'11) said with a laugh.
That's quite a statement, considering that their new business, Boston Nightlife Express (BNE), involves shuttling buses of college students to and from Boston nightclubs and adhering to tight schedules despite unpredictable traffic—all while wearing the hats of promoter, market researcher, bouncer, and businessman.
BNE launched Veterans Day weekend, initially serving only Boston University students. Having turned a profit by its fourth run, the alumni now provide rides to Emerson College students going to parties in Allston. And this night they have begun service for Endicott College students, busing them from Beverly, Mass., and back, with plans to expand to more universities, like Boston College in late February and Tufts and Brandeis shortly afterwards.
"There's not much to do out there," says Nahant native Pasinski (SAR'11), referring to Endicott. "Kids are dying to get into Boston."
Many of the young entrepreneurs' decisions are made on the fly. Just after 10 p.m., as their driver, Alex Bien-Aimé, inched along Comm Ave in heavy traffic after a men's hockey game, they abruptly changed the pickup spot for their first group, a private party. Pasinski got off the bus in the stop-and-go traffic to corral partygoers as Bien-Aimé made an impressive U-turn.
With the bus parked in front of 1055 Commonwealth Ave., Kaplan joined Pasinski outside as a couple of dozen BU students fumbled for cash or cards to pay. (Private parties pay a negotiated rate per person. Public riders pay $5 each way. That fare falls to $1 for a one-way to Boston after midnight.) Meanwhile Castillo (SMG'11) tinkered with the CD player, coaxing it to blast music as the first customers boarded.
Women in high heels and short skirts clicked up the stairs. Men bounded up in jeans, dress shoes, and button-down shirts. Soon the bus swayed gently as partygoers danced in the aisle.
A roar rose from the crowd as the last guest entered. Dressed in a sleek black suit and black and neon yellow sunglasses, Keshav Agnihotri (SMG'12) was the man of the hour: the bus was taking him and his friends to Umbria in downtown Boston to celebrate his 21st birthday.
This night, the students wanted only one-way transportation. But, Kaplan said, BNE does offer private party packages (around $2,000, depending on the club) that cover round trips and special deals, like an entire floor reservation.
Once everyone was aboard, the BNE cofounders slipped into their business roles. Castillo diligently guided Bien-Aimé, shouting into his ear while referring to his iPhone for directions. Dubbed DJ Smooth, he is also in charge of music and multimedia. During the week, he lives in New York, where he works on another start-up, called Regents Help, which prepares high school students for state-mandated exams. People person Pasinski danced in the aisle with customers. He has a full-time marketing job with American First Aid, a national company that provides first aid and safety training for businesses. And Kaplan, a real estate developer with the Martin Group in Manhattan, kept an eye over it all from the front of the bus. "I'm the one who's going to lose his hair first," he said with a broad grin.
Kaplan and a team of School of Management students hatched the idea for the shuttle service in an entrepreneurship class senior year. Each of the students had horror stories about taxi rides home after a night of clubbing. They were tired of paying exorbitant fares and waiting in the cold for long periods (Kaplan's record is an hour and a half). Their idea was voted best in the class, but only Kaplan wanted to pursue it after graduation. He recruited Pasinski and Castillo (both entrepreneurs and college friends), and the trio began work on BNE last summer.
Looking over the sea of dancing BU students, Kaplan said, "Our customers are always the happiest customers." As if on cue, Agnihotri screamed, "I love you."
"See!" Kaplan said, raising his eyebrows.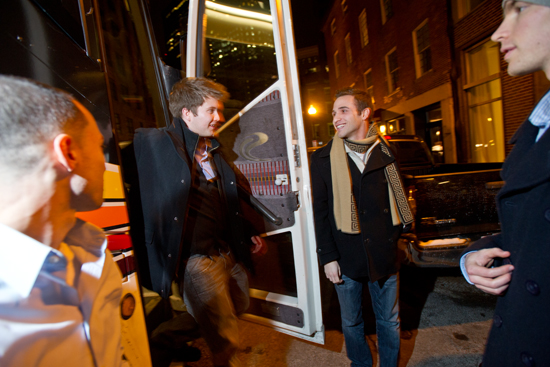 Prodded by Kaplan, Pasinski grabbed the bus microphone as they approached Umbria. He saluted the birthday boy before launching his pitch.
"We are here—time to party!" he crooned in a deep voice. "We are the Boston Nightlife Express. Please check out bnebus.com for our weekly Friday schedule."
After a 20-minute trip, the bus pulled up in front of Umbria and the raucous crowd filed off into the chilly air. Agnihotri found out about the bus service, he said, through a socially connected BU friend, one of several paid BNE promoters.
"It was a blast!" Agnihotri said before joining his long line of friends.
Spreading the word about BNE has been the alums' biggest challenge. SMG lecturer Erik Molander, who taught Kaplan's entrepreneurship class, helped them eventually connect with promoting firm 6one7 Productions, which has a close relationship with Boston clubs and brokered deals with places like Gypsy Bar and the Estate, where BNE customers can avoid lines and get free or reduced entry.
With the Umbria partygoers safely delivered, Castillo turned down the music and Bien-Aimé steered the bus back to the Charles River Campus. "How are we doing on time?" Castillo asked. "I think we're just on time," Kaplan answered.
Sure enough, the bus pulled up in front of the School of Hospitality Administration on schedule at 11:15 p.m. for its only public ride into Boston that night. (Barring a private party booking, the service usually offers two runs into Boston on Friday nights and at least one run back to campus.) Five men—some of them friends of Kaplan's—paid, got on the bus, and sat toward the back. After waiting a couple of minutes, Bien-Aimé began his route to Gypsy Bar.
"All right, you guys," Kaplan said to the small crowd. "You've got a private bus to yourselves."
Castillo kept the music low as he, Pasinski, and Bien-Aimé talked about the New England Patriots' Super Bowl prospects. They still had a final 1:40 a.m. pickup round to go, shuttling Emerson students returning from Allston to Boston and gathering BU students for a final ride back to the Charles River Campus and Harvard Street. That last round, they said, is usually the busiest of the evening.
Whether packed with party revelers or just a few club-goers, BNE is rolling along.