Nerd Girls
Presidential award to ENG alum for mentoring young women
When Karen Panetta graduated from the College of Engineering more than 25 years ago, she recognized two obstacles blocking young women from pursuing and completing undergraduate studies in engineering: a dearth of role models and an abundance of negative media portrayals of engineers as socially inept eggheads. So within a few years of joining the electrical and computer engineering faculty at Tufts University, Panetta (ENG'85) formed Nerd Girls, an innovative program in which teams of female and minority engineering students build their confidence while developing solutions to critical societal challenges and then share their experiences with girls from kindergarten to grade 12. Since 1999, Panetta has personally mentored more than 140 Nerd Girls, and 90 percent have gone on to pursue graduate degrees in engineering.
Leveraging the success of Nerd Girls, Panetta has helped more than 30,000 students and educators across the globe with outreach and mentoring activities so young women can realize their potential to positively affect the world through science, technology, engineering, and mathematics (STEM). And her impact on the next generation of engineers has been honored by the highest office in the land: Panetta was named one of eight recipients of the 2010 and 2011 Presidential Award for Excellence in Science, Mathematics and Engineering Mentoring.
The award, issued to outstanding individuals and organizations at a White House ceremony presided over by President Obama, recognizes the crucial role of mentoring in the academic and personal development of students from elementary to graduate school studying science and engineering, particularly those who belong to groups underrepresented in these fields. The National Science Foundation provides each recipient with $25,000 to advance his or her mentoring efforts.
"This award brings national recognition to the work we've done in dispelling the negative, one-dimensional stereotypes of smart women and enabling a more inclusive environment for women and minorities in science and technology," Panetta says.
Toward that end, she plans to use the money to conduct more Nerd Girls outreach events for inner-city schools and support more community-based Nerd Girls' engineering projects, from designing solar energy systems for a lighthouse to a wireless remote monitoring system.
Panetta was selected for the award based on nominating letters from students, colleagues, and administrators.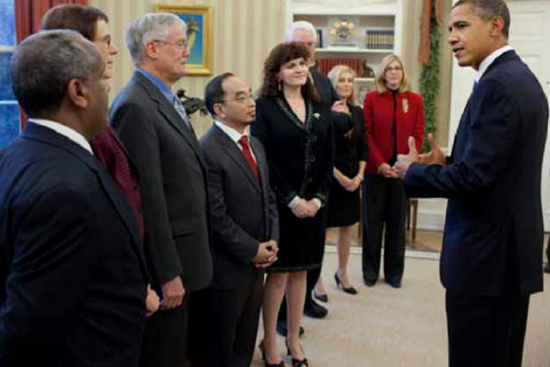 "Karen has been recognized for over a decade as our country's leading expert in innovating successful, low-cost methods for disseminating engineering and science to youth, parents, educators, and the general public to help recruit young women to the STEM disciplines," says Evelyn Hirt, president of the Institute of Electrical and Electronics Engineers–USA (IEEE).
Since graduating from BU, Panetta, now an IEEE Fellow, has supported women in engineering in several positions within that organization, including as Women in Engineering (WIE) worldwide director, WIE committee chair, and WIE Magazine editor-in-chief. She received the 2006 ENG Distinguished Alumni Award for Service to Community and now serves on the ENG Alumni Board.
According to the National Center for Education Statistics, women earned just 13.5 percent of all undergraduate degrees in engineering awarded in 1985 (the year Panetta graduated with a bachelor's in electrical engineering), and 16.5 percent in 2009. This slight improvement over a quarter-century indicates that the need for mentoring programs for women in engineering remains strong.
"When I was a student, there were almost no women in the College of Engineering, and I wanted camaraderie—to build confidence that I wasn't alone in the isolation I sometimes felt as a woman in engineering," says Panetta, the first female electrical engineer given tenure in Tufts' electrical and computer engineering department. "Mentorship has been the most enjoyable part of my job—it's why I became a professor."
Mark Dwortzan can be reached at dwortzan@bu.edu.
A version of this story appeared in the spring 2012 edition of ENGineer.