Murdered GSM Student Identified, Remembered
Kanagala Seshadri Rao recalled as a gentle soul, excellent student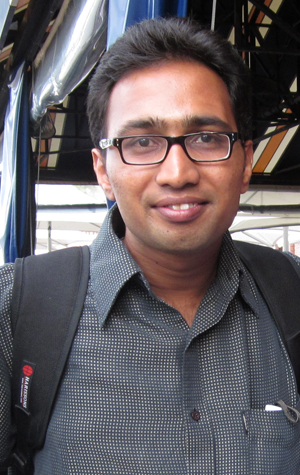 Kanagala Seshadri Rao was a kind-hearted and gifted business student who loved computer games—especially Counter Strike—and seemed happiest when he was writing computer code.
Friends of Rao, a 24-year-old native of India and a student in the Graduate School of Management, offered these recollections as they reeled from the news that he had been found shot to death on an Allston street early Thursday morning.
"He excelled in the classroom," says Kenneth Freeman, the School of Management's Allen Questrom Professor and Dean. "He was admired and respected by his classmates. It's a tremendous loss for his family and for BU. He had a bright future."
"Sesh," as his friends called him, attended the same undergraduate school in India as Lokesh Amarnat Ravindranathan (ENG'11), who remembers Rao (GSM'13) as one of the nicest people he knew. "He was very kind," says Ravindranathan. "He was the kind of person who tries to network and makes others happy. I can't believe that he is no more."
Rao was one of several international students who organized a GSM team to compete in February at a students'  international commodity trading competition in Toronto. "I was impressed by Sesh's knowledge, determination, and willingness to engage in a challenging task," says associate professor of finance Marcel Rindisbacher. "To see him work and succeed in a multicultural team of students is the best a graduate program has to offer."
Rindisbacher, who just weeks ago agreed to be a reference when Rao applied for a summer internship, says that "his tragic death is incomprehensible. I will miss him and remember an exceptional person."
Assistant professor of finance Rodolfo Prieto, who also served as a reference for Rao, recalls the first student email he received for his fixed income securites course this semester, a full month before the first class: "It was Sesh, asking for a detailed list of book references and recommended reading."
"One would always find him smiling and talking with fellow students," Prieto recalls. "I am very saddened by his loss."
Susan Antlitz, assistant director of graduate programs at SMG and adviser to the mathematical finance program in which Rao was enrolled, cited another example of his enterprising spirit: He was one of the few students who volunteered to assist with Commencement.
Police knocked at Rao's apartment, a few minutes from the murder scene, at about 8:15 a.m. on Thursday to notify his two roommates, according to one of the roommates, who requested anonymity. "I'm in a state of shock now," he says. While he didn't know Rao well, he says, "We went out a couple of times. He's from a good undergraduate school in India. He was obviously a smart guy."
Friends from India set up an online tribute page after Rao and his classmates graduated from their undergraduate school. Peppered with internet shorthand ("u" for "you") and affectionate nicknames ("Geekgod"), the page poignantly bids farewells that are now final in a way the writers didn't imagine at the time.
"He is an absolute connoisseur when it comes to gadgets, be it computers, phones," wrote Saurabh Sharma. "And he has legacy of an exceptional knowledge in that field. He is an avid gamer…aims high, plans big and puts in matching efforts to achieve something if he really wants it…altogether a kind-hearted, adorable friend, there for you when u need one the most."
Lalatendu Patra recalled a computer whiz who always had time to share his knowledge and also enjoyed badminton and swimming. "I will cherish all the moments that I have spent [with] him, especially those in Kolkatta during summer training, where I had to jump from a running train because of him. lol. I will miss all his highly technical explanations of extremely nontechnical things."
"Thanks, Shesh, for all your support these years. I am really grateful to have you as my friend. May God fulfill all your dreams and desires."
In a letter sent Thursday to the Boston University community, President Robert Brown wrote that the University is deeply saddened at the loss of one of our students. "Our thoughts and prayers go out to the victim's family and friends," Brown wrote. "And we are outraged at this crime."
Police have not announced suspects or a motive for the killing. Boston police and the Boston University Police Department are investigating.
Leslie Friday can be reached at lfriday@bu.edu. Rich Barlow can be reached at barlowr@bu.edu.