Men's Soccer Opens Tough Season at Home Tomorrow
Terriers set sights on NCAA tournament at-large bid
When the men's soccer Terriers face off against the Brown University Bears tomorrow in the season's home opener, it's with the knowledge that making it to the NCAA tournament isn't going to be easy. Then again, it's never easy.
But the Terriers need a different route than usual to this year's tournament. After Boston University announced plans to leave current athletic conference America East next year and join the Patriot League, the AE invoked its bylaws and banned BU teams from competing in conference championships this season. So the team has set its sights on getting to the tournament by a different route—an at-large bid to the NCAA tournament. Conference champions automatically go to the tournament, but the NCAA invites teams with excellent regular-season records to compete as well. Head coach Neil Roberts is proud of how his team has handled America East's decision and says his players are focused this year.
"It's obviously disappointing when you've got leaders of institutions trying to punish our kids for something they had nothing to do with," Roberts says. "But they've dealt with it well. They know we've got a schedule that can help us get into the tournament without the conference. Our guys are athletes. They just want to compete and compete well every time they go out, so that's all we're worried about right now."
Despite the disappointment, midfielder Anthony Ciccone (CGS'12, SAR'14) points out that because of the America East decision, each member of the team is aware of the critical importance of every game for the team.
"We've got to get a certain amount of points," he says. "We have to get an out-of-conference bid so every game is like an NCAA tournament game from now on."
The team, 1-3-2 so far this season, is looking to bounce back from a disappointing 2011 campaign that saw it finish 9-9. The season ended in the conference championship semifinal with a 1-0 loss to the University of Hartford Hawks, a team the Terriers had beaten earlier in the season. It was their seventh one-goal loss of the year and an unexpected finish for the America East regular season champions.
"I think last year, given the situation we faced having such a young team, we played very well," Roberts says. "We probably ran out of gas towards the end of the year and that maybe had a lot to do with it. I think we've matured from that. We're still young, but we're a more veteran group that's been through it before."
Ciccone sees it the same way. "In my two years here we've lost in the America East tournament, so we're trying to learn from the mistakes we made. We're all a year older and more mature, so that helps."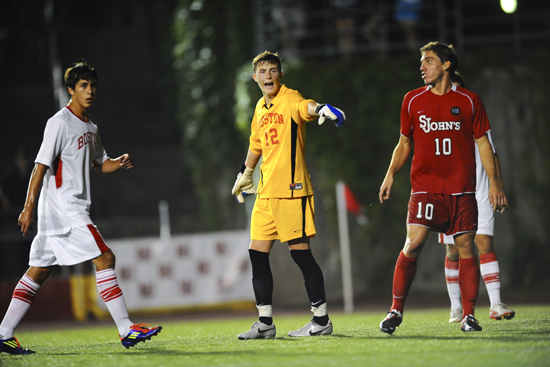 The Terriers hope the return of Michael Bustamante (MET'13) will give them a competitive edge. Bustamante was sidelined all of last season with an injury. One of just two seniors on the squad, along with Max White (CGS'11, MET'13), the Chelsea, Mass., native says he's been anxious to rejoin his teammates on the field.
"It's been a long year of just coming back and working real hard. Being back on the field is definitely the happiest I've been for a while," he says, "so hopefully I can help the guys out, pick up the level of play, and contribute to whatever we need to accomplish this year."
Gaining Bustamante is unfortunately counterbalanced by the loss of 2011 America East Defender of the Year Kelvin Madzongwe (CGS'12, COM'14). A knee injury at the beginning of the season is taking him out for the rest of the regular season. Madzongwe will have surgery on his knee this week, according to Roberts, but will "hopefully be fine for next year."
A native of Magwegwe, Zimbabwe, Madzongwe is eligible to redshirt his junior year and will have two years of NCAA eligibility left after this season. Roberts looks for Sanford Spivey (SMG'15) and goalkeeper Nick Thomson (CGS'13) to fill the void left by the 6-foot-2 Madzongwe. In his first collegiate season last year, Thomson posted a 0.95 goals against average and a .768 save percentage.
The Terriers lost two of last season's key offensive players to graduation, Stephen Knox (COM'12) and Ben Berube (CAS'12). The team is looking to Bustamante and Dominique Badji (CGS'13) to lead the attack. Badji, last year's America East Rookie of the Year, led BU with five goals and three assists last season and was the only Terrier to find the back of the net this year against number-one-ranked North Carolina on September 2.
Even without Madzongwe, Knox, and Berube, Roberts says, his team has put the nation on notice with an upset win August 27 against Boston College, then ranked 11th nationally.
"I think this is a team that's still searching for its identity," he says. "But I think as we go on through the campaign, you're going to see that we have an exciting team to watch and a team that can compete with anybody in the country—we've already shown we can do that."
The BU men's soccer team takes on the Brown University Bears tomorrow, Thursday, September 13, at 7 p.m. at Nickerson Field, 285 Babcock St. Tickets are $5 for the general public, $2 for BU students, faculty, and staff, and free with a sports pass. In a "laundry night" promotion, the first 20 students to arrive will receive 5 pounds of free laundry service courtesy of Lazy Bones Laundry and Storage.
Paul Ryan can be reached at pryan15@bu.edu.