Matchmaker, Matchmaker, Find Me a Room
Student website facilitates room swaps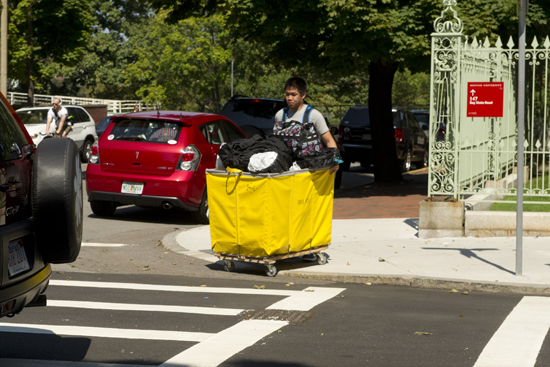 Emily Korman puts the problem delicately: "My roommate and I had very different lifestyles." Beyond that, let's just say that a change of address was advisable.
Korman (CAS'15) went to BU's Housing office last May only to find it swamped with room change seekers. She next searched Facebook, but came up empty. In late summer, Korman turned to BURoomSwap.com, a new-as-of-August site founded by students that provides a detailed database of rooms up for swap, replete with specs about type, location, and price.
Korman is out of her room and now happily living with a friend in Myles Standish Annex. "No one wants to live in HoJo," she says of her transitional housing. "When I joined the website, I started hearing back from people immediately," she says, making her search "a million times easier."
About 400 students have created free accounts with the site so far, and 30 to 40 swap deals have been made, codeveloper Matt Auerbach (CAS'14) says. (Students must still alert Housing and complete necessary paperwork to swap.) Once you have an account, you can start searching the site's database; type in your sex, class, current room arrangements, and five preferences for dorm and/or residence type, and the computer will spit back options fitting your criteria, along with prices. Members uncertain about moving may also search the site see their options without posting their own rooms, as Johnmichael Faustini (SMG'14) did.
While he decided to stay put, "I found the site really easy to use," he says, and he'd return to it if the need to move arose in the future.
The idea for the site came about after a friend of the partners embarked on a frustratingly long hunt for new digs last year. "She did eventually end up swapping, but it took her three and a half months," codeveloper James Molinaro (COM'14) says. "No one wants to be in an awful living situation" that long.
Room swapping through the Housing office requires checking designated bulletin boards or binders in dorms or at the BU housing assignments area, then filling out an application card. BURoomSwap.com's developers say their site lets users sidestep that cumbersome search; once they find a swap through the site, they can go to Housing and complete the necessary paperwork.
University housing director Marc Robillard says his office hasn't computerized its room change process because "the card system has worked well for many years." The University may include an online system in a "future major upgrade" of the whole room assignment process; meanwhile, Robillard commends the student site and predicts "the residence community will find this student-launched system helpful in identifying room swap opportunities."
David Zamojski, director of Residence Life and assistant dean of students, met with one of BURoomSwap's developers and echoes Robillard: "I applaud students who are looking for new ways to assist other students on this front," as long as swappers bear in mind the need to follow the University's protocol once they've found a new room through the website.
Molinaro calls the site "a centralized hub where the sole purpose is to find housing." Searching Facebook, by contrast, can mean that "you're sifting through ads and spam for 10 minutes, and maybe you find a room." Auerbach adds that the site offers additional services; for example, Facebook "doesn't allow you to choose your top five dorm choices." And their site offers a "Best Match" function that matches your criteria for a swap to other students' and suggests your top options. "This is like our best feature," says Auerbach. "This is really, I think, what drives people to the site."
Not that Facebook is all bad: the team publicized its site with a Facebook page, relying also on word of mouth.
"A lot of people used it in August, because summer swap through the Housing office didn't go well, or before they arrived on campus, they wanted to switch somewhere," says Drew Berry (CAS'14), another developer.
Roommate trouble is the number-one reason for swapping, according to a section on the site that queries students about why they didn't like their old rooms. The runner-up is unhappiness with the room itself, from inconvenient location to size to "I've got a double; I really wish I had a single," says Berry.
Other students behind the site are Guy Aridor (CAS'14), Maurice Rahmey (COM'13), and Michael Bronfman, a friend from New York University. The team is currently at work on another site, this one for off-campus sublets.