Legal Fallout from the Rutgers Verdict
Does dumb-kid defense no longer work?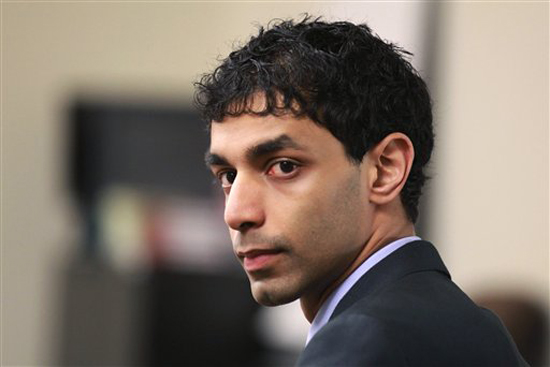 The "jerky kid" defense is dead. Long live the jerky kid defense.
So declare lawyers interviewed by the New York Times after last month's conviction of former Rutgers student Dharun Ravi for using a webcam to spy on his gay roommate with another man. The roommate subsequently killed himself. The verdict, argues these legal minds, repudiates the idea that a defendant's youthful naiveté and foolishness could be used as a defense.
Objection, says David Breen (LAW'90). The School of Law clinical associate professor says it's too soon for sweeping pronouncements about the legal fallout.
After Ravi trained a webcam on his roommate Tyler Clementi kissing another man, and tweeted about it, Clementi leapt off the George Washington Bridge. The jury convicted Ravi not only of invasion of privacy, but also of bias intimidation, raising the prospect that hate crime laws could be applied to cyberbullying and computerized spying, the Times reported. Some critics, meanwhile, argue that hate crime legislation improperly criminalizes thought.
Breen has seen the law from the perspective of teacher, prosecutor (he worked in the Manhattan DA's office in the 1990s), and victim (he was nearly killed by a gunman during a robbery in 1991). BU Today asked him for his take on the Ravi verdict.
BU Today: Do you agree with the rationale for hate crime laws?
Breen: There are groups that have been targeted over the years for hateful and criminal actions—people of color, people from different countries, gays and lesbians. The purpose behind these laws wasn't to criminalize thought or speech, but to give enhanced penalties when the motives behind the crime were due to hate. You rarely see a unanimous Supreme Court, but in 1993, they said you can look at the motive behind the actions. I understand the concern that you're punishing thought or speech, but you're actually not. And actually, they are harder cases to prove.
Do you think the verdict in the Ravi case was sound?
The jury gave serious thought to each of the elements. I'm loath to hear people pontificate when they didn't sit as a juror. From news accounts, it sounds like they were very careful.
One reporter described it as a landmark decision. Do you agree?
I think you need to be careful of hype. Some people thought that this was going to be a not guilty, because "boys will be boys." I wonder if this is a generational issue. We have young people today who live in a video age, where every thought should be put on the internet. I wonder if this verdict will give people pause, an understanding there maybe should be some boundaries in our lives. If it was a jury consisting of college kids, the result might have been very different.
There's no way to get around that this was an invasion of privacy. The facts are pretty bad for the defense. The defense did argue that there really wasn't a motive, that it wasn't a hate situation, but was just him being a jerk, and kids will be kids. This particular jury didn't buy that. It certainly undercuts the argument for future, similar cases; I don't know that we'll never see that again. The gay-panic defense [a generally unsuccessful argument that it was out of fear that a defendant attacked a gay victim who propositioned him] we saw for years.
The reason the kids will be kids defense might not work now is because you have a jury pool that looks at this particular behavior and says, that's pretty egregious. Depending on where we go culturally, it might be that these types of crimes are impossible to get convictions on, because there might be a sense that we have no privacy anymore. As people become older, and they have grown up in this culture of video chat, it might be seen to them that there is no realm of privacy. We're not there yet.
You think it's premature to judge that the dumb-kid defense is dead?
I do. I don't think one case makes for a trend.
Will the Ravi conviction bolster the number of hate crime prosecutions and the legal case for them?
It's hard to say. Every state has different laws. I feel like this was a fairly unique case. It may serve as a notice to people who might have bias motives. Maybe they'll refrain from doing things. It's one thing to invade your own privacy and put your own actions on YouTube. It's quite another to do it to someone else.