Inquiring Minds: Making Exercise Fun
Don't just take the stairs—write on them
Boston University's Undergraduate Research Opportunities Program (UROP) has supported the research of more than 1,500 students since 1997. This academic year alone, under the direction of Thomas Gilmore, a College of Arts & Sciences professor of biology, more than 200 scholarly pursuits, from modeling the structure of space-time to treating social anxiety disorder to deconstructing Woodrow Wilson's vision for world order, were funded. That number will soon swell. Jean Morrison, University provost, announced last week that UROP's funding would double next year, to more than $1 million.
This week, in conjunction with Undergraduate Research Week, BU Today presents the research projects of four students or student teams in the series "Inquiring Minds."
It's an elegantly simple idea: if you can't get overweight Americans into the gym, bring the gym to them, or rather, to their workplace stairs. Seeking a cure for the nation's bulging waistline, Theadora Swenson (CAS'12) set up a unique laboratory, ascending from the parking garage to the second floor at the health clinic in Maricopa County, Ariz., where her mother works as a nurse.
Swenson's idea, funded through the Undergraduate Research Opportunities Program, was that if you make exercise fun, they will come. Over a weekend last August, she and two friends worked from 9 a.m. until midnight painting the walls along the employee staircase with various interactive activities in a bid to get the clinic's 200 workers walking, rather than riding the elevator.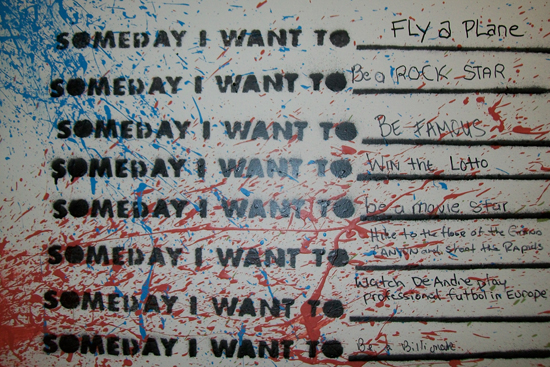 There's a world map on which people are invited the write where they were born, places they'd visited, and dream destinations. Another panel reads, "Someday I want to," followed by blanks to be filled in. (Answers ranged from "travel the world" to "be married" to "be president of the U.S.") A "Story Board" features entwined ribbons of red, blue, and green, sprawling like anacondas down the wall, where people can write alternating sentences to compose group-written narratives.
"Most public health campaigns are built around the idea that if we just tell people that this is best for them and here's why…they'll use their rationality to change their behaviors," says Swenson. This eat-your-veggies approach has merit; for instance, smoking has plummeted since the 1970s, following the release of government warnings and PSAs about the lethalness of cigarettes. But "because people aren't completely rational," she says, lecturing has its limits. More than a fifth of Americans still smoke, and obesity and related illnesses have continued to soar despite doctors' exhortations to eat less junk and exercise more. Even granting environmental factors—a paucity of stores selling healthy foods in some neighborhoods, sometimes confusing expert advice—Swenson reasoned that how you pitch the idea of healthy living also could have an effect.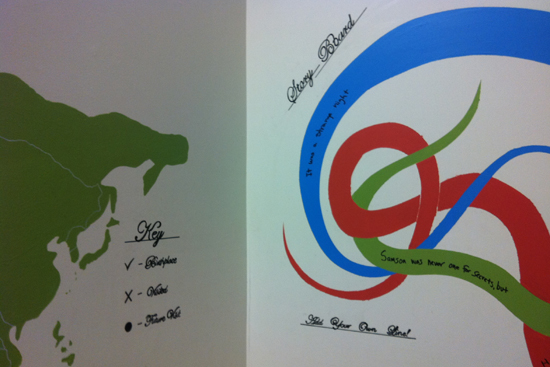 She found reinforcement after taking a behavior course with Michael Siegel, a School of Public Health professor of community health sciences. The course work suggested, Swenson says, that "health can be marketed the same way as Coca-Cola: to get people to do a healthy behavior because it's fun and interesting, rather than just because it's good for them."
At the same time, her mom mentioned that her clinic was trying to encourage employees to get more exercise (yes, says Swenson, even some health professionals are losing the battle with their bulge). Swenson had seen a video of a Swedish subway station that made its stairs into musical piano keys to encourage walking. She thought constant sound in an office setting would drive folks crazy after a while, so she brainstormed ways to make the stairwells "appealing but not annoying."
Making the painted activities interactive, she hoped, would avoid the fate of similar experiments that put interesting decorations along stairs. Those generated extra foot traffic initially, only to lose it as people got bored with static, unchanging adornments. She left extra paint at the clinic in case another problem was encountered—the need to cover up some wisenheimer's obscene graffiti—but that hasn't been necessary.
Swenson is still analyzing the results and hopes to have her research published, which means she can't disclose her conclusions, except to say that "people have been using it, and the drawings have been filled in." The project has produced an unintended benefit, as well: it's formed a bond among workers by allowing them to share information they didn't know about one another. When one wrote, "Someday I want to be cancer-free," Swenson says that "no one in the office knew who it was. And people started writing, 'Whoever you are, we support you' and 'Amen.' It's, like, creating community."
Swenson says her mother stressed to her the virtues of volunteering "before I even really knew what that meant," and she has spent considerable time working in hospitals here and abroad, sparking her interest in public health. Her UROP advisor calls the project a "tremendous example" of student research with a practical wallop.
"Teddy's work will make a valuable contribution to the assessment of current interventions to increase physical activity," Siegel says, with results that could help shape future public health programs.
Tomorrow, in part three of "Inquiring Minds," a look at an undergraduate research project examining the correlation between physical activity and memory recall.
Interested in applying for a UROP grant for fall 2012 funding? Apply here. More information is available by calling the Undergraduate Research Opportunities Program at 617-353-2020.