In the Game
Terrier women's soccer coach Nancy Feldman's team shines on and off the field
Nobody moves. Every person in the dimly lit Case Center basement room can tell by the creases in Nancy Feldman's forehead that this is a no-nonsense moment. Feldman is hammering on a list of Keys to Success projected on the wall while several rows of soccer players, hair neatly braided and ponytailed, listen up. Still, nobody moves. Because in one hour, when the team takes the field in a Friday matchup with Monmouth University, it's war.
"This is a send-the-message game," says Feldman, who started her 18th season in September 2012 as head coach of BU women's soccer. "BU is a force regionally to be reckoned with. It's a tempo game and we gotta keep grabbing the tempo. Fight for it. Let's go, BU!" Her last three words punch through the air, players clap in unison, and in 30 seconds the room is empty.
The team is Feldman's baby. She took it from club sport to varsity program in 1995, and she has led her players to 9 America East Conference championships and 10 NCAA tournament appearances. Her performance has earned her America East Coach of the Year honors seven times as well as leadership positions on several national committees—including the National Soccer Coaches Association of America.
"Consistent is a great way to describe Nancy," says Michael Lynch, BU assistant vice president and director of athletics. "Her teams are always well prepared when they play. They always do well in the classroom. And they can always be counted on to do community service work. At BU, women's soccer stands out like a gem."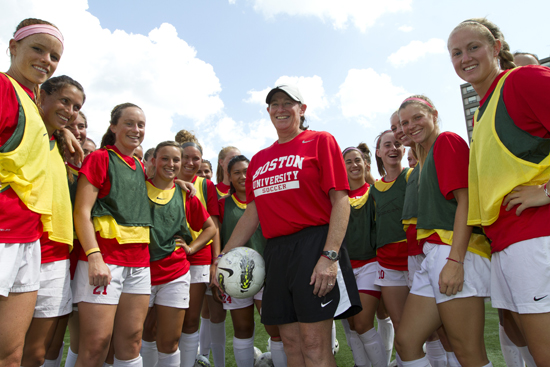 So far this season, the team is 3-4-1, following two losses at the Stanford Nike Invitational last weekend, to number five–ranked Stanford University and former national champion Santa Clara University. The women's next game is against UMass Amherst Friday at 7 p.m. at Nickerson Field.
Feldman credits her father, Chet, for nudging her toward BU. The pharmacist and part-time basketball coach read about the University's plans to make women's soccer a varsity sport and encouraged her to reach out. She got the job, she says, because BU athletics officials liked her plan to give club students a chance to play alongside new recruits. It didn't take long for Feldman to hit her stride. In 2000, her team won its first America East championship and went on to the NCAA tournament, as they have every year since 2005.
"She's one of the best college coaches in the country for on- and off-the-field reasons," says 2000 team goaltender Jessica Clinton (SHA'04), now Feldman's assistant coach. Her boss, she says, is competitive, detail-oriented, and powered by an energy that no amount of caffeine can provide. She manages a busy office and still answers calls from coaches (including those from competing teams) seeking advice on anything from the game to player management.
Several of Feldman's players have gone on to the pros. In summer 2012 alone Tiya Gallegos (SAR'11,'13) and Taleen Dimirdjian (SMG'10) played for the New England Mutiny and Jess Luscinski (SAR'12), Alice Binns (SAR'12), and Katherine Donnelly (COM'12) for the Boston Breakers.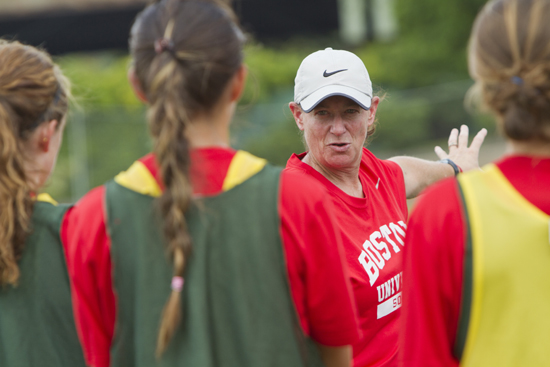 Breaking habits
At a practice days before their Monmouth game, Feldman strikes a pose like the captain of a ship—her left foot on a soccer ball, hands resting on her bent knee and right hip, her notes tucked into the waistband of her shorts—while surveying Nickerson Field and envisioning three plays ahead of her scrimmaging crew. Her right hand rushes up and she unleashes a sharp whistle. Pfft! Everyone freezes.
"So where's the hole?" she asks. "You gotta see the passing lane—both the passes and the receiver." She asks Lily Creighton (SMG'16) caustically if she is in the game. Creighton snaps into position several strides closer to play. That's how the coach delivers her instructions: direct and sugar-free.
Minutes later, Feldman whistles again. "All right, outstanding!" she shouts, running onto the field to congratulate Ana Cuffia (SAR'15), who'd nailed a passing move practiced the day before. The coach jogs back to her position, a grin on her tanned face. "I blew the whistle too quick," she admits. "But it was so great!"
Feldman is not a big proponent of run-and-gun soccer. She believes that each position has a specific set of movements on and off the ball, and she drills that philosophy into her players' heads. "It's different than what you experience in clubs or high school," says team cocaptain Megan McGoldrick (COM'13). "She does a really good job of teaching you those responsibilities and holding you accountable."
Soccer snuck up on Feldman. She was playing tennis with her father in her hometown of Needham, Mass., when the organizer of the local soccer team asked her to join. She was about 13, and it was in the sport's early days in this country, just years after Title IX mandated equal access to sports for women.
"It just fit me, it fit my personality," says Feldman, who also played softball and basketball and ran track. "I just loved how much energy it took, 'cause I loved to expend energy."
Feldman played mostly forward and midfield through high school and at UMass-Amherst, where, her brother Rob remembers, she went for "every 50/50 ball—she never shied away." Her record for most goals scored in a single game (four against State University of New York at Cortland in 1980) still stands at UMass.
Remarkable milestone—300 career wins
Professional women's soccer was still a dream when Feldman graduated in 1983. She saw no role models among collegiate coaches either and says she knew she "didn't want to be stuck teaching kids who didn't want to participate" in physical education. She had been working as a research assistant in occupational neurology at Boston Medical Center when she quit on a whim and moved to New Hampshire to work with an assistant coach she knew from camp days. She began to see collegiate coaching as a career choice, got her master's in exercise and sports studies from Smith College in 1988, and took her first head soccer coaching position at Lake Forest College in Illinois. Two years later, she moved to Plymouth State, where she put in five years as head coach of the women's soccer and basketball teams before applying for her current position. Last summer, she celebrated her 300th career win—a remarkable milestone for any coach.
At halftime of the Monmouth game, Feldman again faces her team, this time in a room off Nickerson Field. She smiles tightly as she breaks down the opponent's strategy and feeds her own to her team.
"It's one-nil, us. The game is in the balance," she says, urging her players to ratchet up their intensity another 10 percent. "We have to raise it up the first 15 minutes. Attack it!"
And they do. BU continues to dominate in possession of the ball and owns the momentum throughout the second half. With nine minutes left, the Terriers are awarded a penalty kick, and Emma Clark (COM'14) nails it into the right corner of the net.
The buzzer blares and Feldman's players huddle in celebration at their end of the field. They jog back toward their bench, but are redirected by their coach, who's pointing toward the line of Monmouth players waiting along the sidelines to shake hands.
The game is over, the battle won, but Feldman's job doesn't stop when the buzzer sounds.