Hoop Dreams
Women's basketball shooting for America East title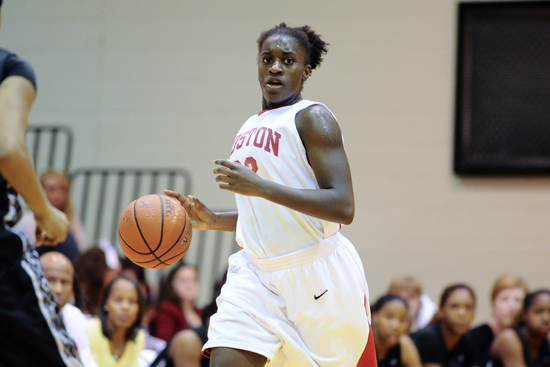 For five of the past seven seasons, the women's basketball Terriers have reached the America East championship game, only to come up short each time.
That makes this year's mission a given—capture the school's first AE title since 2003. The Terriers embark on that goal tonight, when they face the University of Maine Black Bears at Chase Family Arena in West Hartford, Conn.—home of the defending champion University of Hartford Hawks—in the quarterfinals of the 2012 America East tournament.
This year's BU team enters the tournament as the conference top seed after dominating the regular season, going 15-1 against conference foes and 22-7 overall. And 13 of those wins came consecutively: the Terriers went from January 4 to February 18 without losing a game.
Guard Chantell Alford (CGS'11, MET'13), the reigning AE Player of the Year and the Terriers' leading scorer, says this year's squad is ready to put past championship game woes behind them.
"I think we're over it, and we're just focused on the now," Alford says. "We're focusing on rebounding and doing the little things on the court that are going to help us in the long run, and we're feeling good out there."
Alford headlines a group of four returning starters from the 2010-2011 season who have started every game this season. Forward Rashidat Agboola (SMG'14), a new addition to the starting squad, has proven indispensable. She leads the team with 250 rebounds and won her first conference Player of the Week award on Monday.
"Rashidat blossoming is a big difference from last year. Having a sophomore playing the way she is right now is huge for us," says head coach Kelly Greenberg. "This year we're not really depending on just one person to score, like we did with Chantell at points last year."
Cocaptain Caroline Stewart (COM'12), another of the team's starting forwards, says that all of this year's players are contributing, and that makes for a positive attitude.
"The biggest difference between this team and the teams we've had in the past is the range of players we have," Stewart says. "Players who are coming off the bench are ready to go, and everyone is bringing something to the table."
Greenberg points to the newfound depth of her roster, the strong crop of returning players, and her team's focus and drive as key components to the Terriers' success this year, but says that more than anything, what separates them from seasons past is their defensive play.
"This is the best defensive team I've ever coached here at BU," says Greenberg, who has been head coach for eight seasons. "It's nice because we're playing good team defense and getting some tough rebounds, so those are definitely the biggest positives for us."
And the statistics back her up. BU is first in the AE in both field goal and three-point percentage defense, blocked shots, and defensive rebounds, and boasts the second highest rebounding margin as well.
The coach attributes much of BU's defensive success to the example set by her seniors. "We have great leadership from our three seniors, and they want to win as much as anyone has ever wanted to, so it trickles right down through our team," she says. "They are really committed and have worked hard for months now, and you just hope for the best for them because they deserve it."
The Terriers' regular season AE title is their first since the 2008-2009 season, which ended in disappointment when a favored BU squad lost 74-66 to Vermont in the title game. The last time the Terriers won the AE tournament was in 2003, when Margaret McKeon was head coach and Katie Terhune (CAS'04) was tournament MVP.
Talk to any player on the team, and it's clear what their goal is. "I think regardless of how the season ends we're happy, but ultimately we want to win," says Alford. "We're not done yet, we're focused, and getting back to the championship game is our biggest goal."
It's a goal shared by Stewart, who along with the other seniors has just one last shot at capturing an AE title.
"That's what we've been working for, especially the three seniors, but it goes all the way down the line," she says. "Our goal is to be America East champions, there's no doubt about it. If we focus on just playing our game, we should be good."
The Boston University women's basketball team faces the University of Maine today, Friday, March 2, at Chase Family Arena in West Hartford, Conn., at 12:05 p.m. Ticket information can be found here. If victorious, the Terriers play in the semifinals on Sunday, March 4, at Chase Family Arena, with opponent and time to be determined. Can't make it to Hartford? Watch the game streamed live free at www.AmericaEast.com.
Ben Carsley can be reached at bcarsley@bu.edu.