Hometown Role Model
SAR student brings sports medicine, life lessons to Boston school
At first glance, the athletic training room at Boston's English High School seems standard-issue: a stack of multicolored exercise balls in one corner, resistance bands attached to the wall, a locked closet housing first-aid equipment. To gain a real appreciation for the cinder-block room in the school's basement, ask licensed athletic trainer Shari Davis what type of equipment she had just a year ago.
"Band-Aids," she says. "And tape."
Davis (SAR'10,'12), a student in Sargent College's applied anatomy and physiology master's program, transformed the room at English High with a $1,000 grant from the nonprofit organization Athletic Trainers of Massachusetts. She's also at the forefront of a different kind of transformation—a shift in the culture of athletics and achievement in Boston public schools. Davis came to English High for a clinical rotation as an undergraduate in SAR's athletic training program and has remained part-time for two years—she's also incorporated the work into her graduate degree—as the school's only athletic trainer. In that time, she's learned that in a resource-poor system, sports medicine is only part of the job. Between treating on-field injuries and scheduling preseason physicals, she's the go-to for students with questions: about personal health, about college, about what the future might hold for them. For Davis, who grew up near English High and attended Boston public schools, this work isn't a job—it's her responsibility to her hometown.
"There will always be people jumping at the opportunity to treat a Division I athlete, but there aren't a lot of people jumping at the opportunity to treat teenage athletes," says Davis, who medaled in tae kwon do at the Junior Olympics during high school. "I could have used this, so I'm willing to do it."
The Boston public schools currently employs just one part-time athletic trainer for its entire system (that's one athletic trainer for 18,050 9th to 12th graders). So the Sargent students who perform their clinical rotations at local high schools fill a major void when it comes to clearing students for participation, treating in-game injuries, and developing rehabilitation programs. But this student population's needs aren't confined to the baseball diamond or the soccer field. Boston English is America's oldest public high school, but one of the city's most troubled: in 2007, it was designated as "chronically underperforming" by the Massachusetts School and District Accountability and Assistance System, and three-quarters of the students are from low-income families. The student-athletes there deal with plenty of common issues—recuperation, performance improvement—and a few that are more specific to their community.
"In another environment, you may have an injured patient whose challenge to participation is, how can I get the best equipment? how can I shave a second off my time?" says Mark Laursen, a SAR clinical associate professor and director of athletic training services. "In this environment, your patient's challenge might be, how am I going to get on the bus? how can I get home? And often, Shari is the only health care professional they see regularly over the course of the year."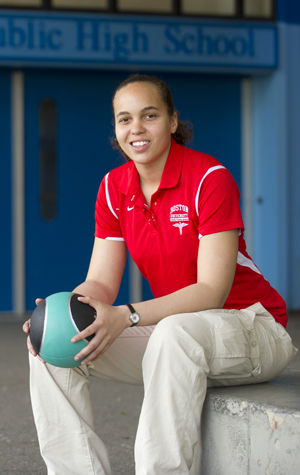 To address some of these issues, Sargent and the School of Medicine launched the BU Sports Health Initiative in 2007; it provides Boston's student-athletes with access to a full spectrum of health care—starting with routine physicals—from BU athletic trainers and physicians. The program is currently in place at English High and at Chelsea High School; having seen the relationship benefit the college and high school students involved, SAR faculty hope to expand it to other Boston public schools in the coming years.
"The athletic directors often comment on how valuable it is for their students to see our students doing something practical and achievable and that makes college seem more accessible," says Sara Brown, a SAR clinical associate professor of athletic training. "From my end, it's really fascinating to hear from my students, who are often shocked by what these student-athletes are dealing with on a daily basis. It makes us feel that they're understanding that there's a big world out there."
Davis never experienced that culture shock, however—a neighborhood kid, she'd been coming to English for martial arts training since age seven. Students at the school recognize her as one of their own, and even with the MED faculty now available to them, they frequently turn to Davis when they need answers. She's at the school four days a week, and for the first hour after the final bell rings, her athletic training room is, in her word, "mayhem."
"There are people who just like to be here—some of it is a role model type of thing," she acknowledges. "We talk about nutrition, sexual health, college applications. A lot of them don't have a support system at home that says, you have options. When students come to me, they can ask those kinds of questions as well."
"She has been tremendous," says Barry Robinson, the athletic coordinator at English High. "She has brought professionalism to our athletic department, but she's humble. She doesn't say, 'You better do this.' She explains it to kids in their kind of language, and gives respect."
After graduation this spring, Davis says, she has no plans to move on to a high school with better funding or flashier facilities. Having established athletic training in her old neighborhood, she's determined to stay on in some capacity and help it flourish. She dreams of a day when the Boston public schools will be able to have an athletic trainer at every high school.
"What I would really like is to see athletic training expand, and this accessibility to health care grow," she says. "There's such a huge need here, that there's nowhere I'd like to be more."
This story was originally published in the fall 2011 issue of Inside Sargent.