Hockey Player Arrested for Sexual Assault
Defenseman Max Nicastro held on $25,000 bail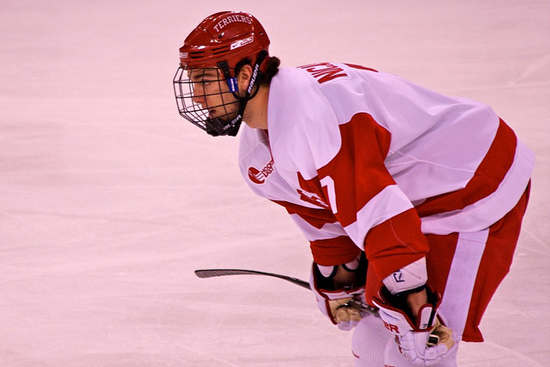 Max Nicastro, a defenseman on the BU men's hockey team, was arrested on the Charles River Campus early Sunday morning by the Boston University Police and charged with sexual assault. BU Police Chief Thomas Robbins says his department is working with the Suffolk County District Attorney's Office, which is investigating the allegations. He says the incident is alleged to have happened on campus. Nicastro was accused of sexual assault by a female student. He is being held on $25,000 cash bail, and will be arraigned in Brighton District Court on Tuesday, February 21.
Michael Lynch, BU athletic director, says Nicastro has been suspended from the hockey team pending the outcome of the investigation.
Dean of Students Kenneth Elmore says his office looks into all allegations of student misconduct. "Once we receive any information like this," says Elmore (SED'87), "we investigate all sides of allegations to see if there has been a violation of the code of student conduct, at which point further action may be taken."
Nicastro (CGS'11, MET'13), who was living at 10 Buick Street, comes from Thousand Oaks, Calif. Before arriving at Boston University in 2009, he spent two seasons playing with the Chicago Steel of U.S. Hockey League, and he also played for the AAA Los Angeles Jr. Kings. The 6'3", 210-pound junior played in 27 games this season.