GSU Food Court Named Greenest in Country
Designation coincides with Earth Week celebrations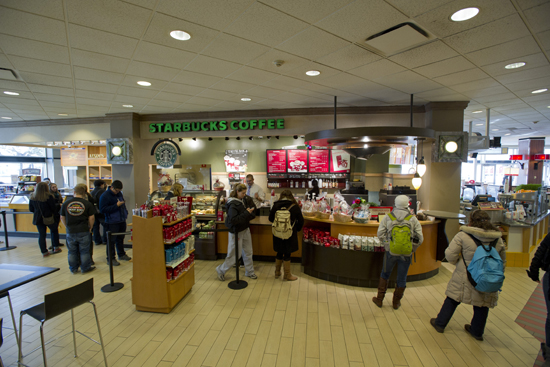 If green is what you're seeking in a restaurant, go no farther than the George Sherman Union food court. The Green Restaurant Association just designated the GSU's Union Court a Certified Green Restaurant®, making it the most eco-friendly dining spot in the state and the only such certified food court in the country.
The Union Court scored 210 points and a three-star rating from the association, trumping Northeastern University's International Village Dining (a new, LEED-certified gold building), which garnered 196 points, and Harvard Business School's Spangler Center, which earned 189 points.
"What's great about this is we're getting recognition for what we're doing," says sustainability@BU director Dennis Carlberg. "It's not like we went out and said, 'Let's do all these changes so we can get this award.'"
Dining Services sustainability coordinator Sabrina Pashtan thinks the certification also sends a message. "The most important thing on campus is to educate students on sustainable practices," she says. "It's knowledge they can take with them about how a sustainable facility or food court can operate."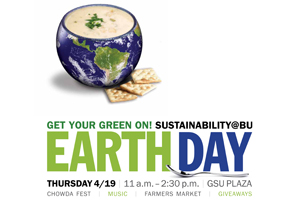 This certification comes as the University launches sustainability@BU's Earth Week+, a series of events over the next 10 days on the Charles River and Medical Campuses that celebrates living green. This week's culminating event is the Earth Day Festival on Thursday, April 19, from 11 a.m. to 2:30 p.m. at the GSU Plaza, which will feature a chowder fest, music, clubs, eco-friendly vendors, and the return of the GSU farmers market. A West Campus Block Party will take place at the same time west of the BU Bridge. The Medical Campus will host its Earth Day Festival on Thursday, April 26, from 11 a.m. to 2:30 p.m. at the Talbot Green.
The GSU was an unlikely candidate for green certification. Built in the 1960s, much of the building's infrastructure, including its heating and cooling systems, does not meet today's highest efficiency standards. Yet the food court's 2010 remodel and the addition of eco-friendly improvements to the facility over the past two years have turned it into a model.
"We tried to change it so every day the folks in the field are able to make substantive improvements step-by-step," says Bill Walter, Facilities Management & Planning assistant vice president for operations and services, referring to his department's plumbers, electricians, and heating and cooling experts.
To qualify for certification, the Green Restaurant Association requires applicants to accumulate at least 100 points across seven environmental standards: water efficiency, waste reduction and recycling, sustainable furnishings and building materials, sustainable food, energy, disposables, and chemical and pollution reduction. They also must have a full-scale recycling program and swear off Styrofoam.
Pashtan reviewed these standards and regularly consulted with Carlberg and Walter to see how GSU's food court fared. She verified every point with reams of documentation (double-sided copies, thank you very much) and photographs of green improvements. An association representative then visited on December 7, 2011, to view first-hand the eco-friendly practices adopted by the GSU.
Most restaurants average only 69 points when they first apply, Pashtan says. She wanted BU to do better than that and knew Northeastern's café was the state leader. "Our goal was to beat them and get the highest score," she says.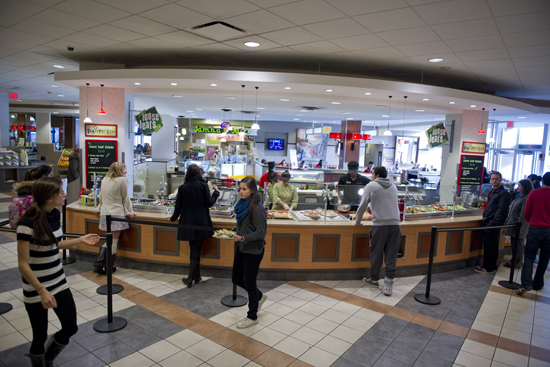 Goal achieved. The GSU food court earned nearly a third of its points in energy. The building recently converted from oil to natural gas and has 90 percent thermal efficient hot water heaters and an energy management system that controls water flow and heating and cooling remotely. Plus, its kitchens use Energy Star appliances.
Waste reduction and recycling earned Union Court its next largest percentage of points. Composting and recycling stations are placed throughout the facility. Restaurants provide price cuts to customers who use recyclable mugs. And some, like Loose Leafs, sell reusable containers for frequent diners.
BU also scored big for buying sustainable seafood, using green cleaning products, selecting paints and adhesives with low or no volatile organic chemicals (VOCs), and installing hand dryers in bathrooms and low-flow faucets in kitchens.
The University must reapply for certification each year and must increase its score by at least 10 points each year for the next nine years. Carlberg sees some room for improvement in smarter exhaust hoods over cooking ranges, which tend to draw large amounts of energy. And Pashtan thinks the food court could benefit from occupational sensors.
Sustainability awards like this one act as an incentive to motivate people to find better ways to utilize buildings, Walter says, and "encourage people to look for the next best thing to do."
Sustainability@BU's Earth Week+ runs through Thursday, April 26. The Charles River Campus Earth Day Festival is this Thursday, April 19, from 11 a.m. to 2:30 p.m. at the GSU Plaza and the West Campus Block Party is at the same time west of the BU Bridge. The Medical Campus Earth Day Festival will be held Thursday, April 26, from 11 a.m. to 2:30 p.m. at the Talbot Green. For more information about Earth Week+ events, visit sustainability@BU.