Grownups Behaving Badly
Huntington's God of Carnage a wild and witty ride
Grownups behave very, very badly in Yasmina Reza's Tony Award–winning God of Carnage, the new Huntington Theatre Company production. As the two couples navigating the stylish set of the fast-paced one-act play regress from polite restraint to mouth-foaming profanity, the proceedings invite comparisons to the vitriolic Who's Afraid of Virginia Woolf? by Edward Albee (Hon.'10). But in Carnage, the offspring are real; in fact, a schoolyard scuffle between two boys, and their upscale parents' tone-deaf attempts at clearing the air, are the premise for the play's dizzying, unsettling dance.
Running at the BU Theatre through February 5 and directed by Huntington directing veteran Daniel Goldstein (Falsettos, The Cry of the Reed, Les Liaisons Dangereuses), who also directed the recent Broadway revival of Godspell, Carnage takes place in the Cobble Hill brownstone of Brooklyn couple Veronica and Michael Novak (Johanna Day and Stephen Bogardus). The Novaks' son's teeth have been knocked out with a stick by the son of Annette and Alan Raleigh (Christy Pusz and Brooks Ashmanskas).
Through increasingly gritted teeth and then with fangs fully bared, the couples spar over the details of the attack—was the victim a "snitch"? Was the attacker part of a gang? Was this an act of violence or just a case of boys being boys? As articulate as they are tormented, the characters soon lurch beyond the matter at hand to indict one another's parenting, values, and humanity. Annette, who is in "wealth management," assails Michael for depositing his daughter's nocturnally noisy hamster to fend for itself on a cold Brooklyn sidewalk. Fresh from sniping with Annette over some other point, Veronica rallies to the other woman's side. Corporate lawyer Alan is obsessed with his cell phone, while Michael, a plumbing wholesaler, is a lethally negative, self-described Neanderthal, who takes aim at his wife's book project about the conflict in Darfur. It's a vicious free-for-all as the husbands and wives turn on their counterparts and then on each other, exposing the fragility of both marriages. Things sour to the point where Michael declares marriage to be "the most terrible ordeal God can inflict on you." So heated are the proceedings that Day accidentally broke her hand during a Saturday matinee in a scene where she slaps Bogardus. That evening's performance was canceled, but Day is back on stage with the cast—in a cast.
Through most of Carnage, the stage is awash in bile, metaphorical as well as real—including a memorable vomiting incident that, in all its darkly funny repulsiveness, is a triumph for Huntington veteran props master Kris Holmes. And the proceedings also take their toll on Alan's precious cell phone ("My whole life is in there," he says, sobbing into his hands), which he's been periodically using to bark advice to a Big Pharma client doing damage control over a tarnished blood pressure drug. A box of pricey Cuban cigars doesn't fare too well, either, drawing more laughter from the audience.
Translated from the French by Christopher Hampton, the play is "red meat" for actors, says Huntington artistic director Peter Dubois. The current production, whose cast includes three Tony Award nominees, is "witty, it's biting, it's ferocious, it's unbelievably funny… Reza created a very simple premise and really mined it," Dubois says. "She has a biting contemporary critique. It's one of those plays that get into the zeitgeist. We put it on in the middle of the winter when it's cold and it's miserable and you want to get into a room and laugh." The play has just been made into a feature film, directed by Roman Polanski and with an all-star cast that includes Jodi Foster and Kate Winslet.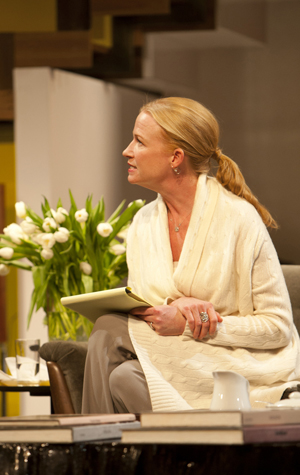 "It's so much more exhausting than we ever imagined," says Day. "It's very physical and very talky." Although her character's passions are easily ridiculed, Day believes the slender, often severe Veronica is "really sincere," even though she's mostly talk. The actress describes the play as "a really good therapy session," and while audiences squirm with recognition in parts, particularly the grim pronouncements about marriage and parenting, "it's really a birds-eye, focused view of a circumstance." Day's extensive stage and television credits include the Huntington's Carol Mulroney, a Tony-nominated performance in the Broadway production of Proof, and appearances on the television shows Unbreakable, Judging Amy, and Law & Order.
Pusz describes her character, Annette, as driven by "her need to be liked. It drives her to repress her true feelings, and once that pot boils over, the lid flies off and there's no going back." Pusz is another Law & Order veteran, whose stage credits include roles in the Broadway productions Talk Radio, The Odd Couple, Dinner at Eight, and Baz Luhrmann's La Boheme. "I think of all the characters, Annette is the most changed at the end of the play," she says of her character's emerging from her timid shell. And although the play has been viewed by some as a searing statement on contemporary marriage, Pusz says that there is a faint note of tenderness in the characters' connections. "I don't think any of these people would care how their spouses hurt them if they didn't have something to lose."
Both of Carnage's male parts are portrayed by Broadway veterans. Ashmanskas, familiar to Huntington audiences from his roles in Present Laughter and the musical She Loves Me, has appeared on Broadway in Promises, Promises, The Producers, Gypsy, Little Me, and Fame Becomes Me, for which he received a Tony nomination. Bogardus picked up a Tony nomination and an Obie Award for his performance in Terrence McNally's Love! Valour! Compassion! and appeared in Man of La Mancha, High Society, Falsettos, and Les Miserables.
Playwright and novelist Reza's other works include Life (x) Three, and Art, which won the 1998 Tony, Olivier, and New York Drama Critics Circle Awards for Best Play. "My plays have always been described as comedy, but I think they're tragedy," says Reza, who lives in Paris. The idea for God of Carnage came to her, she says, while she was walking her son home from school one day, and met another mother, whose son's tooth was broken in a playground fight. "She said to me, 'Do you realize the parents haven't even called to apologize!' I immediately thought there was an interesting theme here."
God of Carnage runs at the BU Theatre, 264 Huntington Ave., Boston, through Sunday, February 5, 2012. Tickets may be purchased online, by phone at 617-266-0800, or in person at the BU Theatre box office. Patrons 35 and younger may purchase $25 tickets (ID required) for any production, and there is a $5 discount for seniors. Military personnel can purchase tickets for $15, and student tickets are also available for $15. Members of the BU community get $10 off (ID required) and are also eligible for a special subscription rate. Call 617-266-0800 for more information. Follow the Huntington Theatre Company on Twitter at @huntington.