Exploring Infinity
ICA show addresses cosmic questions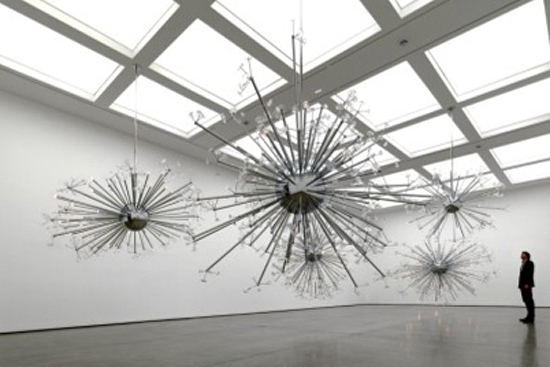 A provocative new exhibition at the Institute of Contemporary Art, Josiah McElheny: Some Pictures of the Infinite, explores notions of time and space. Fusing science and art, glassblower Josiah McElheny attempts to represent what cannot be represented: infinity. In 20 pieces, using glass, film, and photography, he examines the unfathomable.
Born in Boston in 1966, McElheny studied at the Rhode Island School of Design and apprenticed with master glassblowers. In 2006 he received a MacArthur Fellowship, known as the "genius grant," to develop his work. He has exhibited at museums at home and abroad, including the Museum of Modern Art in New York, the Moderna Museet in Stockholm, and the Museo de Arte Reina Sofía in Madrid.
The tone of Some Pictures of the Infinite is both scientific and ruminative. Could the key to infinity lie in religion, Renaissance philosophy, or modern science? Is it revealed through mirrors, glass sculpture, or film? McElheny delves into conceptions of historical, archaeological, revolutionary, and cosmic time. Much of his work centers on depicting the creation of the universe, and in particular, the Big Bang theory.
In Collection of Glass Concerning the Search for Infinity, the artist draws on the tradition of Venetian glassblowing as well as Renaissance painters' development of linear perspective. Mathematical visualizations of infinite distance take on new beauty in 10 handblown glass plates. Delicate patterns of swirling white lines and dots create the illusion of three-dimensional space using point perspective. Focus on the vanishing point in the center and your vision blurs. The design is as dizzying as the concept of infinity itself.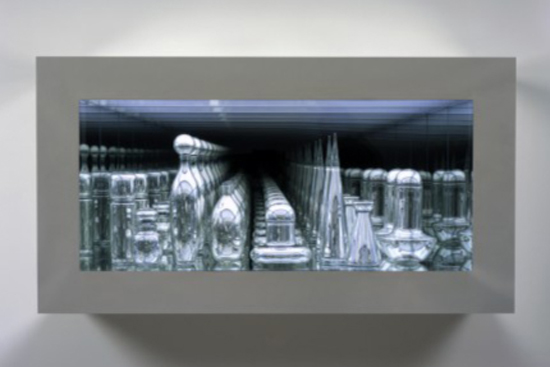 In other works, McElheny uses mirrors and the powers of reflection. Czech Modernism Mirrored and Reflected Infinitely is one of the exhibition's most captivating pieces. Eight mirrored vases stand in a glass-fronted box walled with mirrors. Their forms reflect infinitely behind them in lines of perfect copies. Despite all the mirrors, viewers are unable to get a glimpse of themselves. Czech Modernism is disturbing on a visceral level, simultaneously repulsive and mesmerizing. According to the gallery's description, these forms depict "the horror of endlessly repeated production."
Aided by filmmakers and editors, McElheny uses film in Three Screens for Looking at Abstraction. What's fascinating is how he merges cinema and sculpture. Old films, digitized and manipulated, are projected onto a series of mirrored sculptures. Three of these sculptures occupy one large room. Strange music accompanies the abstract films, whose flashing black-and-white imagery is intermittently splashed with color. The kaleidoscopic fervor induces anxiety, and one's image is reflected infinitely.
Entering a room of mostly drawings and photographs, one piece stands out. A Study for the Center Is Everywhere is a suspended seven-foot chandelier that incorporates brass, steel, cut lead crystal, and electric lighting in a rigid, downward-falling stream of metal and light. From afar, McElheny's chandelier looks hard and industrial, but seen up close, the glowing light reflecting off of the crystals is lovely. Remarkably, the sculpture uses actual astronomical data to envision a small section of the universe, with the crystals symbolizing stars and galaxies and the brass rods tipped with light bulbs serving as quasars.
Chandeliers are also featured in Island Universe, a collection of five large-scale glass and aluminum structures. Working closely with cosmologist David Weinberg, McElheny has spent years studying astronomy. Each chandelier represents a different possible model of the cosmos. The artist was inspired by the spectacular J. & C. Lobmeyr chandeliers hanging in the Metropolitan Opera House in New York. These spellbinding sculptures are both eerie and wondrous clusters that look as though they were snatched from the heavens or from under a microscope.
Some Pictures of the Infinite is at times a bit too dry and academic, the buzzing amalgamation of ideas threatening the simple beauty of the art itself. However, McElheny's ambitious leaps toward infinity reward the viewer with captivating images.
View some of the work contained in Some Pictures of the Infinite here.
Josiah McElheny: Some Pictures of the Infinite is on display at the Institute of Contemporary Art, 100 Northern Ave., Boston, through October 14, 2012. The museum is open Tuesday, Wednesday, Saturday, and Sunday from 10 a.m. to 5 p.m., Thursday and Friday from 10 a.m. to 9 p.m. Admission is free for BU students, members, youth 17 and under, and families (up to two adults accompanied by children 12 and under) on the last Saturday of each month, with the exception of December. Admission is $15 for adults, $13 for seniors, and $10 for students. The museum is free from 5 to 9 p.m. every Thursday. By public transportation, take the Red Line to South Station, then the Silver Line Waterfront bus to Courthouse station. Find more information about the exhibition here.
Erin Thibeau can be reached at ethibeau@bu.edu; follow her on Twitter at @erinthibeau.