Crazy? The Man Bought a Bookstore
MET alum new owner of New England Mobile Book Fair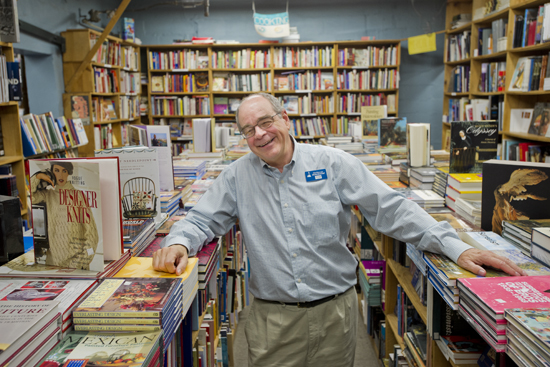 For the past year, Tom Lyons has been planning with the precision of a field general, hiring a consultant and holding weekly meetings. The issue? How to move and recategorize more than a million books. Lyons describes his project as "organized chaos."
Last November, the former insurance executive bought New England Mobile Book Fair (NEMBF), the largest independent bookstore in New England. From the parking lot, the squat cinderblock building nestled in a commercial strip in Newton Highlands, looks unremarkable. But step inside to a bibliophile's dream. Its 32,000 square feet (more warehouse than shop around the corner) is piled floor to ceiling with books. Classics. Best sellers. Remainders and picture books. NEMBF, which is neither mobile nor a fair, is so named because the first lot of books was bought from a woman who sold books out of her car at school book fairs. With the books came the name, and it stayed. More than half a century later, the store still offers discounts to schools and libraries, and the less than accurate name has long been just one of the store's endearing peculiarities. Until recently, all of the books (yes, one million plus) were arranged by publisher rather than by genre, as is done in the vast majority of bookstores.
When he bought the store a year ago, Lyons (MET'76) knew that he'd have to make changes: starting with moving and reshelving miles of books. "I knew that we had to revamp the store in terms of putting the books by category," says Lyons, recalling that because of the venerable store's idiosyncratic filing system, last Christmas 30 employees were running in 30 different directions to help customers find a book.
"We've had to create staging areas where we could sort the books into categories: first, fiction versus nonfiction, and then breaking out major areas of fiction, such as mysteries," says Lyons. Nonfiction had many smaller categories—biography, history, poetry, gardening, art and photography, among others. And that's meant many of the books had to be moved more than once. "Every action created a reaction, so you move something and then something else is messed up," Lyons says.
Now, a website updated each night helps staff stay on top of what's been moved where. With nearly 80 percent of the stock reorganized by category, Lyons is reaching out to customers to volunteer with alphabetizing the books. He predicts they'll be done in time for the holiday rush.
An unlikely owner
Now 67, Lyons started his latest business venture at an age when many of his colleagues have retired.
He was working in the insurance industry when he enrolled at Metropolitan College in the early 1970s. He attended BU at night, working full-time during the day for the New England Bank Card Association, an early precursor to MasterCard. By the time he was a junior, he was head of audit for the company.
Lyons remembers his BU years as "an amazing time. I would go to the library as soon as I got out of class and stay until it closed at 11 p.m., because that was the only way I could keep up with my studies. And then on Saturdays, I would go to the library or I went to the office and worked all day." Friday nights, he and his wife took a silversmithing course. "I'd pound out the frustrations of the week," says Lyons.
What followed were decades working for companies like AIG, Wang, and Oracle, where Lyons directed marketing for insurance. He later became an independent business consultant, advising insurance companies.
A longtime NEMBF patron, Lyons knew the store was for sale. In June 2011, he casually asked a clerk whether it had been sold and was told that the owners were still looking for a buyer. Lyons couldn't get the place out of his head.
"It had been on the market for nine months and hadn't sold and that concerned me," says Lyons, dressed in his trademark khakis and button-down shirt. "This place was an institution and many of the other independent bookstores in the area had disappeared. I felt that it needed to be saved."
During the five months of negotiating the sale (the founding family still owns the building), Lyons estimates he stopped by 60 to 70 times to observe not just the staff, but the patrons. "I even ran over one day in a rainstorm so I could see where the leaks were in the roof," he says.
While he knew nothing about selling books, Lyons knew what it takes to run a successful business. "In today's environment, you've got to run a bookstore as a business," he says. "All the independents I've talked to have said, 'Yes, we had to learn to focus on it as a business as opposed to a bookstore. You have to pay attention to the bottom line—it's dollars and cents now.' You have to buy books far more carefully. And to me that's the basic difference: being a great book seller, but not a good accountant or businessperson isn't enough anymore."
Lyons, is well aware of the challenges he faces. Across the country, venerable indies such as Wordsworth, in Cambridge, Dutton's Brentwood Books, in Los Angeles, and Gotham Book Mart and Coliseum Books, in New York, have been shuttered, in large part because of the steeply discounted prices offered by Amazon and Walmart and the advent of e-readers. "You go through Harvard Square, and half of the independent bookstores that were there 10 years ago are gone," Lyons notes.
But he points to an optimistic trend during the last couple of years. The American Booksellers Association, the national trade group for independent bookstores, reported a 7 percent growth in 2010 and 100 new members in the first half of 2011. "I just felt, yes, I can do this," says Lyons. "And that's due in no small part to the marketing and management courses that I took at BU and the number of different corporations—large and small—that I worked on. I had all that bank of knowledge behind me."
He predicts NEMBF will begin turning a profit next year.
Weighing the need for change, carefully
Most mornings Lyons is at his computer by 6 a.m. and at the store by 10. Whenever possible, he's out on the floor. "I love meeting the customers, talking to them. I get so many ideas from my customers," he says. "One out of 10 tells me, 'Don't change a thing,' and that cuts me short because I've got to survive. But 9 out of 10 say, 'Thank God, I'm glad it's being changed.'" Many customers want to meet him simply to thank him for saving the store.
He knows that changes have to be made carefully, so as not to alienate his loyal customer base. "The big fun we're having in making all these moves is the challenge of doing it without upsetting the apple cart and destroying what we've got," he says.
Some of the store's numerous recent changes are visible to customers, some are not. An automated inventory system, requiring a dozen new computers, should make it more efficient and enhance its already legendary customer service. Better lighting resulted with the replacement of some 300 light fixtures, and an antiquated phone system was swapped out for one more efficient. Lyons estimates that those changes will save the store about $8,000 a month. Gift certificates, previously written by hand, have been replaced by electronic gift cards. And a newly designed website allows customers to order books online for the first time. In the coming weeks, e-books can be ordered online as well, and e-readers manufactured by Kobo.
Lyons estimates that the store has increased merchandise by 200 percent in the last year, which is critical to the success of an independent bookstore. "When Amazon comes in and cuts your margins dramatically, when e-books are available and cut your margins even further," Lyons says, "your sales go down and you have to start merchandizing or expand your merchandizing."
NEMBF has also launched an ambitious series of author readings, workshops, and special events, featuring local experts and authors who provide demonstrations. In early December the store will host a Gala Mystery Night, drawing dozens of mystery writers, including Hank Phillippi Ryan, Linda Barnes (CFA'71), Hallie Ephron, and, Lyons hopes, Dennis Lehane. The store also plans to hold Hanukkah and Christmas events for kids during the holiday season.
What hasn't changed, says Lyons, is the store's customer service—what he calls its secret weapon. Each of the nearly three dozen employees stayed on after he bought the place. "I love books, but I don't know books the way they do," Lyons says of his staff.
Lyons has turned NEMBF into a family affair. His daughter Amanda, 33, is manager of accounting and son Adam, 32, came on board in April as operations manager. Asked what it's like to work for his father, Adam says with a laugh, "It's a lot like being a teenager again. Only now he controls my income, benefits, and isn't required by law to take care of me." He acknowledges being "surprised to realize that I feel closer to him as a father than I have ever felt." Even when they disagree about business, Adam says that "as soon as the day is over, he's my dad again, and we've learned something new about one another."
The one regret Lyons harbors is that his own writing has had to take a backseat. He had some poems published in a poetry magazine several decades ago, but in recent years has turned to writing books—a completed western and two unfinished mysteries. "The creative process has been focused on the store and its survival," he says. But he's promised himself that after the holidays, he'll find time to write every day. Until then, there is that reorganization to complete before Thanksgiving.
"People ask me, 'Are you having fun?' Yes, I am having a ball," says Lyons. "It's a hell of a ride. It really is."
The New England Mobile Book Fair is at 82 Needham St., Newton Highlands; phone: 617-964-7440; hours: Monday-Friday, 9 a.m. to 7 p.m.; Saturday, 9 a.m. to 6 p.m.; Sunday, 11 a.m.to 5 p.m.