Center for Student Services Open for Business
Dining facilities, academic and career advising programs all under one roof
If the number of students eating at the new Center for Student Services is any indication, it's safe to say the building is already a smashing success. Dining Services reports serving 40 percent more people than anticipated, an additional 13,000 people each week.
Whether meal-hopping, studying, or seeking academic and career counseling, students are finding a new home at 100 Bay State Road, the 120,000-plus-square-foot facility designed by architects Bruner/Cott & Associates that opened for fall semester. The building's first two floors are dedicated to dining, its top four floors to the Educational Resources Center (ERC), the Center for Career Development (CCD), and several College of Arts & Sciences writing and advising programs, and its basement to a bakery and coffee shop, a late-night kitchen and function room, bike storage, and shower facilities for biking commuters.
Several alumni backed the $65 million project with generous donations, among them University trustee Sharon Ryan (SAR'70) and her husband, Robert, who gave $1 million toward the center's endowment, and Arthur Marciano (CGE'49, COM'51), who gave $3 million for the endowment The dining facilities are named Marciano Commons after him and his late wife, Ann (CAS'50).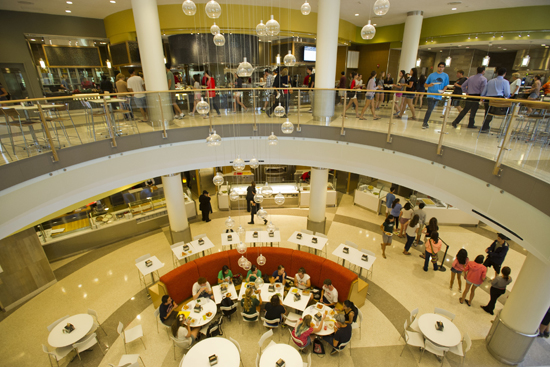 Dennis Carlberg, the University's sustainability director, says the building is 20 percent more energy-efficient than most new construction and features cutting-edge, ecofriendly technology, including a green roof, an innovative cooling system that uses chilled beams instead of forced air, and a device used to squeeze water from composted food scraps to reduce weight and thus the cost of disposal (BU pays per pound of trash or compost removed). These and other green features, he says, should qualify the facility for Leadership in Energy and Environmental Design (LEED) certification.
The Fresh Food Company at Marciano Commons replaces four antiquated dining halls on East Campus and is modeled after others across campus, where food is prepared in open kitchens. There's the Brick Oven for pizza, Exhibition Sauté, and a Mediterranean station, which makes fresh pasta daily. Digital menu boards provide dietary information and updates on new dishes. Seating for more than 1,000 people is spread throughout the central floor space or tucked away in intimate areas like the Living Room, featuring gas fireplaces and comfortable booths, and the Kenmore Room, where piped-in music and dark hues lend a sophisticated feel.
But Gary Nicksa, senior vice president for operations, says the center is not just a dining hall—it's a destination. "We talk a lot about the food, but really it's the social experience that's changed," he says. "These are places where people go and they stay for a long time, whether they're sitting at a table and studying or working with students in their program or their class."
The third floor houses the CAS Writing Program, where all undergraduates can receive free tutoring. The fourth floor anchors CAS Student Academic Life, which offers students academic and preprofessional advising. The ERC and CCD offices on the fifth and sixth floors provide easy access to workshops, peer tutoring, writing assistance, and career advising.
"It is very exciting to have such a wonderful and coherent space for both CAS Student Academic Life and the Writing Program, and to have these programs in such close proximity to Career Services and the Educational Resource Center," says Virginia Sapiro, dean of Arts & Sciences. "Both of these major offices of CAS serve all undergraduates across BU in many ways, so increasing the linkages with the university-level student services allows us all to serve our students better and create an even more student-centered university."
Wrapping together the services of four academic and advising programs previously housed in seven buildings across campus forms a "student center for the mind," says Dean of Students Kenneth Elmore (SED'87). He likes how colleague Laurie Pohl, vice president for enrollment and student affairs, puts it: "This is a place you can come in for a meeting and leave with a plan."