Celebrating MLK Day at BU
Events include sermon, musical performances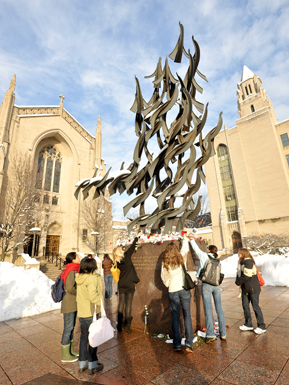 BU will celebrate the birthday of civil rights leader Martin Luther King, Jr. (GRS'55, Hon.'59) with a special service at Marsh Chapel, a remembrance ceremony with speakers and jazz music, discussions on King's legacy and on nonviolent resistance, and a classical piano recital.
Events will take place across the Charles River and Medical Campuses.
King, who was assassinated in 1968, would have turned 83 on Sunday, January 15. The official federal holiday commemorating his birth is Monday, but the University's annual observance will begin, as it does every year, with a service at Marsh Chapel on Sunday.
The service will be conducted by Marsh Chapel Dean Robert Allan Hill. Walter Fluker, the Martin Luther King, Jr., Professor of Ethical Leadership at the School of Theology, will deliver the sermon, titled Standing on the Rock.
"Standing on the rock is really a borrowed metaphor from Moses looking over the Promised Land in the Bible," says Fluker (GRS'88). "In his last speech, King says that he sees the Promised Land." Fluker notes that the rock is also a metaphor that appears repeatedly in African American spirituals, "a larger tradition of which King was a part." He says that the theme of standing on the rock "also resonates with me in the dedication of the new MLK monument in Washington."
During Sunday's service, the Marsh Chapel choir, led by Scott Allen Jarrett (CFA'99,'08), director of music at Marsh Chapel, will sing African American hymns and spirituals including "My God is a Rock" and "Precious Lord."
The service will take place at 11 a.m. on Sunday, January 15, at Marsh Chapel, 735 Commonwealth Ave. The event is free and open to the public. The service will also be broadcast live on WBUR and can be downloaded as a podcast from Marsh Chapel's website.

On Monday, the University will hold its annual remembrance ceremony commemorating King's birthday. The event is one of the largest MLK Day ceremonies held in Boston each year, routinely drawing more than 1,000 people from BU and beyond. The University's commemoration dates back to before the holiday was first officially recognized by federal and state governments 26 years ago.
Titled Manifest Our Destiny, this year's ceremony will explore how one person's passion can transform the world. "I think manifesting your destiny is an appropriate theme for King and his passion of justice and peace and equality," says Fluker, who will be among the speakers at Monday's event. "Destiny was an important dimension of Reverend King's prophetic ministry. I think it's also the kind of theme that many aspiring leaders might want to consider." Fluker also notes that Howard Thurman (Hon.'67), King's mentor and Marsh Chapel's first African American dean, "used to say we are all assigned roles for our fate, but destiny is what you do with your fate."
The commemoration ceremony is organized by the Dean of Students Office. In addition to Fluker, other speakers will include Stefan Jones (CFA'12), Kemi Alabi (CAS'12), and Ruha Benjamin, a College of Arts & Sciences assistant professor of sociology and African studies. Dean of Students Kenneth Elmore (SED'87) will make introductory remarks and jazz music will be performed by several BU students throughout the service.
For Josh McDonald, a member of the student jazz group, the celebration is personal. His father marched with King in Selma, Ala., in 1965. "Our group plays jazz music, a tradition that is fraught with issues of race and equality," says McDonald (GRS'14). "Taking time to be grateful for Dr. King's legacy of progressivism is something we all should do more regularly. Our nation is not as far removed from the struggles of the '50s and '60s as we like to think, and it's good for all of us to take an opportunity to reflect on our nation's past and to ponder the future we want and how we can enact it."
The celebration will be broadcast live using BU's channel on UStream.
The remembrance ceremony, which is open to the public, will take place at 1 p.m. on Monday, January 16, in the George Sherman Union Metcalf Ballroom.
The Medical Campus will host a panel discussion commemorating King's legacy on Wednesday, January 18. Three physicians—Gregory Antoine, chief of the department of plastic and reconstructive surgery at Boston Medical Center, Thea James, president of BMC medical and dental staff and a School of Medicine assistant professor of emergency medicine, and John Polk, assistant dean in the MED Office of Student Affairs—will discuss how King influenced their lives and careers, and the impact that the civil rights movement continues to exert today. The panel will be moderated by Rafael Ortega, associate dean of MED's Office of Diversity and Multicultural Affairs and a MED professor of anesthesiology. A classical piano recital will follow, sponsored by the College of Fine Arts, and light refreshments will be served. The event is sponsored by the BMC Events Committee and the MED Office of Diversity and Multicultural Affairs.
The panel discussion will be held from noon to 1 p.m. on Wednesday, January 18, in the Hiebert Lounge, School of Medicine Instructional Building, 14th Floor, 72 East Concord St.
Finally, on Wednesday, January 25, The Howard Gotlieb Archival Research Center (HGARC) will host a discussion titled Martin Luther King, Jr., and Nonviolent Resistance, as part of the center's Student Discovery Seminars series. Visitors will be able to hold original documents from the Montgomery bus boycott and the freedom rides, and examine manuscripts from prominent figures in the nonviolent resistance movement, including Thurman and Mahatma Gandhi. The event will feature Fluker and Ryan Hendrickson, HGARC assistant director for manuscripts.
The discussion will be held at 6 p.m. on Wednesday, January 25, in the HGARC Reading Room, 771 Commonwealth Avenue, Fifth Floor. Find out more about the Howard Gotlieb Archival Research Center's MLK collection here.