BU Field Hockey Sports Global Roster
Team draws players from six nations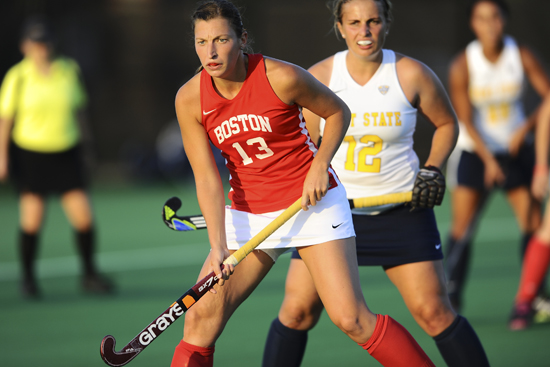 Fans of BU's field hockey team may notice something unusual tomorrow night when the Terriers take on the University of Maine—namely the medley of accented voices filling the air.
This year's roster of 23 players boasts 8 international students, hailing from New Zealand, Argentina, Chile, Australia, and the Netherlands. Among them: Ella Gunson (SAR'14), who competed for her native New Zealand in the 2012 Summer Olympics. Gunson's team finished fourth in London, losing to Great Britain 3-1 in the bronze medal game.
The fact that she is one of four players on the Terrier team from New Zealand is no coincidence. Associate head coach Tracey Paul, who is largely credited with attracting international talent, is a fellow Kiwi. Another pivotal New Zealander on the BU team is Jacinda McLeod (SED'13).
"Tracey has been huge in recruiting players from New Zealand," head coach Sally Starr says. "Tracey knew Ella's father: they were from the same town. Ella was also teammates with Jacinda on the National Under-21 team and coming to Boston for the Junior World Cup in 2009 really helped that connection."
McLeod has proven critical to the Terriers' offense since arriving at BU. The 5-foot-11 Whangarei native currently leads the team with five goals and has finished in the top three in scoring in each of her first three years.
Macey Gaumond (COM'13), last season's leading scorer, is from Warren, Mass., so finds the different styles of play teammates from different countries bring to the game fascinating.
"It's different trying to mesh everyone from different cultures," she says. "I wouldn't say it's difficult, but it's a challenge at the beginning of the season. There's not a ton we have in common other than field hockey, but it's great because it's not forced, awkward conversation; it's learning about other countries."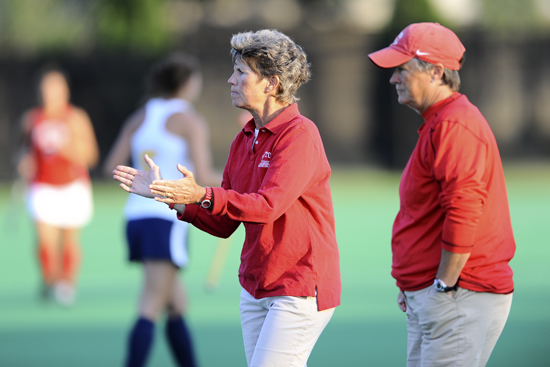 Without a field of their own, the Terriers have been forced to play their home games at different fields around Boston, most recently at Harvard's Jordan Field. That, says Starr, has sometimes made it difficult to recruit U.S. players. But with the New Balance Field scheduled to open on West Campus next fall, Starr is already seeing a change.
"We have a really strong class committed for next fall. One of the latest who's committed decided among us, Princeton, and Duke," she notes, "so that tells you not only the caliber of student looking at Boston University, but also the caliber of hockey player."
For the players, the focus now is on the season at hand. BU's decision to decamp from the America East conference and join the Patriot League resulted in the AE's decision that BU teams cannot compete in this season's conference championships. As a result, says Gaumond, the team has had to alter its strategy.
"It's definitely helped us focus," she says. "In the past, we've always had the America East tournament to fall back on. Every year we've gotten a little too caught up in the big picture instead of focusing on every game. We're definitely taking it one game at a time now."
In collegiate field hockey, 16 teams make it to the NCAA tournament each year: the 8 teams that have won their respective conferences and 8 at-large bids. As it currently stands, the 8-4 Terriers would most likely make the tournament were the season to end now. Three of their four losses have been against top-10 teams and they've defeated three top-25 teams so far this season, including 17th-ranked Boston College on September 7.
Of the remaining six games, three are against out-of-conference teams and three against AE teams. The Terriers will likely have to win all six to get into the NCAA tournament, which is one of the big goals for this year's squad.
Gaumond, however, has one other goal: a single, parting shot.
"We want to win the America East regular season because it'd be great to go out on top and say, 'Okay, you don't want us to play? That's fine, but we're going to win the regular season title,'" she says with a grin.
The BU women's field hockey team hosts the University of Maine Black Bears on Friday, October 12, at 6:30 p.m. at Harvard University's Jordan Field, in the Harvard Athletic Complex, 65 North Harvard St., Allston. Free round-trip bus service for students is being provided from 5:30 to 7 p.m. in front of the GSU and Agganis Arena. By public transportation, take any MBTA Green Line trolley inbound to Park Street, switch to an outbound Red Line train to Harvard Square. Take a 10-minute walk down JFK Street and over the Harvard Bridge. Enter at Gate 6. The 6:30 p.m. game is free and open to the public.
Paul Ryan can be reached at pryan15@bu.edu.