BU Athletes Ask America East to Rethink Ban
Petition seeks OK to play in championship tournaments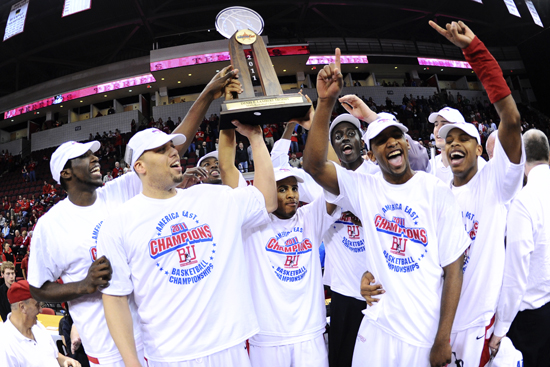 Call it a Hail Mary pass: BU student-athletes will petition America East (AE) to rescind its ban on their participation in next year's championship tournaments.
The presidents of AE colleges voted for the ban after the University's decision to leave the athletic conference and join the Patriot League. BU students say they'll circulate the petition here and among fellow athletes at AE's other schools. The petition is being promoted on a Facebook page, Let Boston University Compete, created by the Dog Pound, the organization of BU sports fans.
The students behind the Facebook page hope to accomplish something that Michael Lynch, BU assistant vice president and director of athletics, and University President Robert A. Brown could not: each lobbied AE to reconsider its decision, both verbally and in writing. AE spokesman Sean Tainsh says the AE presidents have already rejected a BU appeal of the ban.
"While this situation presents unfortunate circumstances for all involved," says Tainsh, "the board of presidents believes it must act in the best interests of the remaining eight institutions who are committed to advancing the league." Those schools "deserve to be given every opportunity to be crowned America East champions," Tainsh says.
The ban means that BU, a founding member of America East in 1979, loses one possible route into the National Collegiate Athletic Association tournament, since AE tournament champions get an automatic berth in the NCAAs. BU teams, however, will still have a shot at the NCAA tournament through the "at-large" process, which invites teams with excellent regular-season records to compete.
AE's tourney ban was imposed in accordance with the league's by-laws, Lynch says, although the conference "had discretion as to whether or not to impose it." Because of the AE ban, BU inquired about joining the Patriot League in the coming season, a full year earlier than planned. Lynch says the Patriot League wanted to help but had already scheduled the season, and squeezing in a last-minute team proved impossible.
"I was disgusted and crushed" by the ban, says softball player Jayme Mask (CAS'13). "Our parents and people we looked up to for so long have always taught us that in order to succeed in life, you have to set goals and work hard to reach them," a lesson the ban seems to make "null and void."
"No matter how you put it, presidents from schools voted to bar us from the tournaments for no reason other than spite, and that is a horrible lesson to leave with students," she says.
The petition's wording hasn't been finalized, Mask says. Meanwhile, soccer team member Megan McGoldrick (CGS'11, COM'13) says BU athletes "are not trying to complain or disrespect the decision made by the other schools. We just want to know we did everything we could to be eligible to compete." She calls the ban "extremely disappointing."
She and Mask say the ban actually will fuel their teams' motivation to play this season, in part because amassing a good record is their only path to the NCAAs. Mask says a friend of hers, reacting to the ban, summed it up for many players by saying, "Now every game is a playoff game."
A leader of the Dog Pound offered a different take. Ryan McKetchnie (SMG'13) says that while at first he considered the ban "unfair and childish," he can't condemn it after reflection, given that the rule serves AE's interests and was known to BU. He also supports the University's joining the Patriot League. "The only thing I regret is that the main casualties of this decision are the people who deserve it least—the student-athletes."
Men's basketball coach Joe Jones says America East allowed Northeastern to play in the 2005 tournament even though that school had left the conference. But ESPN reports that the tournament ban on exiting schools was adopted after Northeastern's departure and with BU's support. The network also reports that the Colonial Athletic Association imposed the same sanction for next year on two schools that are leaving that league.
AE commissioner Amy Huchthausen told an interviewer that BU was aware that a ban was a potential consequence of their move to the Patriot League, "and they obviously factored that into their decision."
Women's soccer coach Nancy Feldman says that the at-large path to the NCAAs is a tougher proposition than getting in as AE champs, although her team did it six years ago. While such a ban is common when teams depart a league, she says, "there are also many examples of conferences not being nearly as heavy-handed." The presidents of AE schools, who decided on the ban, chose "the most significant penalty that they could impose. A conference that has consistently expressed supporting student-athlete welfare, and has approached many other decisions and policies with a student-centric philosophy, seems to have missed the mark on this one."
While she's confident BU athletes will continue to do well—they'll still be playing for AE regular season titles and for regional and national rankings—"there is no question this is a major and significant disappointment to them."
"We hoped there would be some other penalty that would still allow us to play," Jones says. "We believe the presidents should reconsider their decision." He predicts that the ban will lend "extra energy" to his players' performance.
In June, the University accepted the Patriot League's invitation to join that group, beginning with the 2013–2014 season, while playing one final year in AE. BU cited its compatibility with the academic and athletic quality of the Patriot League's teams: American University, Army, Bucknell, Colgate, Holy Cross, Lafayette, Lehigh, and Navy, as well as three associate members competing in one sport each: MIT, Fordham, and Georgetown.
Under the agreement, four BU teams—men's and women's ice hockey and men's rowing and wrestling—will not join the Patriot League, but remain in their current conferences, so the AE ban won't affect them.