Allston Blaze Sends Seven Students to Hospital
Newly installed smoke alarm wakes residents to flames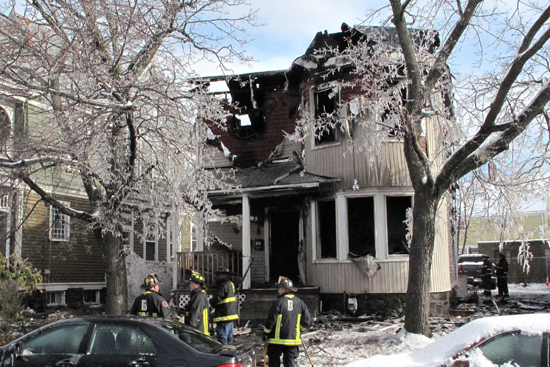 One BU student is in critical condition after leaping from the second floor of a burning Allston apartment early yesterday morning and six others were taken to area hospitals, where they were treated for smoke inhalation and other injuries. Boston Fire Department spokesperson Stephen MacDonald says that more than 60 firefighters battled the fire at 84 Linden Street in frigid 18 degree weather. MacDonald says the fire, which destroyed the off-campus building occupied by seven members of the BU chapter of Sigma Alpha Mu, was reported shortly after 7 a.m. and that the cause of the fire is under investigation. Authorities say there is no evidence that the blaze is related to a recent string of vehicle arsons on Allston streets.
Alex Epner (COM'13), who was taken to Massachusetts General Hospital and released, says the students in the building were awakened by smoke alarms that had been installed last semester.
BU Dean of Students Kenneth Elmore (SED'87) says he hopes that all University students will note that a working smoke alarm may have saved the lives of the Linden Street residents, and will take the time to check their own fire safety equipment. He says the University has offered temporary housing and meals to students displaced by the blaze.
The Boston Globe reports that witnesses saw two people leap from the second floor, one man, who lay motionless on the ground, and one woman, who landed in the arms of a man wearing boxer shorts. By midday, long icicles hung from charred beams of the house, which was largely burned out. MacDonald estimates the damage at $500,000.
BU Police Chief Thomas Robbins says his department received a call from a parent of one of the students in the apartment, whose first response was to call home. Robbins says he hopes that students learn to make their first and immediate call to 911 or to the BUPD at 617-353-2121. "We've got to get our number on the students' radar," he says. "It's great that this person called a parent, but people in danger should call us first, then call a parent."
Sigma Alpha Mu president Jake Magid (CAS'13) says the Linden Street apartment was not officially associated with the fraternity, but was occupied by several Sigma Alpha Mu brothers. Magid says he has no idea what caused the fire. "I can guarantee there was no one awake at seven in the morning," he says.
Yesterday's fire comes on the heels of a four-alarm fire in Brookline last Monday that left 10 School of Law students homeless. Those students have found shelter with help from BU and others.
The Brookline blaze prompted University officials to remind students about fire safety precautions, as outlined on a University website. "The University's interest is, let's all be proactive," says Elmore. Especially for students living off-campus in non-University apartments, he says, "make sure you understand how to get in and out of the spaces where you live," and be sure those spaces have working smoke detectors. (Fire officials recommend changing the batteries in smoke detectors every six months.)
BU's safety website lists the University's fire safety regulations and a list of questions to ask landlords if you're renting an off-campus apartment. Among the site's tips:
Avoid starting open flames, especially candles, which among college students are the top fire-starter
Avoid overloading electrical outlets
Keep a fire extinguisher handy
Plot escape routes in case of fire and keep them clear of debris
When an alarm sounds, take it seriously.