A Lighting Designer in the Spotlight
Chris Akerlind (CFA'85) nominated for Tony award
Chris Akerlind woke up on May 1 knowing the day was going to be special: he was turning 50. Then his agent called with good news: he'd just been nominated for a Tony Award—Broadway's highest accolade—for his lighting design for The Gershwins' Porgy and Bess, which garnered 10 nominations. The awards ceremony will be televised this Sunday, June 10, at 8 p.m.
Since graduating from BU, Akerlind (CFA'85) has become one of the country's busiest—and most in-demand—lighting designers. Over almost three decades, he has created lighting for more than 600 productions staged by some of the world's leading opera and theater companies. His Broadway credits include 17 musicals and dramas. This year's Tony nomination marks his fifth (he won the award in 2005 for A Light in the Piazza) and he has received many other honors, including a Drama Desk Award and an Obie Award for sustained excellence for his work Off-Broadway.
Working on roughly 25 productions a year, says Akerlind, has taught him that "all new projects bring new challenges. A life in the theater is like learning all the time, a perpetual kind of undergrad experience: new collaborator group dynamics, new spaces, new texts, new cities, not to mention that this work keeps me so aware of how I change and/or stay the same over time."
The Hartford, Conn., native began his life in the theater as an actor. He transferred to BU as a sophomore after working as an unpaid intern at the Hartford Stage for a year. The internship proved a life-changing experience.
"At the time, the new artistic director, Mark Lamos, was working with set and costume designer John Conklin and lighting designer Pat Collins on big epic productions of plays by Shakespeare, the Greeks, and Molière," Akerlind recalls. "It was a terrific moment: the work was poetic and provocative and turned me on, finally, to the potential of the theater." That's when he enrolled at BU as a lighting design major.
Akerlind's Broadway credits include The Piano Lesson and Seven Guitars by August Wilson (Hon.'96); The Tale of the Allergist's Wife; Rabbit Hole; 110 in the Shade; Awake and Sing! and this year's End of the Rainbow, the hit drama about Judy Garland's last months—heavily favored in Sunday night's Tony derby. He has also spent more than two decades as the resident lighting designer for Opera Theatre of St. Louis, designing more than 50 productions, and is the former artistic director of the Portland Stage Company, in Portland, Maine, a city he still calls home on the rare occasions he's not on the road.
For Akerlind, the best theatrical lighting allows performance to happen without distraction. How does he achieve that? "Simplification," he says. "The theater is one last place to focus on what's simple about human beings, the stories that demonstrate humanity. Technology has given us much, but in my estimation, it has given us in the theater too much, too many toys to distract us from what's central to the theater event." He admits to literally counting the elements in his work "in an effort to reduce them to the essential. One shadow is more epic, more beautiful, to me than five."
When he approaches a new project, he always starts with space. "To me, the challenge for theater-makers is to create spaces, times, etc. that allow the drama to occur without editorializing or describing," he says. In planning how to light a given production, he works to ensure that the performers and the space are tied together. To achieve that, he says, he frequently uses low light, such as footlights, "which hit and light the performer, traveling then to the space behind, integrating the two."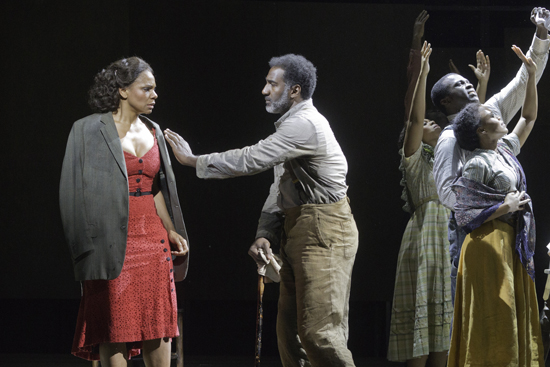 Akerlind designed the lighting for The Gershwins' Porgy and Bess during its inaugural run at the American Repertory Theater last summer. Director Diane Paulus asked the show's designers to avoid the visual clichés usually used to depict Catfish Row. "We talked through many ideas about finding a way to make the performance as elemental as possible through use of real materials," Akerlind says. "We talked about how large gestures in light can have the compositional effect of both nature and fate. It was a terrific conversation."
The challenge, he says, came in the transfer from the A.R.T. to Broadway several months later. "The space of the act two hurricane, a complex and intense event, was changed between the A.R.T. production and the Richard Rodgers Theatre, and we never really had all the time we needed to finish it in its new incarnation…this creates what I call opening night anxiety, where I'm asked to look at what I've done and celebrate it without feeling it is finished."
Unfortunately, Akerlind won't be able to attend Sunday's televised Tony ceremony. Instead, he'll be finishing the lighting design for a new production at Opera Theatre of St. Louis, a contemporary riff on Lewis Carroll's Alice in Wonderland titled Alice, composed by Unsuk Chin with a libretto by Tony winner David Henry Hwang. That said, of course he'd love to win again. "I'd be happy somehow to think that the first wasn't a fluke. I'd have a matched pair for my 11-year-old niece to play award show with," he says. More important, the honor would confer recognition on the show and possibly help extend its run.
The designer plans to return to Cambridge and the A.R.T. later this summer to design the lighting for David Adjmi's new play, Marie Antoinette. As for long-term goals, he acknowledges one: "I often think it would be exciting to finish the Shakespearean canon. Of the 37, I've done 24 of the plays, several more than once."
Akerlind isn't the only BU alum nominated for a Tony this season. Six producers with ties to BU will be sitting in the audience of the Beacon Theater hoping to hear their names called. They are Allan S. Gordon (LAW'65), who earned two nominations, for best play (Peter and the Starcatcher) and best revival of a musical (Evita); Stewart F. Lane (CFA'73), nominated for best revival of a play (Gore Vidal's The Best Man); James L. Nederlander (CGS'80), who also scored two nominations, both in the category of best revival of a musical (Follies and Evita); Jon B. Platt (CGS'74), who has an astonishing four nominations in three categories: best musical (Nice Work if You Can Get It), best play (Clybourne Park and Venus in Fur), and best revival of a play (Death of a Salesman); Takonkiet Viravan (COM'90), nominated for best musical (Nice Work if You Can Get It); and Frederick Zollo (CAS'75), for best musical (Once).
The Tony Awards ceremony will be broadcast on CBS this Sunday, June 10, at 8 p.m. EDT.
Tom Vellner can be reached at tvellner@bu.edu.