When the Red Sox Ruled
CGS prof's new book chronicles early glory years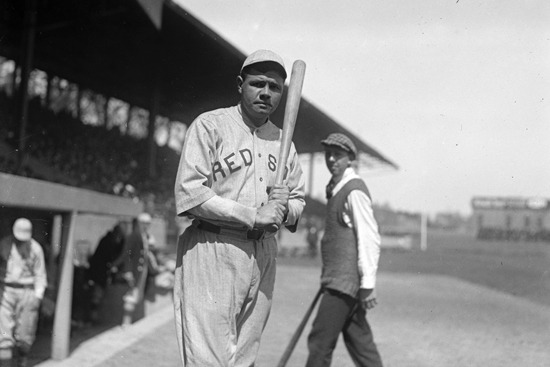 Today at precisely 2:05 p.m., the Boston Red Sox will play their 111th home opener, facing off against their archrivals, the New York Yankees. Every year at this time, Sox fans revive their dream of October glory, although such hope is hard-won. For most of the 20th century, Red Sox fans lived with what Thomas Whalen describes in his new book, When the Red Sox Ruled: Baseball's First Dynasty, 1912-1918, as "heartbreaking loss and humiliation," as season after season, the team failed to win baseball's big one—the World Series.
The Red Sox ended an 86-year streak of Series-less seasons with a four-game sweep of the St. Louis Cardinals on October 26, 2004. Few fans that night had been alive when the Sox last won the World Series, in 1918. Even fewer had any personal memory of the team's early years, during which they amassed an astonishing four World Series wins in just seven seasons.
It is that glory-filled era that Whalen (above), a College of General Studies associate professor of social science and a self-professed lifelong Red Sox fan, takes us back to in When the Red Sox Ruled (Ivan R. Dee, April 16, 2011). Author of a previous book about the Boston Celtics, Whalen here brings to vivid life the years when now-forgotten players like Duffy Lewis, Smokey Joe Wood, Tris Speaker, and Bill "Rough" Carrigan made the Red Sox the undisputed stars of baseball.
BU Today spoke with Whalen about his new book.
BU Today: You focus on the Red Sox from 1912 to 1918. What about this era piqued your interest?
Whalen: The Red Sox of this period really represented the first baseball dynasty of the modern era, winning four World Series in seven years, a feat that no team other than the Yankees have been able to do since. Think about that for a moment. Instead of talk of curses and supernatural hexes, the Red Sox strode the narrow world of major league baseball like a colossus. It was just too good a story line to pass up.
Babe Ruth, on the team from 1914 to 1919, stands out among a host of larger-than-life characters. What was he like when he first arrived in Boston?
Let's put it this way. He made Manny Ramirez's controversial tenure in a Red Sox uniform look like a choirboy's in comparison. He did everything to excess, whether it be drinking, gambling, or cavorting with prostitutes. His manager, Bill "Rough" Carrigan, once got a call from the police telling him that his star pitcher was in jail and needed to be bailed out. Carrigan replied that he would wait until morning because at least then he would know where Ruth was for the evening.
Was the bitter division between Protestant and Catholic team members typical of other teams or specific to the Red Sox?
The sectarian divide really mirrored what was going on in broader Boston society. Dating back to the 1840s, when the first wave of potato famine Irish immigrants arrived here, the native Protestant inhabitants, otherwise known as Yankees, were resentful of the newcomers' religion and established culture. They also saw Catholics as an economic threat to their jobs. It was almost inevitable that tensions occurred. Player-manager Bill Carrigan, a practicing Catholic, and star center fielder Tris Speaker, a self-confessed member of the Ku Klux Klan, actually had a fistfight. Carrigan won, thereby establishing his authority in the clubhouse and inadvertently striking a literal blow for diversity.
What player most impressed you as you researched the book?
There were several, but Babe Ruth stands out. Here you have this boisterous product of a Catholic-run reform school enter the big leagues at the tender age of 19 and dominate, first from the mound and then from the batter's box. He could do it all while having a hell of a fun time doing so. He was really Paul Bunyan in baseball cleats.
If there's a villain in your book, it's clearly owner Harry Frazee, who infamously traded Ruth to the Yankees. How would you describe him?
Frazee was first and foremost a businessman. He saw the Red Sox merely as a financial asset to be used to fund his other business enterprises, which happened to be in the field of theater entertainment. He once said that nothing was too good for Red Sox fans. His record as owner proved otherwise.
During the Red Sox 86-year losing streak, superstitious fans often blamed "the curse of the Bambino." Why did it take nearly a century to regain some of their early success?
Ruth was just one of many star players on the team packed off to the Yankees during this period. Yankee Stadium was said to be "the House that Ruth built," but it was really the house that Frazee built. His moves helped lay the championship groundwork for what was to become the Yankee dynasty of the 20th century.
The only curse stemmed from bad team management and institutional racism on the part of the Red Sox. The Sox had first dibs on Jackie Robinson and Willie Mays, but, incredibly, let these Hall of Fame talents slip through their fingers. In fact, the Red Sox were the last team in the majors to integrate, in 1959. There is no question that the burden of responsibility for this sorry record lies squarely on the shoulders of longtime team owner Tom Yawkey, who had, shall we say, a less than progressive attitude on matters of race.
How has professional baseball today changed from the period you write about?
There's light years' difference. The game today is more diverse and the players are better trained and equipped. What's more, they are much better paid, which sadly was not the case during the dead-ball era, when the owners had the players in a virtual state of indentured servitude.
Let's talk about this season. Sports Illustrated predicts the Red Sox will make it to the 2011 World Series. As a lifelong fan, what do you say?
As famed Red Sox manager Dick Williams said on the eve of the 1967 "Impossible Dream" season: we'll win more than we'll lose.
John O'Rourke can be reached at orourkej@bu.edu.