What Happens if We Run Out of Doctors?
SMG's Davidson studies shortage of primary care physicians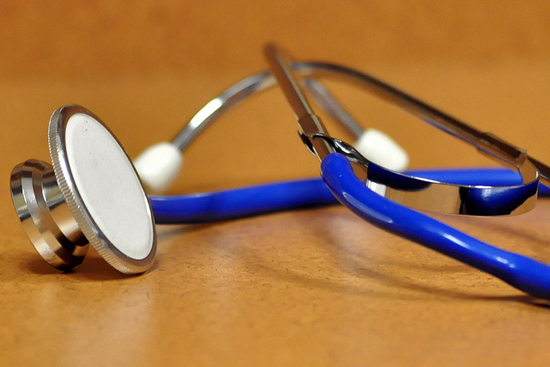 A doctor deficit plagues the country, and persuading more medical students to become old-fashioned general practice family docs requires three measures: more public subsidies for medical education, more primary care provided by nurses and foreign doctors, and a stomach for alphabet-soup abbreviations.
Those conclusions spring from two studies now being conducted by Stephen Davidson, a School of Management professor of markets, public policy, and law. Aided by students in the Undergraduate Research Opportunities Program, which offers BU undergrads the opportunity to participate in research projects with a faculty mentor, Davidson is seeking a solution for a problem that the American College of Physicians has issued a dire warning about: "Primary care, the backbone of the nation's health care system, is at grave risk of collapse."
One of Davidson's projects looks at existing public subsidies for medical education, to relieve the debt crushing many students who might become primary care physicians (PCPs)—here's where the abbreviations start. The second project asks whether advanced practice nurses (APNs) and international medical graduates (IMGs), or doctors trained at foreign medical schools, can provide some care in the absence of more homegrown docs. APNs are nurse practitioners and other types of nurses trained in certain care that was once done by doctors alone.
How big a problem is the lack of primary care docs? The New England Journal of Medicine notes that "a growing proportion of patients report that they cannot schedule timely appointments with their physician." Davidson cites another barometer: only a third of American doctors are in primary care, compared with half or more docs in other developed nations. With 30 million uninsured Americans scheduled to get insurance in 2014, says Davidson, "that shortage is going to become even more acute."
In part, fewer medical students choose primary care because specialties pay more (on average last year, roughly $203,000 versus $356,900, says the Medical Group Management Association). "It's not that primary care physicians don't get paid well compared to other professions," says Ashwini Kerkar (SAR'13, MED'17), who is assisting with the subsidy study. "It's just that they don't get paid as well as an orthopedic surgeon." Reimbursements based mostly on the quantity of medical services forces PCPs onto an exhausting conveyor belt that rushes patients in and out, and that workload is strained further by an aging, overweight patient population.
Uncle Sam does offer scholarships and loans to students who go into primary care and agree to serve in doctor-starved regions for a few years after graduation, through the National Health Service Corps and the Public Health Service Act. Those programs have had some success, says Davidson, whose research likely will recommend increasing funding.
But even if more medical students opted for primary care, there are constraints on how many PCPs we can churn out. "Med schools can only expand so much," Kerkar says, and can't keep up with demand for family doctors. "Only people with heart problems need cardiologists. Everyone needs a primary care physician."
Importing foreign-trained docs might help, but that poses the ethical problem of a brain drain from countries that desperately need medical care, too. "Should it be U.S. policy to import physicians from countries that have an even greater shortage than we do?" asks Davidson. "That's a hard sell."
Hence the idea of growing primary care services, as opposed to primary care doctors, by allowing APNs to do more such care "largely on their own," he says. Legal restrictions, which vary state to state, sometimes curtail how much subbing for doctors nurses may do, and APNs study fewer years than doctors, says Davidson, who suggests researching the advantages of lengthening the training for APNs.
There's another impediment: "I actually talked to a doctor, and he doesn't agree with the idea that an APN can do as much" as a physician, Kerkar says. "And that's understandable. Because he went through that many years of medical school. Why would you think someone can do the same thing with three years of training? It's like devaluing your own service." Her response: empowering APNs would ease doctors' workload, giving them more time to do the things only they can do.
Budding doctor Kerkar found an economics-oriented research project intriguing. "I personally don't like working in labs," she says, "and this interested me because I'd always looked at just the science behind the entire medical field, and never as to how it was managed."
Davidson expects to have written papers summarizing the research results by spring. It's a longtime research interest for the SMG professor, who last year wrote Still Broken: Understanding the U.S. Health Care System, which catalogues the health reform to-do list lingering after passage of Obamacare.