Think Twice Before Taking Hair Replacement Drugs
MED researcher: battling baldness can cause sexual dysfunction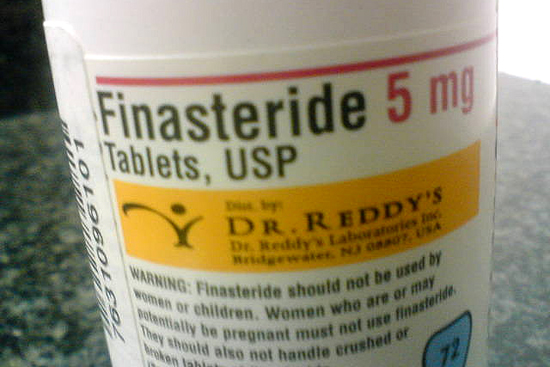 Who says it's a man's world? A paper principally authored by a BU researcher says that men who use certain drugs to battle baldness or reduce enlarged prostates may torpedo their sex lives in the bargain.
The drugs are finasteride (made by Merck and sold generically as Proscar and Propecia) and dutasteride (made by GlaxoSmithKline and sold generically as Avodart). Finasteride is approved for both baldness and benign prostatic hyperplasia (BPH), a noncancerous enlargement of the prostate. Dutasteride is used to treat BPH.
In the study, published in the March Journal of Sexual Medicine, the researchers pored over all the published scientific literature about the drugs' side effects, including data from Merck. "We reviewed every piece of information we could get our hands on," says lead author Abdulmaged Traish, a School of Medicine professor of urology and biochemistry.
They found that, depending on the study, 3 percent to 22 percent of patients reported problems such as erectile dysfunction or diminished sex drive—and the problems persisted for some even after they discontinued the drugs.
The paper acknowledges that the number of men affected long-term (perhaps 7 percent of all patients using the drugs, Traish says) is small. But "if you are in the 7 percent, how small is it?" he asks. "Take a hundred people, line them up. Seven of you—you have a life sentence now on your sexual function. Just because they are small numbers, that doesn't mean they are not important. For that individual, he has no life anymore. And that's what these people say: 'I have no life.'"
The drug makers acknowledge possible sexual side effects from their products, and Merck says finasteride may also induce depression. But its warning says sex problems disappeared after patients stopped taking the drug. Among those for whom that wasn't true, Traish's paper reports, is an anonymous 24-year-old man who in 1999 took finasteride for hair loss. Within five days, he was impotent. He discontinued the drug and received therapies that included Viagra, but his sexual function "never returned to normal," Traish and his colleagues write.
Another study of finasteride, by George Washington University researchers, reached a similar conclusion.
Merck is facing lawsuits over its two drugs, including a class action suit, on behalf of Canadian men who took either drug, by a Canadian man alleging persistent sexual problems from Proscar, even after he discontinued the drug. Some Americans have sued over Propecia, prompting Merck to tell the Hartford Courant that it "intends to vigorously defend against" those lawsuits."
The drugs impede an enzyme that turns males' testosterone into dihydrotestosterone. Dihydrotestosterone kills hair follicles, and in BPH, makes the prostate grow, impeding urination. But dihydrotestosterone is necessary for men's ejaculation, erection, and sex drive as well.
"Young men taking these drugs for hair loss should really have a serious conversation with their physician before they commence taking the drug," Traish advises. "The doctor has a responsibility: if you're not educated enough about it, then don't prescribe it." He sees a qualitative difference between the choice for older men, who predominate among BPH cases and need the drugs to improve urination, and younger, balding men who take the drugs "for cosmetics." But in both cases, he says, there are alternative therapies available that a patient should discuss with his doctor.
The founding administrator of Propeciahelp.com, an online information and support group for men alleging sexual problems from the drug, calls Traish "a world-class expert in his field." The administrator, who declined to give his real name because of the sensitive nature of the affliction (he still suffers sexual dysfunction almost six years after discontinuing Propecia), says many doctors are unaware of persistent problems and dismiss them as psychological. Papers like Traish's, the administrator says, "are helping pave the way" for research into a cure. His website currently has 1,750 members.
Traish estimates that a dozen journalists, including some from overseas, have interviewed him about the study. While the paper overflows with graphs and statistics and was written by the winner of a Metcalf Cup and Prize, the University's highest teaching honor, it has become fodder, unsurprisingly, for tabloid headline writers. ("Better to be shiny than floppy, warns doc" was a British blog's contribution.) Traish takes that in stride, pointing to sober coverage by media like the BBC.
"The people that I talk to—they are treating it with the seriousness that it deserves," he says.
Rich Barlow can be reached at barlowr@bu.edu.