Terriers Soar to Victory
Huge wins for women's hockey, men's basketball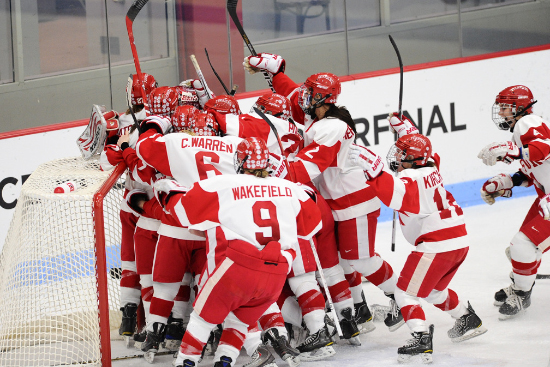 March Madness lived up to expectations and then some on Saturday, as a wildly enthusiastic crowd cheered the men's basketball Terriers on to a dramatic win that captured the America East title. An equally pumped-up crowd witnessed the women's ice hockey team clinch its first-ever trip to the Frozen Four later in the afternoon.
"It was a special day for BU athletics," says director of athletics Michael Lynch. "There were a lot of proud Terriers not only here in Boston, but across the world."
Despite the games' coinciding with spring break, Terrier Nation was well represented throughout the weekend's contests, giving the teams a huge home advantage. Friday night's men's Hockey East quarterfinal win over Northeastern sent the best-of-three series, which began Thursday night with a 4-2 Huskies win, to a third game on Sunday, only to have the Terrier icemen fall short, 5-4. The series loss meant the Terriers failed to clinch what would have been a league-record 10th straight Hockey East semifinals appearance.
In front of 3,845 fans at Agganis Arena, John Holland (CGS'09, COM'11) coolly sank two free throws with 2.4 seconds left in regulation, giving the men's basketball team its first lead of the game and clinching a thrilling 56-54 win over Stony Brook for the Terriers' first America East championship since 2002.
With its 11th-straight victory, BU improved to 21-13 and earned the conference's automatic bid to the NCAA tournament. The Terriers will face the top-seeded University of Kansas (32-2) on Friday, March 18, in Tulsa, Okla.
Holland scored 23 of his game-high 27 points in the second half, en route to earning the tournament's Reggie Lewis Most Outstanding Player honors. With the Terriers down by as much as 15 points after halftime, he recorded 14 straight points during a game-changing 17-3 run.
After sinking two free throws with 1:03 minutes left to tie the game at 54-54, Holland created a jump-ball opportunity with the possession arrow in BU's favor and once again stepped to the line to secure the Terrier victory in those final seconds. Stony Brook (15-17) got one more possession, but a last-ditch attempt from half court rimmed out, and BU fans erupted in celebration.
"The turnout for men's basketball was fantastic, and it created an absolutely electric atmosphere. Our fans and this program have benefited greatly from having a first-class facility to play in," says Lynch. "We've always envisioned this type of support for our basketball program, and with a title on the line in a building like Agganis Arena, it just added up to a perfect day. In two short years, Coach Chambers has put BU men's basketball back on top in America East and the future looks even brighter."
The women's ice hockey team continued the Terriers' winning ways later in the day with a 4-2 win over Mercyhurst in the NCAA quarterfinals at Walter Brown Arena, racking up an impressive 26-6-4 on the year.
Jenn Wakefield (CAS'12) extended her goal-scoring streak to seven games with two goals, including an empty-netter with 12 seconds left to seal the victory. Marie-Philip Poulin (SED'14) added a marker, while the game-winner by Jill Cardella (COM'13) broke a 2-2 tie with 9:04 left in the third. Goaltender Kerrin Sperry (CAS'14) matched a career high with 30 saves.
At next weekend's Frozen Four, which will be held at Tullio Arena in Erie, Pa., the Terriers will play number-two ranked Cornell in the second semifinal, on Friday, March 18, beginning at 8 p.m. A Terrier win will propel them to the national championship game, on Sunday, March 20, at 2 p.m., where they will face off against the winner of Friday's Boston College–Wisconsin semifinal.
Unfortunately for the women's basketball team, victory proved elusive, despite a valiant effort against the Hartford Hawks. A season-high 22 points from guard Mo Moran (CAS'13) was not enough, and the Terriers fell to Hartford, 65-53, in the America East championship game Saturday night at Case Gym.
Moran came off the bench to hit 9 of 16 shots from the field during 32 minutes of play, helping the Terriers (17-14) keep the game close for much of the contest. BU trailed 27-21 at halftime, battling back to eventually tie the game at 40 apiece with 10:18 remaining, but was unable to wrest the lead from the Hawks. It was the seventh time in the past nine seasons that the Terriers reached the America East title game.
All-session passes for the Women's Hockey Frozen Four are $49 for adults and $39 for students and can be purchased by calling the Tullio Arena Box Office, 814-452-4857, or online here.
Ticket information for the men's basketball NCAA game will be available on Monday here.
Brian Kelley can be reached at bkelley@bu.edu.