Taking It to the Mat
Wrestling coach Carl Adams enters 31st season with Terriers
Carl Adams was still a child when he was introduced to wrestling. His father had taken him to Madison Square Garden to see Bobo Brazil, Bruno Sammartino, and William "Haystack" Calhoun perform in a World Wide Wrestling Federation event.
Adams didn't know the matches were fake. He didn't yet understand what the real sport of wrestling was like. But he was hooked. "There was no question in my mind that I was going to wrestle," says Adams, head coach of the BU men's wrestling team for the past 30 years.
As an undergraduate at Iowa State University, Adams compiled a 94-8 record and won two NCAA titles at 158 pounds. After graduating, he went on to wrestle in the Pan American Games and World Cup Championships and was named the National Mat News Middle Weight of the Decade in 1975.
"I enjoyed learning the skills of the sport," Adams says. "I couldn't wait to get to practice every day, and that was my approach. I wanted to get better at it every day. And I enjoyed winning. That was a good feeling."
By the time he started wrestling, Adams was accustomed to hard work. He and his two brothers spent much of their childhood and teenage years helping their father.
"We were doing landscaping," he says. "My dad owned a brickyard at one point; we would load dump trucks with cobblestones, and at a very young age we worked like men. A lot of people viewed wrestling as something that was really hard, but to me, it was just really fun."
Adams began his coaching career at Iowa State after graduating in 1972. His college coach had made him an offer: he could become an assistant coach, but only if he pursued a master's in education and counseling.
Adams gratefully accepted the offer. He remained at Iowa State until 1978, when he became head coach at the University of Rhode Island. When URI eliminated the program two years later, Adams came to BU.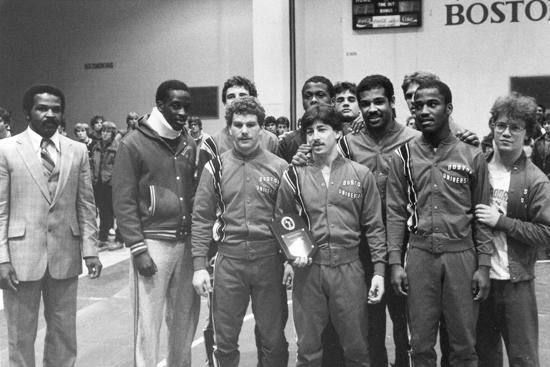 Over the next three decades, Adams received numerous honors, including induction into the Massachusetts Wrestling Hall of Fame, and became a legend in the world of collegiate wrestling.
"Everywhere you go, people know the name Carl Adams," says cocaptain John Hall (CAS'12), who wrestles in the 197-pound weight class. "He's become an institution in the sport of wrestling and at Boston University. When you're around the sport that long, you know the ins and outs of everything. He knows his stuff."
Cocaptain Fred Santaite (CGS'10, CAS'12),  who wrestles in the 133-pound class, agrees.
"You mention Carl Adams' name, and people are like, 'Oh, wow, what do you think of him? He's a great coach,'" Santaite says. "He's a big name around the wrestling world."
The admiration is mutual. Adams says this year's Terriers could be the best team BU has ever had. Hall is ranked 15th among national wrestlers in the 197-pound class, and Santaite is ranked 11th in the 133-pound class. Pair those two with Hunter Meys (SED'13), who ranks fifth nationally in the 174-pound class, and BU is poised to make a move in the national rankings.
The Terriers will get their first shot to do that this Sunday when they take on two perennial wrestling powerhouses—Army and Adams' alma mater, Iowa State, at the Nor'Easter Duals at Case Gym.
"We went to Iowa last year and they beat us pretty good," recalls Adams with a laugh. "But they're coming here this year, and we're hoping to pay them back." The remark is vintage Adams. His laid-back demeanor masks a serious competitiveness. Now 61, he keeps himself in fighting shape with regular workouts. By his own admission, almost everything in his life revolves around wrestling.
He has written three books on the sport and has designed equipment to improve wrestlers' performance, most notably the ADAM Wrestling Takedown Machine, a human-scale dummy that allows wrestlers to practice more than 100 combinations of takedowns, setups, and drills. ADAM is used in high schools and colleges across the country.
"I like to work with my hands," Adams says. "I like to create things, but they all have to do with wrestling."
Why does he remains so committed the sport? "I love the sport of wrestling," Adams says, "and I love coaching. I believe that everyone has an incredible amount of untapped potential, and I feel like my goal and job as a coach is to do everything I can to help my athletes reach their full potential."
The BU men's wrestling team will begin its season with the Nor'Easter Duals on Sunday, November 6, at 5 p.m. at Case Gym. Iowa State and Army will compete at 3 p.m., BU and Army will compete at 5 p.m., and BU and Iowa State will compete at 7 p.m. Tickets are $3 with a Sports Pass and $5 for the public.
Ben Carsley can be reached at bcarsley@bu.edu.