Signing Hedda Gabler
ASL interpreters tackle Ibsen's dark drama
In the video above, learn how an ASL interpreting team and a CFA theater crew collaborate to produce an ASL-interpreted performance of Hedda Gabler. Photos by Kalman Zabarsky
Theatrical American Sign Language interpreters must be perceptive, flexible, and—quite possibly—have a touch of multiple personality disorder.
Emily Hayes and Drew Pidkameny, for example, ASL interpreters for a performance of the College of Fine Arts production of Hedda Gabler at the BU Theatre, must fluidly morph into several characters—five women for Hayes and three men for Pidkameny—while providing an accurate and artful interpretation for deaf audience members.
For nearly a decade, CFA's School of Theatre and the University's Deaf and Hard of Hearing Services, part of the Disability Services office, have collaborated on two ASL-interpreted productions each year. Their goal is to teach theater students how to produce shows accessible to the deaf community and to mentor a new crop of ASL interpreters for the Boston theater scene.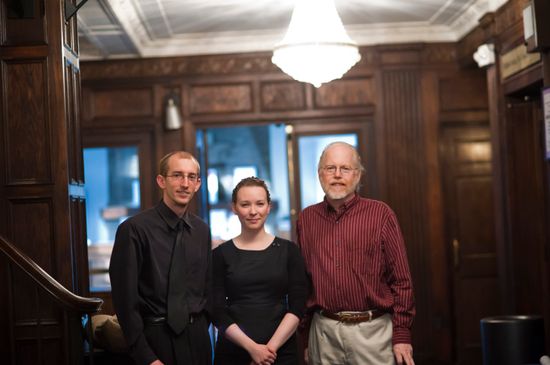 ASL coach Dennis Dillahunt (right) is mentoring Hayes (center) and Pidkameny (left), recent graduates of Northeastern University's ASL/English interpretation program, for Hedda Gabler, the second BU play for which he has mentored interpreters. Hayes interpreted one student production while in college, and Pidkameny interpreted two plays before Hedda Gabler.
"It's a challenge to take two wet-behind-the-ears theatrical interpreters and work with them," says Dillahunt, who is deaf.
Yet the coach wouldn't have it any other way. One of his goals is to add fresh faces to the small and well-known group of local interpreters.
Interpreting the current production of Hedda Gabler is particularly challenging: lighting is dim, fog floods over the stage, actors use the entire space, including offstage, to launch lines, and multiple characters unleash rapid-fire dialogue throughout the play.
"I'd be crazy if I wasn't nervous," Pidkameny says. "You want it to be easy for them to watch the play and see the lines. And that's a real struggle with a stage that is so physically spread out and arranged the way it is."
The interpreters had only one full run-through, and that took place 24 hours before opening night. Pidkameny and Hayes stood on a staggered platform in the dark theater. Their black-clad bodies seemed to blend with the background, their hands and faces—the most important parts for their audience—glowed peach in the soft light.
Much like actors, interpreters must ensure their signs fall within theater lights. "Having significant light is equivalent to volume for the deaf audience," says Christopher Robinson, a Disability Services staff interpreter as well as a theatrical interpreter.
Hayes' and Pidkameny's trickiest job may be their portrayal of more than one character simultaneously. They toggle between two (sometimes three) characters by turning from side to side, flashing the sign for a character's name, or assuming each character's persona by a tip of the chin or more grandiose arm gestures.
"We're trying to really investigate the inner nature of these characters and try to take something from their personality, tendencies, or the way they speak and infuse that into how we're going to sign for them," says Pidkameny.
All that switching back and forth has to be done quickly, Hayes says, so the audience absorbs the line first and then the scene on stage.
Theatrical ASL interpretation is vastly different from traditional interpretation, the kind one might find at a class or conference. There are no pauses for questions, and no opportunities to repeat a phrase. Interpreters are actors themselves, and as such they must have practiced the script beforehand.
"Having all that information in advance definitely raises the bar for the quality of interpretation that you expect in theatrical production," Pidkameny says.
The interpreters meet weekly with Dillahunt to address how to sign particularly challenging phrases or nuances in the play. Even when they sign correctly, he may suggest a sign that is more appropriate or more easily understood in the context.
"Having a deaf consultant is so valuable," Hayes says. "They're not listening to the actors, so they can look at what you're signing and say, 'That doesn't make sense. It'd be clearer if you did it this way.'"
Hayes and Pidkameny walk a fine line between interpreting and simplifying a scene to the point of sapping it artistically. For example, the audience understands that Hedda is pregnant, but no one explicitly makes that statement. Meanwhile, the ASL sign for pregnant involves sweeping hands in front of the belly in the shape of a little mound. The interpreting team worked out a sign that plays more subtly to the crowd.
"You want to provide an equivalent experience to the deaf audience," Pidkameny says, "but you have to manage that while translating between two languages that at the core are very different."
So different that there is sometimes no translation. Hedda Gabler is set during the Victorian period, when the manner in which people address one another indicates their social standing and degree of intimacy.
But ASL does not work that way, Hayes says. Name signs indicate personality traits, not interpersonal relationships. Instead of dwelling on characters' names, the interpretation team signs what using a first name means, as in "We're friends now."
Jitters aside, Hayes is confident that everyone's performance will be a success. "We know the script," she says. "We have watched the actors so many times we really have a feeling for their mannerisms. We're in a very good place."
Hayes and Pidkameny will provide ASL interpretation at tonight's performance of Hedda Gabler, at the Boston University Theatre, 264 Huntington Ave., Boston, at 7:30 p.m., the only performance featuring ASL interpretation. More information can be found here. Purchase tickets here or call 617-933-8600. Free student tickets, one per BU ID, are available at the door on the day of performance, subject to availability.
Leslie Friday can be reached at lfriday@bu.edu; follow her on Twitter at @lesliefriday. Robin Berghaus can be reached at berghaus@bu.edu.