SHA Alum Killed on Charity Bike Ride
Christina Genco, passionate biker and volunteer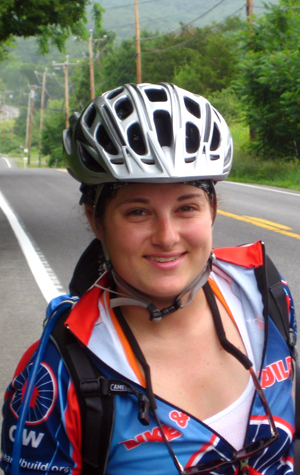 Christina Genco spent her last day doing what she loved.
An avid cyclist and passionate volunteer, Genco (CGS'08, SHA'10) was biking across the country for a nonprofit organization when she was struck and killed by a sports utility vehicle in Alabama on Monday, June 6.
Genco was coleading a group of 33 bikers en route from South Carolina to California on behalf of the charitable organization Bike and Build, which raises money for, and awareness about, affordable housing. It was Genco's fourth trip with the organization.
Why bike the 4,000-plus miles? In a recent blog post about the trip, Genco wrote: "Plain and simple, to inspire others and raise money for a GREAT cause."
Coleader Jeremy Story was biking just ahead of Genco when the accident occurred. He posted this message on her blog, dated the day of her death: "While Christina's life may have ended on that day, her legacy lives on in everyone that knew her. I know that she taught us all more than a couple of life lessons and it will honor her as we live those life lessons out. Be happy, because she was happy!"
A 22-year-old native of Newton, Mass., Genco studied hospitality administration and graphic design at BU. At the time of her death, she was director of operations for Revolution Lacrosse, a Boston-based club team. Her mother, Caroline Attardo Genco, is a School of Medicine professor and research director for the section of infectious diseases and a Goldman School of Dental Medicine associate professor. Genco is survived by her parents and her brothers, Brandon and Joe.
Kara Alhadeff (CAS'12) met Genco at a career nonprofit exposition at BU this past February, and the two quickly realized they would be on the same bike trip. "From that moment on, she became someone that I really looked toward" for guidance, Alhadeff says. "She was definitely a huge role model for me—like a sister. She just really inspired all of us."
Friends describe Genco as outgoing, passionate, a petite biker with the "heart of a bull."
School of Hospitality Administration program coordinator Jennifer Salman fondly recalls Genco's love of cycling and her giving spirit. "There was no one who could match her enthusiasm. She was a great kid," Salman says. "When you saw her, you would automatically smile."
Genco interned with Cool Cat Events, owned by Carolyn Oliveri (SMG'83). Oliveri remembers at one event Genco deftly staging event furniture, washing wine glasses when hotel staff lagged behind, and snapping pictures when the photographer wasn't able to make it.
"She was a natural leader, a can-do person," Oliveri says. "She never had a bad attitude about anything."
The accident happened while Genco was climbing the shoulder of a steep hill outside of Rainsville, Ala., on her way to Scottsboro, where the group was staying. Local police are investigating. No charges have been filed against the driver, a Rainsville resident and former employee of the county sheriff's office.
All of the riders from Genco's group are coming to Newton by bus to attend her memorial services this weekend. They are determined, they say, to resume their trip in Arkansas as a way of honoring her memory.
"I really want to finish this for Christina and to carry her spirit," Alhadeff says. "Because she still is here. She's here with us."
A wake for Christina Genco will be held at Magni Funeral Home, 365 Watertown St., Newton, Mass., from 3 to 7 p.m. this Sunday, June 12. The funeral is at Our Lady Help of Christians Church, 573 Washington St., Newton, at 10:30 a.m. on Monday, June 13. In lieu of flowers, the Genco family asks that donations in Christina's honor be made to the Christina Clarke Genco (Brooke) Revolution Lacrosse Scholarship Fund and the Christina Clarke Genco Safe Biking Fund.
Leslie Friday can be reached at lfriday@bu.edu; follow her on Twitter at @lesliefriday.