New Episcopal Chaplain a Role Model
Cameron Partridge, first openly transgendered chaplain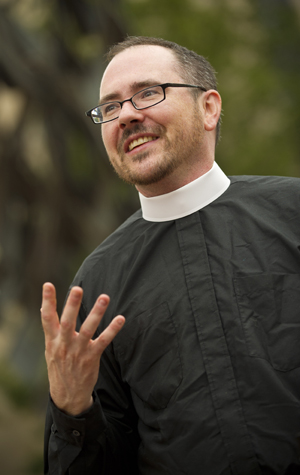 Over the lazy, hazy, crazy days of summer, BU Today looks back at some of our favorite stories from the academic year. Each week we'll present stories about a special topic, from student clubs and sports to research and technology. This week we feature the best of religion.
You probably aren't aware that November 20 is the national Transgender Day of Remembrance. Cameron Partridge is. The observance began after the 1998 murder of a transgendered Boston woman. November 20 also happens to be Partridge's birthday (he turned 38 in 2011), and BU's new Episcopal minister, the University's first openly transgendered chaplain, once shuddered at a birthday that reminded him both about his own mortality "and that you could be killed."
Then a church he served hosted commemoration services that pulled in hundreds each year. "I started to feel like, you know what? I need to go. This is really important," Partridge says. "There's still part of me that's like, ugh, but honestly, I really find that it's such a powerful experience of community. And that's a really wonderful thing to have on your birthday."
As he takes over the University's part-time Episcopalian chaplaincy, Partridge, who lives outside Boston with his wife and their toddler son, says he wants to minister with the empathy that has sometimes been denied him since he completed his transition to a man in 2001. His father, for example, no longer speaks to him. "It's not my choice," he says. (Most family and friends accepted him after long conversations.)
As for students, including any who might be uncomfortable with a male chaplain who graduated from Bryn Mawr as a woman, Partridge says, "I wouldn't want someone to feel like they weren't allowed to hold a different theological position" from his own. "There's not a thought police here." Sure, it would hurt for a student to reject him as spiritual guide because of who he is, he says, but "I'm not the only chaplain in the University, and I would be fine helping to connect them with someone they feel comfortable with."
In clerical black and collar, there is no physical hint that the bearded and bespectacled chaplain was once female. While open about his gender change, Partridge doesn't want it to define his totality as a person. In fact, during the regular dinners with Episcopal and Lutheran students that he recently inaugurated, it hasn't come up at all. "Frankly, I don't think the students would care," says the Rev. Cindy Jacobsen, BU's Lutheran chaplain.
Partridge says he would understand if some did. "Being trans is more unknown to people than being gay, for instance. There's plenty of gay clergy." By contrast, he's one of only two openly transgendered Episcopal priests in Massachusetts, and nationally, he says, "I know most of them, and there are maybe five to seven or so."
"My hope is that people just sort of respond to one another and to me as just human beings."
Sean Glenn (STH'13) first encountered Partridge at evening prayer early in the fall semester and found him "one of the most welcoming and friendly individuals I have ever met." The chaplain's openness about his backstory "is so important because the community needs role models like him." Personally, that's vitally important to Glenn, a gay man who says colleagues often ask how he can reconcile his sexuality and his Christianity. BU's chaplains, including Partridge, "have done great work to make people like me feel comfortable, welcome, and dignified."
Marsh Chapel Dean Robert Hill says Partridge "brings intelligence and compassion" to his job, citing the joint ministry with Lutherans. The weekly dinners together are coupled with joint Sunday worship. "These are two relatively small but historic groups that are starting to partner," says Hill. "Getting kids to sit and eat and talk together is important."
Partridge also brings scholarship to his ministry: when he's not shepherding his tiny BU flock—15 to 25 students regularly attend services and the dinners, he says—he lectures at Harvard Divinity School, specializing in gender and sexuality ideas in early Christianity and theology. Glenn says Partridge introduced him to "queer readings of scripture," which interpret biblical passages according to gay believers' experience.
There's an old joke that Episcopalianism is the Republican Party at worship. A quarter of American presidents have been at least nominally Episcopalian—not just Republicans like the first President Bush, but some Democrats, including Franklin Roosevelt. Partridge concedes that this historically upper-crust church has "been wrestling with how to codify its growing acceptance" of LGBT (lesbian, gay, bisexual, transgendered) people, but the operative concept there is "growing acceptance." A key point, he says, was the church's 2009 General Convention decision to ordain gay bishops.
"It feels like, in the Episcopal Church, there's more a sense of resolve to just be who we are…a sense of all people being welcome and able to become the people God created them to become," the new chaplain says. Indeed, academia can be as intolerant as church: Partridge has said that as an undergraduate at then wary-of-religion Bryn Mawr, "deciding to become a priest was like coming out."
Pondering a gender change began with his doctoral studies at Harvard Divinity School in the '90s. "I was out as gay at that point," he recalls. The run-up to his change was not the turmoil-filled time you might expect. "I'm not a huge fan of the trapped-in-the-wrong-body narrative" of some other transgendered people, Partridge says. "I know it's true and real for some folks, but I never felt like God made a mistake. I've not had a problem with God about this, I really haven't. I just had a sense of this growing—discomfort, disjunction." With the change, "I felt like I was able to kind of reclaim the body that God had given me."
Seeking a unisex name, he was stumped until he went for take-out sushi one day when he was still a woman and the clerk misheard the name, asking, "Cameron?" Partridge looked the name up and learned it meant "crooked," just the name, he thought, for someone who believes gender is not linear.
As for his agenda as chaplain, he's exploring ways to involve students in environmental justice, an interest that has come up in conversations with them. He's also interested in economic issues and attended an ecumenical Eucharist with two students at the Occupy Boston protest. "It was really a beautiful thing to go down there and experience all these different folks from different traditions within Christianity, experience what we term the intersection of the church and the world," he says. It's more than a theological issue for both chaplain and students: "I have real concerns about the economy and how we got here, and my students do, too, because they're thinking, what's going to be waiting for me" after graduation.
College, he says, remains "an amazing time to explore one's faith, one's tradition, to explore how their intellectual life and their sense of vocation connect with their broader sense of who they are."
This story was originally published on November 18, 2011