Lipsky's Volcano Simmers at Playwrights' Theatre
Opening on a poignant note after playwright's recent death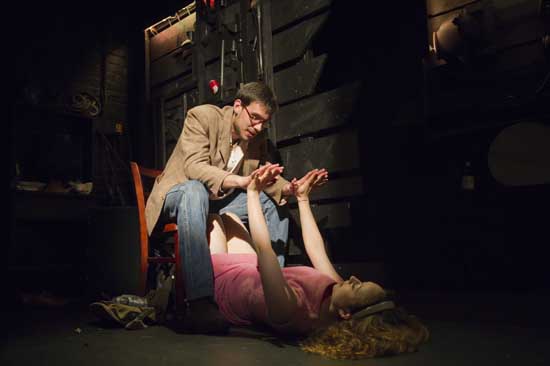 As the BU community mourns the unexpected death last month of playwright Jon Lipsky, his chain of 10-minute plays, Walking the Volcano, is beginning at the Boston Playwrights' Theatre. The production of the popular College of Fine Arts professor's 2008 compilation of plays written for the Boston Theatre Marathon is a collaboration with the Boston Center for American Performance (BCAP), the professional extension of BU's School of Theatre, and runs through May 1.
Directed by Elaine Vaan Hogue, a CFA assistant professor of acting and directing, who offered a moving portrayal of Miss Helen in the recent BCAP production of Athol Fugard's The Road to Mecca, Volcano's progression of eight interlocked vignettes spans the decades from 1964 to the present. But it is Lipsky's take on the sexually tempestuous '60s that resonates most, wrote the Boston Globe's Sandy MacDonald when the play premiered in 2008, adding that the play extends "an implicit invitation—for older audiences at least—to play 'Where were you when…?'"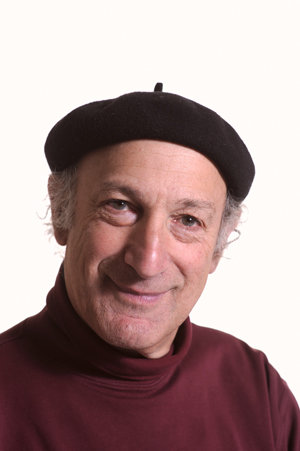 Lipsky referred to these brief dramas as bringing to life "a certain kind of passionate, volatile relationship endemic to those of us who came of age in the '60s." In its succession of risky encounters, Volcano takes audiences from a meeting in an airplane bathroom over the Pacific to a tryst in a seedy Saigon hotel room during the Tet offensive. Portraying an assortment of roles are two actors familiar to Boston audiences, Gabriel Kuttner and Paula Langton (CFA'03), a CFA associate professor and head of acting.
Vaan Hogue describes the plays within a play as inventions that are variations on a theme. "The couples in the plays are dealing with the same passions but in different circumstances," she says. "Although we are looking in on a kind of relationship endemic to the generation that came of age in the '60s, the passions that these characters experience are universal. As the audience, we bear witness to the evolution of a relationship, from the moment of falling in love to the last good-bye."
Playwright and director Lipsky's work appeared at the Actors Theatre of Louisville's Humana Festival of New Plays, the American Repertory Theater, and other regional theaters. He was playwright-in-residence at the Merrimack Repertory Theatre and TheaterWorks/Boston and associate artistic director of the Vineyard Playhouse on Martha's Vineyard, where Walking the Volcano premiered. His plays include Living in Exile—a Retelling of the Iliad, The Survivor: a Cambodian Odyssey, and Maggie's Riff, an adaptation of Jack Kerouac's Maggie Cassidy. In 2007 he won the Boston Theater Critics Association Eliot Norton Award for outstanding director, small company. His award-winning collaboration with jazz musician Stan Strickland, Coming Up for Air, was presented in 2008 at the Underground Railway Theater in Cambridge and at the Edinburgh Fringe Festival. In 2008, he published Dreaming Together: Explore Your Dreams by Acting Them Out (Larson Publications), a guide for actors on accessing the emotions in their dreams; in it he describes theater as "a communal event." He often said he was most proud of his play Living in Exile, which is being produced by the Actors' Shakespeare Project at the Storefront in Somerville, Mass.
Founder of the Theatre of Ecology and Healing Arts, Vaan Hogue has directed many plays, including Radium Girls, The Trestle at Pope Lick Creek, Angels in America, The Other Shore, The Cherry Orchard, How I Learned to Drive, and The Buried Child. She often travels abroad in her work with the Magdalena Project, an international network of women in contemporary theatre.
Most recently, Kuttner appeared in DollHouse at the New Repertory Theatre in Watertown, Mass., as well as in On an Average Day, Fully Committed, and A Christmas Carol at the Stoneham Theatre, in Stoneham, Mass. Langton has played several roles at Boston Playwrights' Theatre, among them Lucy in Howard Zinn's Daughter of Venus and Lynn in Molly Smith-Metzler's Training Wisteria. She portrayed Helen in BCAP's production of C. P. Taylor's Good last fall. Langton is dedicating her performance in Volcano to Lipsky, her colleague and friend of 15 years.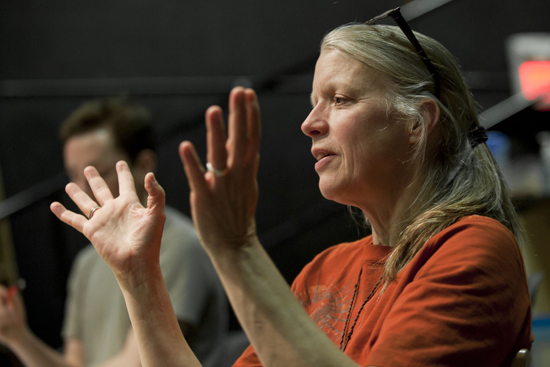 Vaan Hogue (above) describes Lipsky as "a wonderful friend, colleague, and mentor. We, the cast, designers, production crew, producers, are all very saddened by the loss. We are honored to be bringing his play to life, and in the act of doing this, celebrate a creative life. We embrace the opportunity set before us—to devote ourselves to breathing life into Jon's tender and fierce play."
Walking the Volcano runs through May 1 at Boston Playwrights' Theatre, 949 Commonwealth Ave. Find performance dates and times and purchase tickets here.
Susan Seligson can be reached at sueselig@bu.edu.