Second Year Running: School of Law Faculty the Best
So says the Princeton Review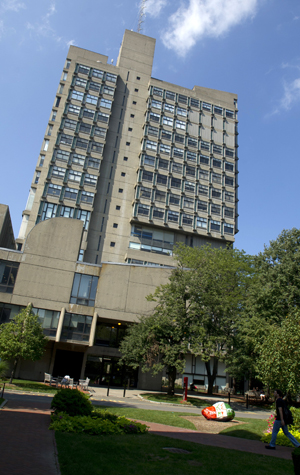 The School of Law has earned top ranking for best legal faculty in the country from the Princeton Review for the second straight year.
LAW placed sixth in the country for "best classroom experience" as well. The Review is a highly regarded school-rating and test-prep services company that ranks schools based on both data supplied by the schools and on student comments. Only schools that make their students available to the Review are ranked.
The company surveyed more than 18,000 students at the 167 law schools it studied, and their comments about teachers' classroom competence and out-of-class accessibility were the basis of the faculty rankings. The best classroom experience ranking, according to the Review, was based on student responses "concerning their professors' teaching abilities, the balance of theory and practical skills in the curricula, the level of tolerance for differing opinions in class discussion, and their assessments of classroom facilities."
LAW's faculty beat out peers at such schools as Yale, Stanford, Duke, Baylor, Northwestern, and Northeastern.
"We have assembled a faculty that is, I think, unique in combining a commitment to scholarship with a genuine love for teaching that shows itself in the classroom," LAW Dean Maureen O'Rourke says. "As happy as we are to have this recognition…ultimately what we care most about is that excellence in teaching has become a part of our culture that will endure beyond any year's rankings and hopefully continue to serve our students well."
The Review quoted one LAW student's response about the school's faculty: "They are talented public speakers, so lectures are rarely boring." Another noted, "There is a strong focus on teaching and cultivating the next generation of lawyers at BU. While intimidating at the outset, there is nothing like feeling yourself grow personally and professionally as you progress in the J.D. program."
The rankings appear in the Review's 2012 edition of The Best 167 Law Schools.