Johnny Cupcakes Comes to BU
Company founder to share secrets of success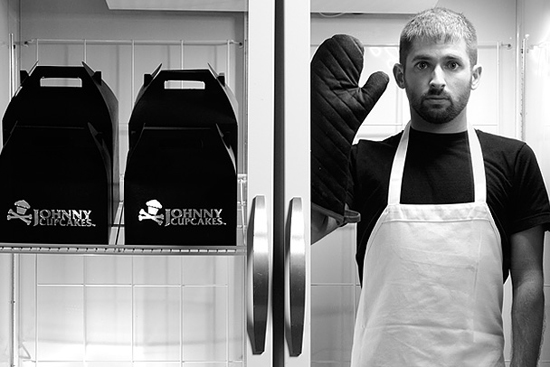 How does a college dropout build a multimillion-dollar business out of a nickname with no investors or seed money and then get voted America's #1 Young Entrepreneur by BusinessWeek? You'll have the chance to find out tonight when Johnny Earle, founder of the popular T-shirt company Johnny Cupcakes, shares his story at Jacob Sleeper Hall. Earle will also offers tips for budding entrepreneurs.
Earle acquired the nickname Johnny Cupcakes in 2000 when he was working at Newbury Comics. He thought it would be funny to design a personalized T-shirt for himself sporting his new nickname. Friends and customers were soon asking how they could buy one. Suddenly, a business was born. Earle began designing bold, graphic T-shirts and selling them out of the back of his beat-up 1989 Toyota Camry. In 2005, he opened his first store, in his Hull, Mass., hometown.
Today, Johnny Cupcakes is booming. T-shirts sell for up to $75 for a limited edition design. Last year the company had sales of $4 million. And there are now four boutiques, in Hull, on Newbury Street, Boston, and in Los Angeles and London, as well as an extensive online shop.
BU Today recently spoke with Earle about his formula for success.
BU Today: Why are your T-shirts so popular with customers?
Earle: We don't sell our products to any stores wholesale. This means our customers can only purchase our products through our website and our physical shops. The great thing about this is that we're able to control the customer's experience.
Almost everything we make is limited edition. Once an item is gone, it may be gone forever. This creates an urgency to shop, as well as a higher appreciation for our products, since they are so rare. It also creates brand longevity. People appreciate what nobody else has. If you flood the market with your product just to make a quick buck, you could feel a backlash and become another trend. We keep everything personal, friendly, fun, and innovative. Being loyal to our customers and not selling out gives them a better reason to support us.
It's important for me to pay attention to details. All of our T-shirts and merchandise are displayed in vintage curved glass bakery cases and refrigerators. Even the tags sewn into the T-shirts are in the shape of miniature oven mitts. We use custom pastry boxes rather than plastic bags, a nutrition facts sign for the sizing chart, and lots more. Building a memorable experience for my customers was important to me even if I had to go broke doing it. You have to spend an arm and a leg to make more arms and legs. If you focus on creating an original experience, people will talk about it—and you won't have to pay a dime for advertising.
What inspires your designs?
As far as work ethic, creativity, and business—my parents have been big influences. As a kid, I would see them win all sorts of Halloween costume contests, crafting their own costumes. Being surrounded by funny, goofy parents has really rubbed off on both my sister and me.
Design-wise, both my designers and I draw ideas and inspiration from the 1940s and 1950s. We aim for bold lines, simplicity, and fun.
Is there a typical Johnny Cupcakes customer?
There is no demographic with the Johnny Cupcakes customer. Our customers are loyal, die-hard collectors. I've seen customers literally camping out on the streets up to 10 days ahead of time, just to get first dibs on some of our newest T-shirts. We've created a community around this brand. I've seen many of my customers meet their best friends and significant others through the Johnny Cupcakes T-shirt brand and its campouts. I've also witnessed hundreds of customers start their own companies after being inspired by the Johnny Cupcakes brand. We try to foster entrepreneurship and positivity with everyone.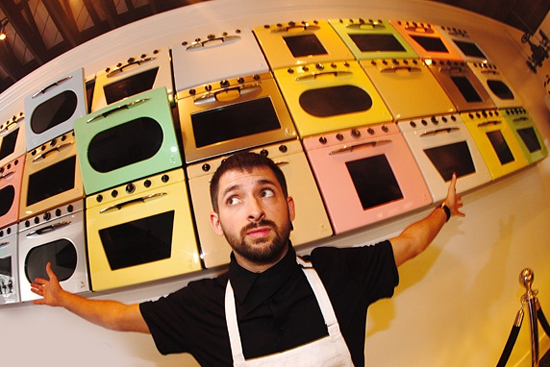 What's the secret of your company's success?
To this day, I make sure to keep my brand just as fun, personal, and unique as it was on day one. From organizing large games of dodgeball to treating customers to ice cream sandwiches, we're always showing our appreciation to the people who've supported the brand.
And we have an amazing team.
What valuable lessons have you learned as a businessman?
As a result of some of my past businesses, I've learned not to start something with another person, never mind a friend. When starting a business, it might sound fun at first to go in on it with another person or even a friend. Why not? They say two heads are better than one. But if you go in on a business with someone, it's a fact that there will always be one person working harder than the other. Someone is going to have more ideas, motivation, and dedication. It's going to be a bum-out if you're staying up until 4 a.m. and/or having sleepless nights because you're overwhelmed with rad ideas, while your business partner is watching Scrubs reruns with their love interest.
When going at a business alone, your productivity level is off the charts. Nobody is holding you back, and it's up to you whether or not things progress to the next level. Sure, it might be a bit of a challenge, but the outcome is that much more satisfying and rewarding. Build a strong foundation. Your foundation. Even if it takes more time and energy than you expected. Just keep in mind that Rome wasn't built in a day.
Before launching a business, what's the most important consideration for a young entrepreneur?
When starting a business, one of the first few things you want to ask yourself are, why are people going to appreciate this? What makes my business so different from everyone else's? Don't just ask yourself these questions, ask other people, too. Gather some feedback. The longer the list of reasons, the better. Remember—almost everything has been done before, which means we might have a better chance of failing then succeeding. We shouldn't let that scare us, though. It should be a motivation boost to do something original. It's important to create a memorable company—it's what makes you stand out from the rest of the competition. This also leads to brand loyalty and free word-of-mouth advertising.
The number-one thing is finding something you're passionate about. If you're doing something you love, it won't feel like work. You'll find yourself working extra because it's essentially a hobby to you. In little time, you'll begin mastering your craft, excelling in your job, hobby, or business. Real success is being happy doing what you love.
What's next for Johnny Cupcakes?
Last month we opened up our first international Johnny Cupcakes shop, in London, right off of Carnaby Street. We'll be focusing on special events and releases for that shop, as well as the others.
Other projects in the pipeline include toys, handbags, hats, more ties, bow ties, adventures, another Hello Kitty and Johnny Cupcakes collaboration, a Nickelodeon and Johnny Cupcakes collaboration, scavenger hunts, and contests. I'm writing and self-publishing a business book. We're also planning the brand's 10-year anniversary for the fall and plan on doing more pop-up shops in other states and countries. I always have a handful of tricks and surprises up my sleeves, so you'll just have to wait and see.
At some point I'd like to slow things down a tiny bit and meet that special someone. I've always wanted to raise a family.
Johnny Earle speaks tonight, Monday April 25, from 5 to 8 p.m. at the College of General Studies Jacob Sleeper Auditorium, 871 Commonwealth Ave., Boston. The event, sponsored by the College of General Studies Student Government Association, is free and open to the public, with seating first-come, first-served. Limited refreshments, including real cupcakes, will be provided after the lecture and T-shirts will be available for purchase. More information can be found on Facebook here. Learn more about Johnny Cupcakes' lecture series and hear reactions from attendees here.
Erin Thibeau can be reached at ethibeau@bu.edu.