BU's Research Paper Productivity Gets High Marks
University in fifth place in national cost per paper analysis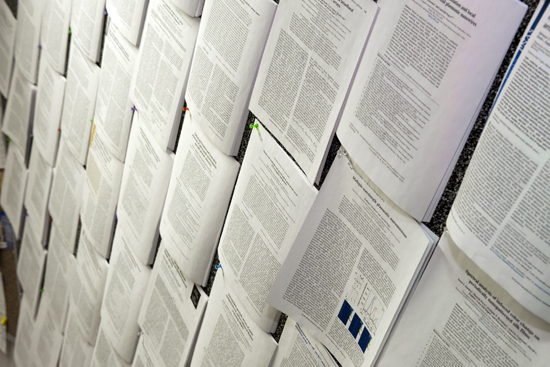 Boston University is among the most productive of large academic institutions when it comes to money spent per research paper, according to a study presented last week at the annual meeting for the Association for Institutional Research.
Study author Jeffrey M. Litwin, an associate dean at George Brown College in Toronto, compared the levels of federal spending on research, as reported by the National Science Foundation, with the number of high-quality studies published at 72 of the nation's largest universities from 1989 to 2004. The analysis rated BU the fifth most productive university, coming in behind the University of Pennsylvania, Harvard, the University of Chicago, and Indiana University. MIT, Johns Hopkins, and Texas A&M were among the least productive.
"Although the measure of research productivity used in this study is too coarse for drawing too many conclusions, it's satisfying to be among the most cost-efficient research universities in the country," says President Robert A. Brown. "This is a tribute to the quality of our faculty, research staff, and graduate students."
Litwin's research put the median cost of an academic paper at all universities studied at $72,020, and pegged the expenditure per paper at BU at $49,593. His study also found that the collective productivity of the 72 largest research universities declined significantly in the late 1990s and has not recovered. In an interview with the Chronicle of Higher Education, the author described his study, which is the first of its kind, as an improvement over the more commonly used counts of publications per faculty member, given the "vast differences in outputs per capita across disciplines." He also acknowledged his methodology's limitations, such as the National Science Foundation's failure to accurately distinguish faculty time spent on research from time spent teaching.
Art Jahnke can be reached at ajahnke@bu.edu.