BU Marks World AIDS Day
Students confront HIV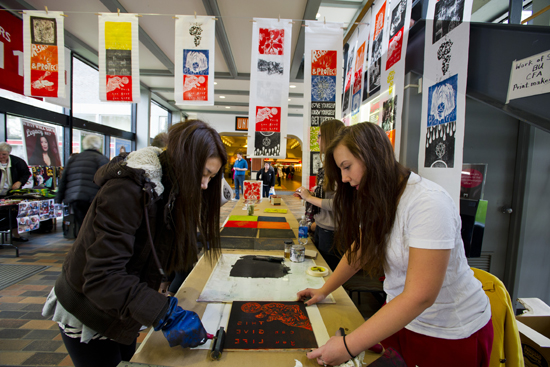 Thursday, December 1, marks the 23rd anniversary of World AIDS Day, commemorating the 25 million people around the world who have died from the disease since it was discovered in 1981. All week long, student groups on campus are sponsoring events to draw attention to the worldwide epidemic and to educate people about the transmission of HIV and the importance of safe sexual health. Participants joining together to sponsor discussions, events, and free HIV testing include FaceAIDS, the Undergraduate Public Health Association, UNICEF, the ONE Campaign, the Interfraternity Council, the Student Athlete Advisory Council, Dance Marathon, the Community Service Center and its AIDS prevention and awareness group Project Hope, and the School of Public Health.
Maria Gutierrez, program manager of Project Hope, says she hopes that this week's events remind people of the importance of being tested for HIV and of taking control of one's own sexual health. "We want people to talk about sex and safety on campus and the fact that it is sexy to be safe," says Gutierrez (CAS'12).
The U.S. Centers for Disease Control and Prevention estimates that 1.2 million people in the United States are currently living with HIV. One in five of those people are undiagnosed, and each year more than 50,000 Americans are newly infected. Every nine and a half minutes, someone in the country becomes infected with HIV. Since the beginning of the epidemic, more than 46,000 Americans between the ages of 13 and 24 have been diagnosed with AIDS and an estimated 10,129 have died, according to the CDC. And despite the introduction of antiretroviral drugs, which significantly prolong life for the majority of those living with the disease, 17,000 people in the United States still die from AIDS each year.
This year, BU is joining with TRIAD Trust, a nonprofit organization working in the northern territories of South Africa to reduce the transmission of HIV/AIDS. Sub-Saharan Africa is more heavily affected by HIV and AIDS than any other region of the world, according to AVERT, an international HIV and AIDS charity, which estimates that some 22.5 million people in the region are living with HIV—roughly two thirds of the global total.
Here in Massachusetts, the number of newly diagnosed cases has decreased over the past decade, largely because of education and community outreach, experts say. According to the AIDS Action Committee of Massachusetts, the number of new diagnoses has declined 59 percent statewide during that time.
"We want to showcase these declining numbers to the world, because they are amazing," Gutierrez says. "We should be the inspiration for other parts of the world. But we also need to show people in Boston that it is still essential to be tested."
World AIDS Week events:
Tuesday, November 29
Free Rapid HIV Testing
10 a.m. to 1 p.m.
Sign up in the GSU Link or walk into the clinic at the George Sherman Union, 775 Commonwealth Ave., third floor.
Wednesday, November 30
Free Rapid HIV Testing
3 to 7 p.m.
Sign up in the GSU Link or walk into the clinic at Student Health Services, 881 Commonwealth Ave.
AIDS at 30
5:30 to 7 p.m.
Members of the BU community will share personal stories and reflect on the impact that HIV has had on them and the world they live in. The event is planned by BU's Center for Global Health & Development.
Keefer Auditorium, Medical School Building, 72 East Concord St.
Thursday, December 1
GSU Link Takeover
9 a.m. to 5 p.m.
In honor of World AIDS day, student groups will be handing out free condoms and staffing an information table in the GSU. Students from Dance Marathon will pass out free stickers numbered 1 to 1,000, representing the more than 1,000 children under the age of 15 infected with HIV every day. People are asked to wear the stickers for the entire day. In addition, donations are welcome.
A Tale of Two Teens Screening and Q&A
9 a.m.
The documentary A Tale of Two Teens, produced by Susan Walker, a COM associate professor of journalism, and Geoff Poister, a COM associate professor of film and television, about the AIDS pandemic as seen through the eyes of two girls, will be shown. After the screening, South African youth group IkamvaYouth will have a Skype Q&A with BU students about AIDS.
Ezratti Lab, College of Communication, 640 Commonwealth Ave.
Free Rapid HIV Testing
3 to 7 p.m.
Sign up in the GSU Link or walk into the clinic at Student Health Services, 881 Commonwealth Ave.
We Can End AIDS Vigil
4:30 to 5:30 p.m.
This Student Global AIDS Campaign, Health Justice Boston, and student organizations from Harvard, Boston University, and Simmons will have an hour of commemoration, reflection, and hope for the end of the AIDS pandemic within our lifetimes. They will gather in front of the Senator John Kerry's (Hon.'05) office as a call to leaders to step up and fight for the resources we need to end the AIDS pandemic. Speakers from Partners in Health, Student National Medical Association, Harvard School of Public Health, and Student Global AIDS Campaign will help to put this historical moment in context.
1 Bowdoin St., Boston
Global Meets Local Event
7:30 p.m.
BU community members will perform first-person testimonials from those in South Africa living with HIV/AIDS. On view will be video messages from South Africa, and there will be an opportunity to send video messages back. This event will benefit TRIAD Trust.
School of Law Auditorium, 765 Commonwealth Ave.
Friday, December 2
Live Stream Video Interview
1:30 to 2:30 p.m.
Dean of Students Kenneth Elmore (SED'87) will interview Georgia Arnold, senior vice president of social responsibility and director of MTV's Staying Alive campaign, the world's largest youth-focused HIV and AIDS prevention campaign.
BU Central, George Sherman Union basement
Free Rapid HIV Testing
2 to 5 p.m.
Sign up in the GSU Link or walk into the clinic at Student Health Services, 881 Commonwealth Ave.
Coffee and Conversation
3 to 5 p.m.
Dean Elmore and MTV's Georgia Arnold (see Live Stream Video Interview, above) will lead a conversation about HIV/AIDS.
Howard Thurman Center, George Sherman Union basement