BU Goes to the Quidditch World Cup
Muggles gather from around the globe
They came from UCLA, Texas, and Toronto. They wore capes and carried wands, cleats, and cameras to the fifth annual Quidditch World Cup, held last month in Randall's Island, N.Y. It was a short span of time from the birth of the game, at Middlebury College in 2005, but it was one heck of a growth spurt. In 2007, two colleges played in the first World Cup. In 2008, 12 participated. In 2009, there were 20. In 2010, 45. And on the windy weekend of November 12 and 13, 96 teams—traveling from as far as Finland—competed in the 2011 Quidditch World Cup.
The BU team, founded in 2008, came to the New York tournament as the 2011 Northeast Regional champion and with a number 12 World Cup ranking. When it was over, the team had come within two games of winning it all, but instead fell to the then and future world champion team from Middlebury. The players drove back to Boston on Sunday night unfulfilled, but with a solid conviction that the six-year-old sport of quidditch was not just here to stay—it was much more than a sport.
"J. K. Rowling didn't just create books, she created a world with a lot of different elements to it," says Kedzie Teller (COM'12), one of five captains of the BU team. "Our generation grew up with these characters and we don't want to let go of that. As adults, we start to separate the real from the fictional, but no one wants to let go of their childhood."
Muggle extravaganza
On Saturday morning, roughly 10,000 quidditch fans descended on Randall's Island, just across the East River from Manhattan's Upper East Side, where nonstop quidditch games were scheduled on nine grass fields. Adults and children dressed up as Harry Potter, Bellatrix Lestrange, and other denizens of the fantasy series waited in lines the length of a football field to buy turkey legs, hot dogs, beer, and Bertie Bott's Every Flavor Beans. Tents had wands and T-shirts for sale. On a massive stage flanked by the New York City skyline, bands with names like Harry and the Potters and Draco and the Malfoys took turns entertaining with fire dancers, snake charmers, contortionists, and sword swallowers. Up on a small hill, the blue Ford Anglia (the one that had an unfortunate run-in with the Whomping Willow) from the Chamber of Secrets was available for fans to climb in and have their picture taken. Dressed in a tuxedo and top hat, sport cofounder Alex Benepe (below), now commissioner of the International Quidditch Association, which organizes the World Cup, posed for pictures with fans.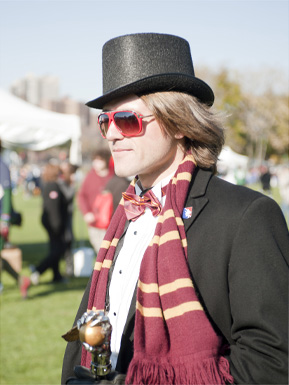 Katie Stack (CAS'11), who cofounded BU's team in her freshman year and is now a member of the IQA board, flew in from Spain, where she teaches. For Stack, the tournament offered an opportunity to catch up with her three siblings—Caroline (CAS'12), Brendan (CAS'14), and Ian (CGS'13)—all on the team, and her parents, who came down from Boston.
While the game of quidditch may look chaotic, the rules are straightforward. Brooms must be held by one hand, leaving the other hand free to throw, tackle, and dodge.
Teams consist of seven players: three chasers, two beaters, a keeper, and a seeker. Chasers throw the quaffle—actually a volleyball—to one another down the field, aiming to get it through one of three hoops (worth 10 points). At the same time, beaters throw bludgers—dodgeballs—at the chasers trying to force them to drop the quaffle and retreat to their own goalpost. The keeper must protect the three goalposts, and the seeker searches for the tricky golden snitch—a sock stuffed with a tennis ball and attached to the shorts of a runner chosen for his or her speed. Snitches can do almost anything to escape being caught, including climbing a tree and throwing water balloons at players. Capturing a snitch is worth 30 points and ends the game.
From the sidelines, the game looks like a combination of dodgeball and rugby. Tackles and hits are common, and players occasionally leave the field on a stretcher, bleeding, nursing broken bones and twisted ankles, or holding yellow cards for illegal plays (like tackling someone by grabbing them around the neck).
"Quidditch has always been an aggressive sport," says Dana Pelerin (SAR'12), a team captain. "People throw their bodies for the ball, lay each other out, and put everything into the game. And though it's competitive, by the end of the game you're shaking hands and smiling."
"You get such a workout," says Grace Von Maluski (CAS'13). "You have to use your core muscles to hold the broom while running, and at the same time run down the field chucking balls at the other team."
Game day
BU soared through its first five games of the weekend-long contest, beating the University of California, Berkeley (100-30), Chestnut Hill College (110-0), the College of Charleston (two games: 110-50 and 130-20), and Lafayette (160-10). Seeded 4th out of 100 after the first day of play, the team's biggest challenge came Sunday night in a game against undefeated World Cup champion Middlebury.
As darkness fell and the wind picked up, seven players from each team lined up at either end of the field. They knelt on one knee and bowed their heads, their brooms at their sides. When the announcer yelled, "Brooms up!" they charged.
Middlebury was first to move the quaffle down the field, but Teller intercepted the ball and chucked it through a hoop, making the score 10-0, BU, quickly followed by Mooney scoring to make it 20-0. Mooney intercepted a Middlebury scoring attempt, running the quaffle down the pitch and throwing it from a distance. A diving block by a Middlebury player failed, upping the score to 30-0.
A Middlebury unaccustomed to losing showed signs of strain, but managed to score, bringing the game to 30-10. Teller intercepted again, and the score was 40-10. Middlebury answered with another score, then scored again, as the intensity ratcheted up to world championship level. Then, in an instant, the snitch appeared on the field. Players from both teams dove, wrestling for the snitch, but it was Middlebury who snatched it—scoring 30 points and bringing the game to a sudden end at 60-40.
Middlebury went on to beat the University of Florida and capture its fifth straight World Cup.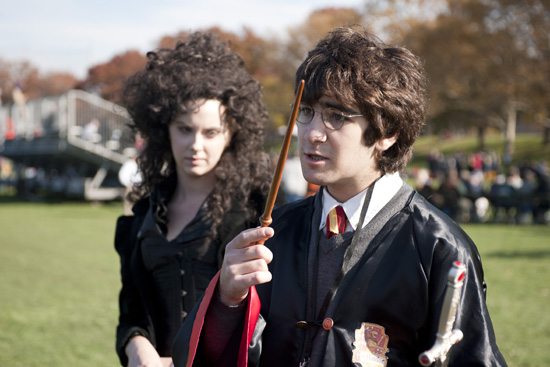 Quidditch lives
BU brought 21 players to New York for the World Cup, but back home, more than 100 students come out to play every Sunday on the BU Beach. Rain or shine, players are divvied into four different house teams (Hippogriffs, Nargles, Screaming Mandrakes, and Phoenixes).
The team, officially a club, has begun the process of transitioning to club sport, which would make funding available for coaches and other benefits. In the spring, they will play in the Northeast Regional tournament, which they hope to host at Nickerson Field.
"People laugh," says Teller. "But they should come to a game to watch us play. It's not just a sport; it's a continuation of the movie and the books for thousands of people."
Alan Wong can be reached at alanwong@bu.edu. Max Belin can be reached at maxbelin@bu.edu.