Bigger, Better Email for All
Faculty, staff move to Microsoft Exchange, students to Google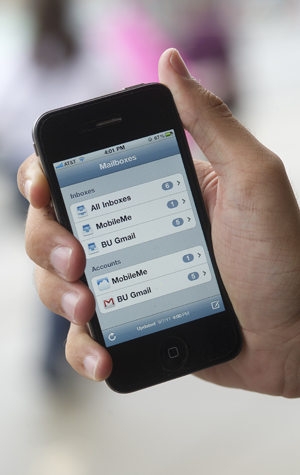 Before reading this, remember one thing: change is good.
Starting today, the University is moving a small number of faculty and staff from their old email server—Microsoft Exchange 2007—to the newer, 2010 version, which promises more storage capacity and smoother communication. The majority of faculty and staff, who currently use what's called the ACS server, will follow suit over the next year.
This latest email migration, a year in the making, comes in the wake of the smooth transition of all students from the old ACS server to BU Google Apps.
The free Google accounts are a better choice for students, who are already familiar with that company's many applications, says Tracy Schroeder, BU's vice president for information services and technology. For security and compliance reasons, it's better for faculty and staff to use a BU-hosted Exchange system.
Although Information Services & Technology (IS&T) officials have registered few complaints from students about the shift, they anticipate some resistance from faculty and staff accustomed to their old email systems.
"Change is hard for a lot of people," says Peggy Watts Gup, the IS&T project manager supervising the transition.
Faculty and staff on the new Exchange accounts, on which Outlook runs, will see at least a fourfold increase in mailbox size. They will also soon have access to other Microsoft products, like SharePoint, a virtual storehouse for office documents, and Lync, an instant messaging service.
Meanwhile, students have had time to explore their BU Google Apps accounts, which give them access to a BU Google Mail account that looks and acts like Gmail, retains their bu.edu address, and is 25 gigabytes—30 times larger than their ACS accounts. They also have access to applications like Google Docs, Calendar, and Sites, an app to create and share web pages.
Faculty and staff are also welcome to open a BU Google Apps account, but Gup recommends that all business email remain on the Exchange system.
For those who prefer an alternative to Google, IS&T plans to roll out Microsoft Office 365 by spring break.
While faculty and staff email will continue to be stored on a campus server, students' email has been moved to the cloud, or internet, and is administered by Google. Most universities, Gup says, have already gone this route with student accounts.
"This is Google's business; they're the best," Gup says. "There's no way that we can offer a commodity service like email economically anymore. Switching students to BU Google Mail allows us to use those resources dedicated to email to other services."
Students can choose to forward their BU Google Mail to their personal account or keep their accounts separate. Any old mail will still be available on the ACS server, from which they can forward all saved messages or access them in a read-only format over the next year.
Information about BU Google Mail, Exchange, and ACS accounts is here. Information about the email transitions is here.