Bicycle and Pedestrian Safety Day Returns
Demonstrations, tips for cyclists, pedestrians, and motorists
The number of cyclists on the Charles River Campus has increased 69 percent over the past four years, largely because of the addition of designated bicycle lanes on Commonwealth Avenue and the BU Bridge. Now, with the arrival of four Hubway bike-sharing stations on campus, it's expected to jump even higher, fast.
But bicycling in the city comes with a host of special challenges, particularly for those used to riding on less-trafficked suburban streets. There are the MBTA's Green Line trolleys and thousands of cars, many driven by people who are not bike-sensitive.
"Biking in the city is like cycling on steroids," warns Dwight Atherton, director of Parking & Transportation Services. "The environment is bigger, faster, and less forgiving than country roads or suburban neighborhoods. From man-eating trolley tracks to car doors that unexpectedly open into 'your' bike lane, there are some things city bicyclists learn to avoid."
Add to the mix of hazards crowds of pedestrians distracted by BlackBerrys, cell phones, iPods, and iPads, and you understand why some riders are leery, like Joe Mielenhausen (COM'12), who puts it this way: "I've always found I'm taking my life into my hands when I ride around BU." Yet Daniel Kamalic, College of Engineering manager of research computing and staff advisor to the student-run BU Bikes, argues that "bicycling here is a lot less dangerous than people perceive it to be. What's required is that you familiarize yourself with the rules of the road and defensive riding techniques."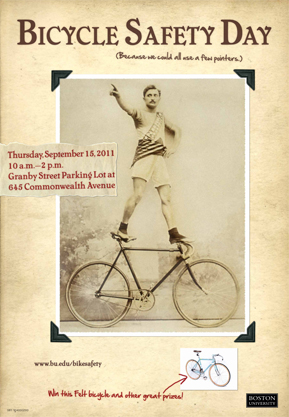 To get students up to speed in these areas, the University sponsored its fourth annual Bicycle and Pedestrian Safety Day September 15 at the Granby Street parking lot. "The goal is to raise safety awareness and to promote respect between cyclists, pedestrians, and motorists," says Webb Lancaster, director of operations for Auxiliary Services and a member of the University's Bicycle Safety Committee. Lancaster urges cyclists to wear helmets at all times, follow cycling laws, and stay focused and aware of their surroundings.
The event featured representatives from several local bicycle shops, who did free "ride ready" safety checks. They checked tire pressure, seat height, and yes, brakes.
Representatives from BU Bikes were on hand to promote their weekly group rides, which stress defensive riding techniques. Interested students should check out the schedule by logging on to the BU Bikes Facebook page. (BU Bikes offers free safety checks and maintenance instruction each Thursday through October from noon to 5 p.m. at the Farmers Market outside the GSU. Beginning in November, the group moves its instruction inside, to the Women's Resource Center, in the GSU basement, each Friday from 1 to 4 p.m.)
Bicycle and Pedestrian Safety Day included free demonstrations by the BU Police Department of the proper use of directionals and bike lanes. Representatives from Parking & Transportation Services offered free bike registration, which is strongly recommended for students who own bicycles. If a bike is stolen, registration decals make it easier for BU Police to return recovered bikes to owners. Students can register their bikes online as well. Registration also provides access to indoor bike parking across campus. Bike safety advocates recommend purchasing U-type locks to secure bikes. The lock should be passed through the rear wheel frame and the bike rack. Avoid cable locks, which can be easily broken with a bolt cutter.
The event had lots of tantalizing giveaways, such as snacks, beverages, and safety accessories. There were raffles for gift cards, helmets, bicycle locks, lights, and tools, and a secret prize from Kenneth Elmore (SED'87), dean of students. A lucky winner picked up a free Felt TK4130 Fixie fixed gear road/track bike.
The event was also important for the thousands of people who walk—and drive—across campus. "Bicycle safety isn't only about the folks on bicycles," says Atherton. "Drivers must be aware that bicycles can travel as fast as cars in the city and should be given the same, if not more, respect in terms of distance. When a car, truck, or bus crosses a bike lane, it must do so slowly, using its directional signals. They are taking over the right of way that otherwise belongs to cyclists."
Pedestrians will notice something new this fall: "Look Left for Bikes" warnings have been stenciled at every crosswalk along Commonwealth Avenue from Silber Way to Babcock Street as a reminder to look before stepping into traffic. "There's a split second between the time you look up and a bike can hit you," says Lancaster. "In many instances, the bike lane abuts the curb. You step directly into the bike lane, so we think these warnings will have an immediate impact."
Why should you pay attention? In 2010, according to the Boston Police Department, there were 340 bike accidents, including 6 fatalities, in the city. The same year, cyclists reported 118 accidents at the intersection of Commonwealth Avenue and the BU Bridge alone, reports Boston Bikes, a program administered by the mayor's office. Commonwealth Avenue was listed as the most dangerous road in Boston for cyclists in the Boston Bikes annual accident survey for 2009.
"It can take a lot of on-the-road experiences to acquire the knowledge needed to ride safely in the city," says Atherton. "A major objective of Bicycle Safety Day is to share information and resources intended to shorten that learning curve."
Additional reporting by John Fichera.