Alum's $3M Gift Highlights Value of Extracurricular Life
Arthur Marciano endows new East Campus dining facilities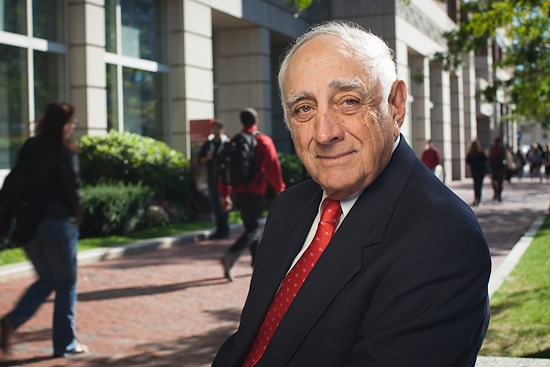 Back when Harry Truman was president, Arthur Marciano thought BU needed something to keep Boston's winter blahs at bay. So he cofounded a Winter Carnival, which for several years sponsored Saturday dinners, dancing, skiing, and skating. Marciano, who also played basketball, grasped how activities outside the classroom complemented what went on in the classroom. In his 85th year, the activities bug still bites: Marciano is a tournament-level bridge player and avid golfer.
Now he's providing tangible support for extracurricular learning at his alma mater. A retired businessman, Marciano (DGE'49, COM'51) has given $3 million for the dining facilities at the new Center for Student Services, being built at 100 Bay State Rd. Scheduled to open a year from now, the East Campus facility also will house the Center for Career Development and the Educational Resource Center.
The new center's dining area will be named for Marciano and his late wife, Ann (CAS'50), a onetime "Miss BU." The everyday ritual of eating with fellow students reflects the philosophy Marciano wants his gift to embody: "One of the main things I enjoyed about Boston University was not necessarily the classes, but after class." Conversing with other students over ping-pong or a meal, he was able to exchange perspectives, and "it's that discussion that broadens the mind," he says. "The back-and-forth with other students is really a part of education that not everybody takes advantage of."
With BU's increasingly international student body, the Marciano Commons will be a place "where one culture will understand another, and I think that's the real advantage of education," he says.
BU helped Marciano make the journey from son of a self-made immigrant (his father, who was born in Italy, invented a type of fire hydrant that became popular throughout the United States) to entrepreneurial success. Raised in nearby Belmont, Mass., Marciano commuted to BU as a student. After graduation, he worked for Schick, eventually managing its Rochester, N.Y., plant. Several years later, other Schick execs recruited him to help start their own electric razor company. He later bought them out and expanded the company. When he retired in 2000, he sold the company, Electric Razors, Inc.
The College of Communication awarded Marciano a Distinguished Alumni Award two years ago. Accepting the award, he credited both his classroom education and his extracurricular activities with seeding the knowledge and confidence that enabled him to prosper in business. Take the creation of Winter Carnival. "Imagine a 20-year-old having to form committees," he says. "Imagine a 20-year-old having to get a location where they had skiing and skating and a lodge. It was very illuminating for me to move people to accept the task. All through life, you're doing that—helping a subordinate get better, to direct things."
While his organizational success with the carnival had a flip side ("They said, you did a good job. Now you've got senior prom!"), Marciano says, the communication skills he learned were the engine of his business success. "When you tell a joke, give a speech, or just talk to a friend, you're communicating. The ability to collect thoughts off the cuff is what college gives you."
The six-story Center for Student Services will be the head of a string of services for students snaking the length of the Charles River Campus, encompassing Marsh Chapel, the George Sherman Union, and the FitRec Center.
Married for 52 years, Marciano gave his gift in Ann's memory, a fact that will be noted on a plaque: "This commons honors two Terriers who, from their own days at Boston University, actively promoted student activities and student life, and, through a generous gift to this building, enrich and deepen the spirit of community on this campus."