A Day to Celebrate Being Green
BU sponsors sustainability festival, Carbon Day
It's a good day to be green.
The University is sponsoring two events today designed to promote eco-friendly lifestyles and environmental education: the sustainability@BU Festival, at the George Sherman Union Plaza, and Carbon Day, in Copley Square.
The second annual sustainability@BU Festival, running from 11 a.m. to 2:30 p.m., is an opportunity for student clubs, University programs, and private companies to showcase their green activities and causes.
"The point of the festival is to get students engaged and connected with one another," says University sustainability director Dennis Carlberg, whose office organized the festival. "Incoming students can learn about what's going on and get involved."
The festival will include a SCVNGR hunt sponsored by the Dean of Students Office. Participants in the online game can visit 19 campus sites that have demonstrated the University's commitment to sustainability. Once there, they perform a challenge (such as snapping a picture of a Big Belly Solar trash bin) or scan a posted Quick Response code with their smartphones to rack up points. Those without smartphones can still play via sustainability@BU's Facebook page by liking the page and posting answers there.
To win, scavengers must be present at the festival's final event, a discussion titled Sustainability: Levers for Change, with Cutler Cleveland, a College of Arts & Sciences professor of geography and environment, and Kristen McCormack, faculty director of the School of Management's Public and Nonprofit Management Program, moderated by Kenneth Elmore (SED'87), dean of students, at 4 p.m. in the GSU Conference Auditorium. The top scorer will receive a 21-speed Trek bike donated by Landry's Bicycles, the runner-up a Landry's bike helmet gift certificate, and the third place contestant a bike lock.
Festival goers strolling the plaza will find the regular Thursday Farmers Market as well as representatives from student clubs like BU Energy, the Environmental Student Organization, Global Water Brigades, and the International Affairs Association, who will discuss their missions and activities with visitors. Metropolitan College and the CAS geography and environment department will also promote their sustainability programs.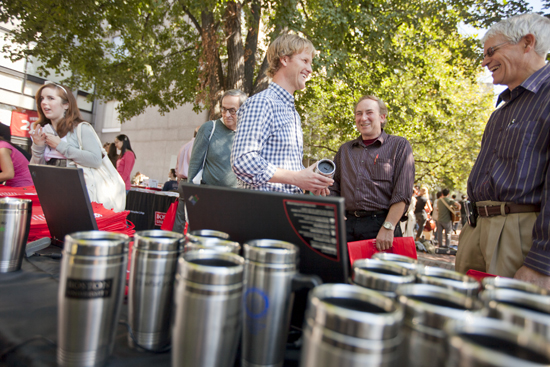 Sustainability@BU will have its own table, distributing reusable coffee mugs to those who sign up to Join the Challenge, a campaign encouraging participants to tackle one suggested sustainable action each month. This month's challenge is to use a reusable mug, with participants receiving a 25 cent discount off drinks of $1 or more at specific retailers.
Homeowners will want to visit the Next Step Living table, where they can sign up for a free energy audit. Other festival attendees include Zipcar, waste reduction and recycling company Save That Stuff, Goodwill, bike tour and rental operator Urban Adventours, and Cabot Cheese.
And what would a festival be without free food? BU Dining Services will host a fall crisp bake-off, with dining hall chefs offering up their best peach, apple, and berry crisps. Taste-testers can vote for their favorite. All the crisps will be served at BU's dining halls during tonight's annual Lobster Night.
After touring the sustainability@BU festival, head to Copley Plaza for the second annual Carbon Day, from 10 a.m. to 2 p.m., sponsored by the University's Clean Energy & Environmental Sustainability Initiative. Here visitors can learn how to minimize their carbon footprint and examine gadgets that measure the photosynthesis of plants, the carbon exchange of soils, and the amount of carbon dioxide and methane in the atmosphere. They can also view the latest in electric vehicle technology, including cars, scooters, and bicycles. Visitors could win $50 and a T-shirt for bringing the most interesting carbon-related science gadget, costume, sign, or performance art piece.
The BU Sustainable Neighborhood Lab, the Boston Parks & Recreation Department, the National Sierra Club, and Nathan Phillips, a CAS associate professor of geography and environment and director of the Center for Energy and Environmental Studies, will be among event participants.
Get to Copley Square via public transportation by taking an MBTA Green Line B trolley to Copley.