Tiger's Return, Deconstructed
Are we over it yet? Experts weigh in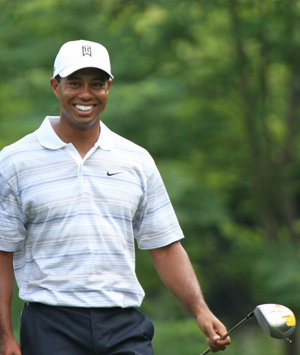 Last November, Tiger Woods adorned People magazine's "Sexy at Every Age" list, chosen, among other reasons, because he was "a devoted family man." Two weeks after the magazine hit newsstands, the world was bombarded with headlines about Woods' famous Thanksgiving night pinball-shot-with-an-SUV. The revelations of Woods' philandering earned him a spot on the Boston Phoenix's "Unsexiest Man of the Year" list ("Nike's robotically perfect pitchman took that whole 'Just Do It' slogan a smidge too literally.").
Last week, the disgraced hero returned to the game of golf, competing in the Masters, where he tied for fourth place in a respectable, if not stunning performance. Woods' appearance, both on the course and at his first real press conference since the great shaming, was greeted with a mixed reaction. So was a Masters eve airing of a new ad produced by Nike, in which the golfer stares mutely at the camera, listening to a recording of his late father's voice. ("I want to find out what your thinking was … Did you learn anything?").
To learn something about what it all means, BU Today asked experts in public relations, journalism, and sex therapy about the power of public shame vs. the power of advertising dollars.
Peter Morrissey (COM'87), College of Communication associate professor of communication and a crisis management consultant to Johnson & Johnson during the Tylenol poisonings, on whether Woods should have done the Nike ad:
I don't think it's good crisis communications. He's already been contrite. He should just let it go. It's not going to accelerate people's forgiveness. His golfing performance is the biggest statement he can make.
The people behind this ad want Tiger's market value to return, and they're impatient; they don't want to give it time. Sound crisis communications would be: this is a healing time. I would be giving a different answer if this were Tylenol; in Johnson & Johnson's case, they were victims — a crisis was foisted upon them. Nobody forced Tiger Woods to do what he did. He brought this on himself.
Just go and play golf. We're a forgiving people.
Christopher Cakebread (SED'00), COM assistant professor of advertising, on whether he'd advise advertisers to use Woods:
The Nike ad's on the JumboTron in Times Square. Nike and Gillette never abandoned him. I think it's a very smart move. He's the best at his sport in the world. He has global dominance, which for global brands like Nike and Gillette is just too good to give up. Nike deliberately did something very striking and controversial, which they've always been very good at. That's not a bad thing if it has you talking about Tiger and Nike golf shirts and clubs.
Gillette was the smartest. They didn't dump him and they didn't support him. They just cautiously waited to see how things turned out. Young people are more forgiving than older people, and those are the people brands want to reach.
Frank Shorr (SMG'70, COM'73), COM senior lecturer in journalism and director of the Sports Institute at Boston University, on Woods' press conference:
It was vintage Tiger in that it was orchestrated and controlled. He had to loosen the reins in terms of answering personal questions, but it was as much of a handpicked audience as you could want. These people follow him on a regular basis, people that he favors and that favor him. He answered practically every question by using their first name, which personalizes the relationship: "When it comes to writing the story, Tiger's my friend."
The other thing they're concerned with is access to the athlete. You don't want to be the one that says, "Tiger, there's this latest report about you and this 21-year-old babysitter." Tiger is likely never going to talk to you again. It is the single most important question in sports journalism. There's no such thing as investigative reporting anymore. How is it that the story's only being told because he backed into a tree? How is it that nobody knew?
Stanley Ducharme, School of Medicine clinical assistant professor of rehabilitation medicine and a certified sex therapist, on what returning to the tour means for Woods' reported sex addiction treatment:
This doesn't mean that his treatment is ending. He should be receiving outpatient treatment and attending a support group for this kind of problem. People do that for years afterwards. Ideally, he should keep going with his treatment, seeing a therapist, but with his travel schedule, who knows? This kind of problem also is treated with medications sometimes, so that might be something that can help.
Amy Laskowski can be reached at amlaskow@bu.edu; follow her on Twitter at @amlaskow. Rich Barlow can be reached at barlowr@bu.edu.