Hinton Makes BU Basketball History
Seventh woman player to reach 1,000 points, 600 rebounds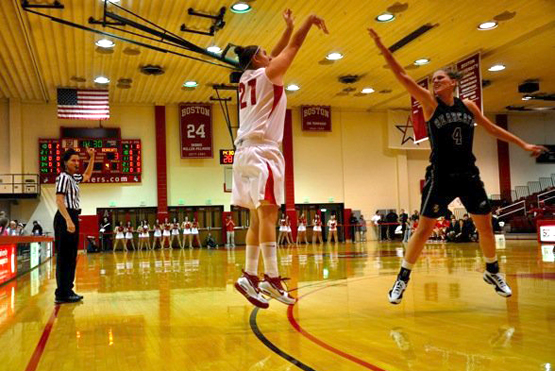 Aly Hinton had reason to be nervous heading into BU's basketball game against Binghamton on February 3. The Terrier forward needed just 10 points to reach the 1,000-point career mark. 
"We can see our points up on the board," says Hinton (CAS'09, SED'10). "I'm won't lie and say I didn't look, but I wasn't going to do anything differently to hurt the team. I knew it would come with the flow of the offense."
It did. With 11 minutes remaining, Hinton caught the ball in the middle of the lane, did a one-dribble post move, and sank a right-handed layup. That basket propelled her into an elite group: she became the seventh female player in BU history to net 1,000 points and grab 600 rebounds.
"My teammates said they could tell I was trying not to smile, since we were still playing defense," Hinton says. "It felt like there were 1,000 people in the gym, everyone was cheering so loudly." 
Debbie Miller Palmore (SED'81), a member of the gold medal–winning U.S. teams at the World University and Pan-Am Games and of the 1980 U.S. Olympic women's basketball team, was the first female Terrier to reach 1,000 points. And Hinton teammate and 2009 America East Player of the Year Jesyka Burks-Wiley (CAS'09) accomplished the feat last season.
Going into her final collegiate season, averaging 9.2 points and 6 rebounds, Hinton knew the 1,000-point mark was within reach. But she wasn't going to force it.
"If I got it within what we were trying to do as a team, then great," she says.  "But that was always the biggest thing. I wasn't going to go out and shoot 20 times just to make 5 baskets a game."
That attitude is part of what makes Hinton so valuable to her team.
"She is not flashy in any way," says Kelly Greenberg, head coach of the women's squad. "However, her consistency and the fact that we can rely on her for solid numbers — points and rebounds — is something we will miss when she graduates."
Hinton first got hooked on basketball as a fourth-grader in Huntington, W.Va. There were only enough girls in her local league for one team, but matching up against boys wasn't much of a challenge for Hinton.
"I was really tall for my age, even taller than most of the boys," says the 6'1" forward. "There really aren't that many tall people in West Virginia." 
But the Hinton household was full of them.
"The older of my brothers is …" Hinton pauses to assess her 19-year-old brother's height. "He would kill me if I messed it up. He's 6'4", I think."
Her 12-year-old brother hasn't yet reached Hinton standards. "We call him the runt because he isn't as big as we were at his age," she says. "But he's actually still pretty tall."  
Hinton's family moved Richboro, Pa., 40 minutes northeast of Philadelphia, when she was 11 years old. There, she played AAU basketball and was a standout high school player. She chose BU because of its strong academics and its location in a "great sports city." Her four years at BU have been a great experience, she says, primarily because of her teammates and BU's coaching staff.
"We are a family and I love that," she says. "I would go to bat for every single girl on the team, and I know they would do the same for me. That whole atmosphere has been created by the coaches and past players." 
Hinton earned a B.A. in psychology in three years and will complete a master's in sports psychology at the School of Education in May. Her plans beyond that are still up in the air.
"I may be drifting for a few months, trying to figure out where my life is headed," she says. "But I would love the opportunity to play overseas and see Europe and the rest of the world."
Deciding to shoot for playing professionally depends on how the rest of the season goes. Because she's under contract to BU as an NCAA athlete, she cannot send résumé tapes to overseas coaches until the season ends. Whatever happens, she doesn't plan to say goodbye to basketball anytime soon.
"I love our coaches and the impact they have on us, not only in basketball but in everything else," Hinton says. "They teach us so much, and I would love the opportunity to coach and do that. Even if it's high school coaching along with another job, it's definitely something I want to stay involved with."
The BU women's basketball team, 12-10 overall and 8-2 in the America East conference, squares off against the Stony Brook Seawolves on Wednesday, February 17, at Agganis Arena. Tip-off is at 5:30 p.m. The Terriers round out the regular season with two away games, Hartford and UMBC, and finish at Case on February 28, against UNH.
Caroline Hailey can be reached at chailey@bu.edu.