Define Your Thesis, in 140 Characters
Tweet your topic for a chance at prizes, glory, and commiseration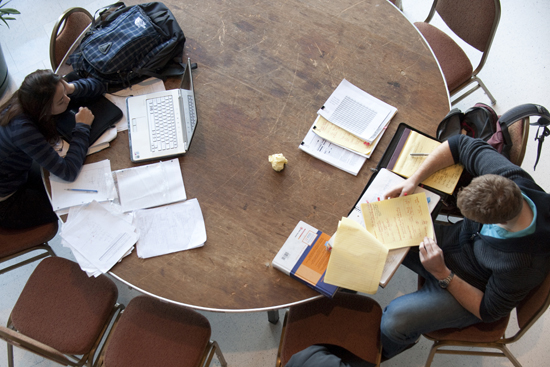 For many students, the month of April means two things: rain and a thesis deadline.
Here's an opportunity to lighten up and celebrate the (near) end. Whether you're a master's or Ph.D. candidate, a University Professors Program undergrad in the throes of a multidisciplinary masterpiece, a College of Arts & Sciences student student doing work for distinction, or an artist or filmmaker creating a pièce de résistance, we want to hear about it — briefly.
Tweet it.
Having trouble turning months of research and years of class work into a coherent 80 pages? Try cutting it down to 140 characters.
Sum up your work in a virtual haiku, a single sentence, or another short form, and be sure to include the hashtag #BUthesis at the end of your tweet. Those willing to try will be entered into a drawing, and three winners will receive $25 iTunes gift cards. We'll post the winners' names — along with the most creative thesis tweets — on Friday, April 9.
In the meantime, take heart from knowing that if you're struggling, you're not alone. The dreaded thesis has plagued students for generations.
The late mystery writer Robert B. Parker (GRS'57,'71) wrote his doctoral dissertation on private-eye novels in a two-week frenzy. "I know there are people who have been working on their thesis since 1918 who'll want to shoot me for saying that," he told Bostonia in 2007. "But I don't get better by taking my time."
Renowned tennis journalist Bud Collins (COM'09) abandoned his master's thesis in public relations in the 1950s to jump-start his career at the Boston Herald. More than 50 years later — on the legs of his book The Bud Collins History of Tennis — BU awarded Collins his degree.
Stumped on how to boil your research down to a single tweet? Take inspiration from Stephen Prothero, a CAS professor of religion, who last year managed to sum up the great religions of the world, one after another, in a string of tweets.
Or watch recent graduate Megan Steffen (UNI'09) explain her thesis on the "visual rhetoric" of the 2008 Olympics in Beijing.
"It's rhetoric, but it's visual," she says, a tweet-worthy summary that still leaves more than 100 characters to play with.
Follow @butoday on Twitter and submit your thesis tweet with the hashtag #BUthesis by Wednesday, April 7, for a chance to win. Not on Twitter? Become a fan of BU Today on Facebook and leave your entry there (but keep it limited to 140 characters, please). Winners will be announced on Friday, April 9. And keep following @butoday on Twitter between now and then to see the competition.
Katie Koch can be reached at katieleekoch@gmail.com; follow her on Twitter at @katieleekoch.