Chasing Immortality, On a Diet
MED's Caroline Apovian warns "calorie restriction" diets aren't for everyone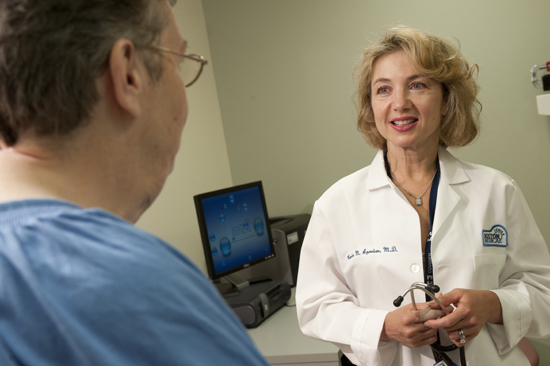 In his legendary quest for the fountain of youth, the explorer Ponce de Leon had it wrong. He should have pursued the famine of youth.
So runs the thinking of calorie restriction acolytes, who hold that severely curbing one's caloric intake to a degree that would leave most people feeling chronically hungry is the ticket to a longer life.
"The data are clear. The most robust way to increase healthy lifespan in a broad variety of organisms is in fact calorie restriction," biotech businessman Christoph Westphal confidently proclaimed this month in a Boston Globe op-ed. "In other words, it behooves us to cut our calorie intake markedly" while still getting essential nutrients. He's not the only evangelist: the global Calorie Restriction Society boasts thousands of volunteer guinea pigs testing the theory on themselves.
But is the science really clear? In a country where two-thirds of the population is overweight, thanks to junk food and an aversion to exercise, some calorie restriction is a no-brainer, says Caroline Apovian, who heads the Nutrition and Weight Management Center at Boston Medical Center. Beyond that observation, the facts get murky.
BU Today spoke with Apovian, a School of Medicine associate professor of medicine and pediatrics, about the state of the research.
BU Today: How clear are the data about calorie restriction and longer life?
Apovian: There is no human data showing that calorie-restricted humans live longer. You have the least risk of dying if your body mass index (BMI) is between 18.5 and 25.5. That's average. So very, very skinny people, according to these studies, don't show longevity.
Based on all the data that's available, if we want to live as long as we can, we need to be physically active and eat a well-balanced, healthy diet, but not overeat.
Hasn't some research suggested that slightly overweight people live longer than the rest of us?
There is epidemiological research that looks at mortality and BMI. It does suggest that as you get older, it is a benefit for mortality if your BMI is slightly higher, yes.
I think it's probably a good idea to tell Americans in general to eat 20 percent less, because we're all gaining weight.

If a person is active, eats healthy, and is fit, would you tell that person to eat 20 percent less?
I'm not sure the data are there to tell them to eat 20 percent less. The data suggest that as you get older, those who have a BMI of 25 live longer than those who have a BMI of 18. That's supposed to be a measure of body fat. In reality, you can't use it for people who have a lot of muscle, because it looks like their BMI is high. But they're all muscle, so they're actually healthier.
When we talk about calorie-restricted diets, how severe a restriction are we talking?
If somebody came into my clinic who had a BMI of 30—female—I would put them on a 1,200- to 1,500-calorie-a-day diet, and they usually would be eating 2,500. A normal, moderately active female eats 2,000 calories a day, and a male, 2,500.
Would that degree of calorie restriction in most people produce a chronic hunger?
It does, and it's usually a hunger that people cannot tolerate. That is the reason most diet programs fail.
This idea that if you're at a normal weight, you should calorie-restrict anyway—the data don't support that. It could be that, to live longer, you should have as much muscle mass as possible. If [calorie restriction advocates] are exercising strenuously, they need a few more calories to support the muscle function, brain function. I think they're taking a risk.
Aren't researchers seeking a drug to fool the body into thinking it's on a calorie-restricted diet, without the hunger?
Resveratrol is found in wine in minute quantities. Research is giving animals 20 times as much as in a bottle of wine. It looks as if it makes the animals exercise longer, live longer, age more gracefully. Human trials are ongoing. What happens if you take resveratrol every day for 10 years? Nobody knows.
Do you count your calories?
I love fruit and vegetables. I hate crappy food. I exercise like crazy. I can't tell you that yesterday I had 2,000 calories. But anytime I add in my head how much did I eat—I'm in a weight management center; it does cross my mind once in a while—it's the average: 2,000 calories, 2,500. But I'm on a masters swim team, I bike, and when I run, I run seven or eight miles.
Rich Barlow can be reached at barlowr@bu.edu.