Burrow Down at Cambridge's Lizard Lounge
Eclectic bands, poetry, and a square meal—cheap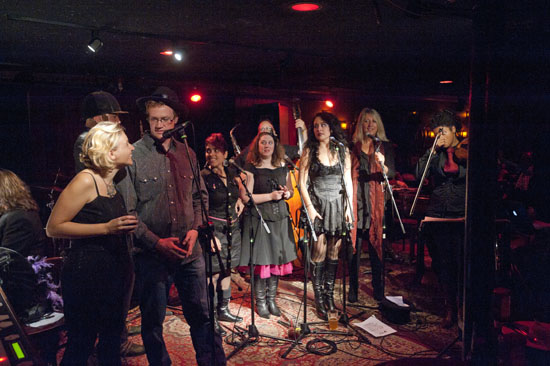 Descending into the faintly grimy, sepia-toned confines of the Lizard Lounge is oddly comforting. It's immediately obvious that the popular club, although serving a tempting variety of food and a long, gem-studded beer list, is all about the music. Not only does the lounge afford a nightly venue for popular acts like Otis Grove, the Boston band that pioneered a mixture of jazz, rock, and funk known as "runk," and the theatrical, boozy bluesy, Tom Waits–inspired group the Resurrectionists, it holds weekly open mic challenges, and its Sunday poetry slam has cultivated a large and loyal following.
Residing in the basement of the bustling Porter Square restaurant Cambridge Common, the club announces itself with a colossal, colorful mural of a lizard. Beside it, scrawled across the entrance, the words Lizard Lounge seem like an afterthought. Strictly for the over-21 crowd (count on being carded), the music gets going after 7:30 p.m.; featured acts take over at 9:30 when the 20-odd café tables fill up, and patrons ranging from indie hipster to aging hippie find stools at the small bar or arrange themselves near or around the posts marking off the stage area. The club is intimate, its grotto-like atmosphere enhanced by dark walls studded with flickering votives.
With 14 rotating taps and 16 permanent draft offerings, including Stone Arrogant Bastard, Boulder Mojo, and Smuttynose Old Brown Dog, at prices ranging from $2.95 to $5.95, the Lizard is the brew equivalent of a well-stocked candy store. Favorite house cocktails include Suzanne's Smokin' Sidecar—Belle de Brillet pear brandy, triple sec, and homemade sour mix—and Loungin' Lizard Iced Tea—vodka, tequila, gin, Malibu Rum, banana liqueur, pineapple and orange juices, and Sprite, on the rocks. Wine by the glass ranges from $4.95 to $7.95; cocktails are generally between $6 and $9. There is no waitstaff and all ordering is done at the bar, but more often than not someone will deliver food orders to your table.
On a recent Tuesday night, we headed to the Lizard—thrilled to find a parking space in the building's private lot—for a late dinner and the Balkan-inspired sounds of Bury Me Standing, a collaboration of Boston area percussionists Vessela Stoyanova and Nate Greenslit, who welcomed a roster of special guests during one of the lounge's monthlong, one-night-a-week gigs called residencies. Russian speakers could be overheard in the increasingly voluminous crowd, as the evening's music was introduced by Stoyanova, who with cellist and chanteuse Valerie Thompson is also half of the band Goli. Stoyanova, a Bulgarian, informed us that in her language goli means naked, and there was something laid bare in Thompson's giddy crooning, the haunting gypsy strains of her cello, and Stoyanova's mesmerizing dipping and swooping as her mallets danced across an electric marimba. The two were joined by Greenslit, an innovative drummer well known to Boston fans of the cabaret band Humanwine.
"Some of our favorite acts include Jaggery, 'torture chamber pop,' and Molly Zenobia, who performed an absolutely haunting version of the Appalachian folk song 'O Death,'" according to Greenslit. "We asked her to perform it with three upright basses accompanying her, and it was amazing."
For those hankering for a meal or snack, the Lizard Lounge menu offers a generous choice of affordable appetizers, soups, salads, "square meals," and sandwiches. A Middle Eastern platter of hummus, Israeli couscous, olives, and greens is $7.95, as are the chicken fingers, boneless buffalo wings, and fried calamari. Soups, at $2.95 a cup and $3.95 a bowl, are a homemade vegetarian offering of the day, New England clam chowder, and chili, and salads range from the basic house for $4.95 to grilled chicken and couscous for $8.95. Sandwiches, including turkey club and fresh mozzarella and pesto, come with straight or tangy curly fries and are $7.95. Square meals are a steal at prices from $8.95, for macaroni and cheese, to $13.95, for skirt steak and fries. But Lizard Lounge's burgers are the biggest draw, running from $4.95 for a Cambridge Common Burger to $7.95 for a spicy Cajun Blackjack Burger and include smokehouse, teriyaki, and a Baja turkey burger with guacamole; all come with straight or curly fries. We enjoyed the homemade black bean burger ($7.95), and our Cambridge Sliders—four bite-size burgers with cheddar—were juicy and eminently share-able.
With covers starting at a mere $7, Lizard Lounge is a great place to grab a table early and stay put for the night, enjoying the music, beer, and earthy ambiance of a place that puts on no airs, keeping it simple and sincere.
The Lizard Lounge is open Monday nights from 9 p.m. to 1 a.m., Tuesdays and Wednesdays from 7:30 to 1, Thursdays to Saturdays from 7:30 to 2, and Sundays from 7 to 1. Doors open for the Soul Low show (no cover) at 7:30 p.m. Tuesday through Saturday; the headlining bands (cover varies) begin at 9:00. Sunday is Lizard Lounge Poetry Night, featuring the Jeff Robinson Trio, with Slam at 8 p.m. and Jam at 9:30; doors open at 7:30.
1667 Massachusetts Ave., Cambridge, Mass.
Over 21; cover charge starts at $7.
Drinks: beers range from $2.95 to $5.95; wine $4.95 to $7.95; cocktails $6 to $9.
Limited free parking is available and major credit cards accepted.
More information: available here or by calling 617-547-0759.
Susan Seligson can be reached at sueselig@bu.edu.
This is part of a series featuring Boston nightspots of interest to the BU community. If you have any suggestions for places we should feature, leave them in the comments section below.