Bubbles Make the Picture Clearer
ENG's Ronald Roy wins Acoustical Society of America Award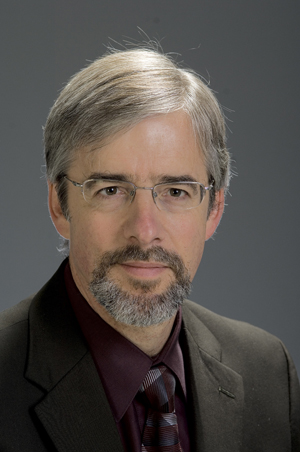 For most of us, bubbles are the stuff of champagne and bathtubs. For Ronald Roy, a professor of mechanical engineering at the College of Engineering, they're important lab tools to improve biomedical imaging and ultrasound therapy.
Roy's innovative use of bubbles has earned him the Helmholtz-Rayleigh Interdisciplinary Silver Medal in Biomedical Ultrasound/Bioresponse to Vibration/Physical Acoustics from the Acoustical Society of America.
What can bubbles do for bioengineering? Roy offers as an example the use of ultrasound to image the blood flow in the heart. That can be tricky, he says, because the acoustical properties of blood are similar to those of the surrounding muscle. But bubbles are to sound what light is to cockroaches, he says: they force it to scatter, and adding bubbles to an ultrasound of blood in the heart can reveal things that would otherwise be obscured.
Elsewhere, Roy has researched the production of bubbles in urine adjacent to kidney stones. "Most of my research tends to be more basic than applied," he says. Still, "the work I've done has contributed to the ongoing development of new therapies," including, indirectly, lithotripsy, which pulverizes kidney stones with ultrasound.
Roy says he was very surprised when he learned of the award. "I didn't see myself as deserving it," he says. "They have a higher opinion of me than I do."
But he took special pleasure in being recognized by peers, he says, especially as "my primary mentors in my life have all won this award," which according to him is the society's top honor for technical achievement.
Roy, who earned a Ph.D. at Yale and is chairman of ENG's mechanical engineering department, specializes in physical acoustics, the study of how acoustic waves generate and propagate and how sound and matter act upon each other. His interest in science dates to his childhood in Maine, when his mother managed to buy her son science kits from a tight family budget (she was a millworker, his father a shoe shop employee). She'd help him set up experiments in his room and went with him to science fairs throughout Maine.
"It is apparent that Ron has been an avowed scientist since he was a child," the Acoustical Society award citation reads.
Roy is the 17th scientist to receive the Helmholtz-Rayleigh medal since 1983.
Rich Barlow can be reached at barlowr@bu.edu.