Big Ideas Reap Big Rewards
College of Engineering benefits from new fellowship, awards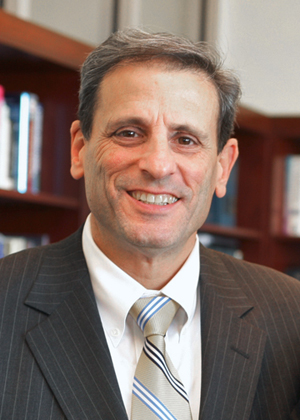 The College of Engineering has reason to celebrate: a sizable fellowship was recently named in honor of the dean and two mechanical engineering professors have received top awards in their field.
Coincidentally, these accolades come during National Engineers Week 2010, which several ENG student organizations are marking with special events through February 26.
The Kenneth R. Lutchen Distinguished Fellowship Program, created by an anonymous donation from a former student, will award a total of $100,000 annually to 10 undergraduate engineering students to fund summer research projects.
Lutchen, dean of ENG, says he is honored, humbled, and stunned by the donor's desire to create and fund a fellowship in his honor.
The students will receive $10,000 apiece to pursue summer research after sophomore or junior year. They will work closely with faculty, focusing on a range of topics, from tissue engineering and biomedical optics to photonics and wireless sensing.
Applications are available to incoming freshmen and this year to rising juniors and seniors, says Lutchen. Each fellow must maintain a 3.0 GPA. The program is open to all engineering undergraduates, regardless of major.
With this fellowship, he says, the college aims to make BU a top choice for future engineering students.
"It's a great way to add some direction, focus, ambition, and experience as students figure out what to do the rest of their lives," Lutchen says.
The summer fellowship is a more concentrated version of the Biomedical Engineering Student Design Program Lutchen started as a young faculty member. The program is a yearlong project that has seniors tackling a real-world engineering problem. The projects are then presented at the Annual Senior Project Conference, started 25 years ago, also by Lutchen.
Meanwhile, two mechanical engineering professors are setting strong examples of how solid research can be rewarded.
Katherine Yanhang Zhang (center). Photo by Matt Kalinowski
Katherine Yanhang Zhang, Clare Boothe Luce Assistant Professor of Mechanical Engineering and of Biomedical Engineering, recently received a National Science Foundation Faculty Early Career Development award for her work exploring how cells are affected when force is applied to tissues in the body.
Often, Zhang says, research is concentrated on individual cells without considering their interlocking nature within tissue. Any change at the cellular level innately affects tissue, and vice versa.
Her research focuses on blood vessel tissue, primarily arteries. Cardiovascular diseases — such as high blood pressure or the clogging of arteries — place stress on these tissues and cause deformation.
Zhang will use engineered materials that mimic arteries to study how force affects cells within arterial walls. "Based on those understandings," she says, "you can develop some kind of therapeutics or drugs" to help people suffering from cardiovascular disease.
The NSF award, $400,000 over a five-year period, will allow Zhang to support graduates and undergraduates collaborating on her research. She also plans to mentor high school students, especially girls and minorities, and integrate lessons learned from the lab into her University courses.
Xin Zhang. Photo by Kalman Zabarsky
Xin Zhang (no relation to Katherine), an ENG associate professor of mechanical engineering and an ENG Distinguished Faculty Fellow, received a three-year grant, at $200,000 a year, from the Advanced Energy Consortium in late December to study how underground resources, such as oil, can be measured despite physical obstacles.
The research, based on an idea proposed by Bradley Kaanta (ENG'10), a third-year doctoral student in mechanical engineering, uses cutting-edge physics principles. Postdoctoral research associate Yiling Qiu (ENG'09) will assist in carrying out the research.
In traditional oil mining, companies drill and capture half of the existing underground reserve, Kaanta explains. At present, the only way to quantify what's left is by drilling holes around the main site. His idea would employ physical probes that branch out from the main hole.
AEC is a consortium that includes BP America, Inc., ConocoPhillips, Petrobras, and Halliburton Energy Services, Inc.
"They're trying to enhance recovery efforts," Kaanta says.
The ENG group's research could appeal to environmentalists, who prefer more concentrated use of existing oil reserves rather than additional exploration, he says, especially in ecologically sensitive areas.
The technology used to study underground oil reserves could have applications for energy transfer above ground as well. Within five years, Qiu and Kaanta predict, laptop and cell phone users will be able to charge up simply by being near energy sources, no cords necessary.
Zhang, the project's principal investigator, is proud of how far her students have advanced their research.
"I don't need business cards," she says. "I just mention my students' names."
Leslie Friday can be reached at lfriday@bu.edu.