Thanksgiving On and Around Campus
Staying put? What's happening Turkey Day weekend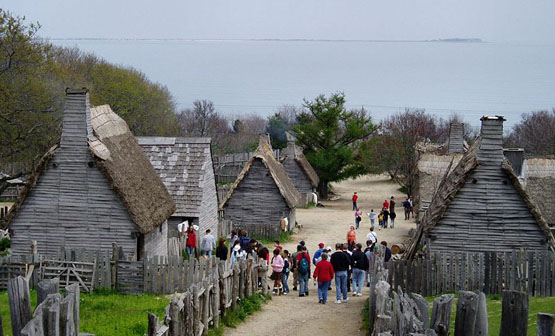 Not everyone makes the trek home for Thanksgiving. It's a short break, after all, and traveling on the busiest migratory weekend of the year can be harrowing and expensive. Cars clog the highways, and the average airline ticket over the next few days is a hefty $361, according to Priceline.com, with even higher prices for booking last minute. For students from overseas, for whom Thanksgiving is not steeped in tradition, longtime emotional tugs don't push against the pragmatic problems, so it makes sense to stay put.
But it can be a little disconcerting, even lonely, to be solo this weekend. For the minority not experiencing family, football, and turkey, here is a rundown of some interesting events and alternative takes on the holiday.
On campus
All dormitory residences and on-campus eateries are closed, but some students have arranged to stay in the Hotel Commonwealth, according to Marc Robillard, director of housing. He estimates that about 150 students will be around this year.
For a traditionalist, turkey remains a priority. So Marsh Chapel is hosting a Thanksgiving Dinner, beginning at 1 p.m. It is free, and turkey will be on the table, but guests are encouraged to bring food or a small donation for a food pantry.
Michah Christian (STH'11) is planning the event. "I've talked to students who were charged $60 last year for a pretty bad Thanksgiving meal at some hotels, like hamburgers and hot dogs," he says. "This dinner is open to everyone."
The Marsh Chapel Thanksgiving Dinner is on Thanksgiving Day, November 26, at 1 p.m. Marsh Chapel is at 735 Commonwealth Ave. For more information, contact Micah Christian or call Marsh Chapel at 617-353-3560.
This year, Alumni Relations is encouraging local alums to invite students into their homes. Sabrina Singh, assistant director of international alumni networks, is spearheading the project. "It's a great opportunity to provide a service to students during Thanksgiving," she says, "and it also connects current students to local alums."
Boston-area alumni who live in areas accessible by T have signed up to host two to four students. The program was advertised to students who booked housing in the Hotel Commonwealth over the break, as well as through student organizations.
For Deitra Dulce (SMG'13), going home to California was too far to travel for a weekend, so her Thanksgiving plans were up in the air. She was invited by Alumni Relations to spend her Thanksgiving with a Boston-area alum. Singh matched her with an alum whose daughter is on the West Coast; Dulce will trade places, spending Thanksgiving with the family, their 11 guests, and another BU student.
"I think it's a really nice opportunity for students and alumni to connect," she says.
Off campus
Want to get out of the city? Escape to where the tradition started: Plimoth Plantation, the birthplace of Thanksgiving. The museum has re-created the historic look of Colonial homesteads, including a Wampanoag Homesite and a 1627 English Village. A replica of the Mayflower is in Plymouth Harbor as well. Admission to the plantation is $24.
The site also offers dining. For an additional $17.99, you can have Thanksgiving dinner in the visitor center's courtyard, no reservation needed. If you're saving room for a Thanksgiving feast later in the day, an à la carte menu features sandwiches, clam chowder, and desserts.
Plimoth Plantation is at 137 Warren Ave., Plymouth, Mass. Directions are available here.
For an alternative perspective, attend the 40th National Day of Mourning, sponsored by the United American Indians of New England. While millions celebrate, Thanksgiving remains bittersweet for Native Americans; one culture's thanks is for another culture's loss. New England Native Americans gather on high ground above Plymouth to mark the moment; all are welcome to join them.
Coles Hill is within Pilgrim Memorial State Park, next to Plymouth Rock, on Water St., Plymouth, Mass.
Back in the city, a Thanksgiving tradition of serving others has long been part of the holiday. Boston is home to many shelters and food banks that rely on volunteers.
Set up, serve, and break down Thanksgiving with the Boston Living Center, a community and resource center for people living with HIV; the organization hosts a dinner at 5:30 p.m. at the Hynes Convention Center. Or check out the Pine Street Inn and St. Francis House, both long-standing residences where the city's neediest congregate.
The Boston Living Center, 29 Stanhope St., Boston, holds its dinner at the Hynes Convention Center, 900 Boylston St., Boston; the Pine Street Inn is at 444 Harrison Ave., Boston; St. Francis House is at 39 Boylston St., Boston.
Black Friday shopping
Come the day after, with tryptophan effects worn off, Black Friday kicks off the holiday buying season with its traditional imperative to shop 'til you drop. For electronics and computer equipment, get up before sunrise and head to Best Buy for its 5 a.m. opening. With locations in the Landmark Center and on Newbury Street, the store will have myriad deals.
Best Buy is at 401 Park Drive and 360 Newbury St., Boston. Directions are here.
Also in the Landmark Center, Staples opens at 6 a.m., with sales on cameras, GPS systems, and computer accessories. Or travel a little farther to Target, which open its doors at 5 a.m., then work your way back home for brunch.
Staples is at 401 Park Drive, Boston; Target is at 7 Allstate Rd., Dorchester, and 550 Arsenal St., Watertown.
Amy Laskowski can be reached at amlaskow@bu.edu. Brendan Gauthier can be reached at btgauth@bu.edu.