Not Your Family's Nutcracker
Burlesque transforms the holiday classic this weekend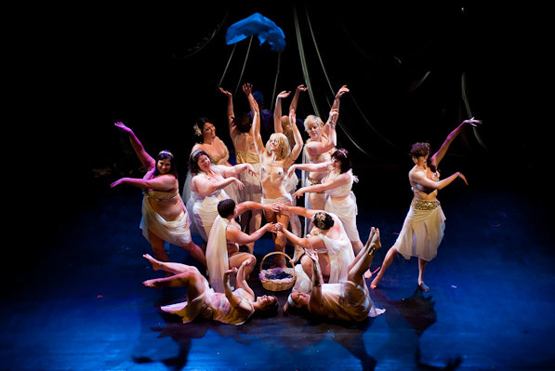 The Boston Ballet's Nutcracker is a magical experience — the first five times you see it. If you're looking for a slightly more risqué evening (in a venue that won't discourage boisterous applause after a few too many eggnogs), try The Slutcracker, a burlesque update of the Tchaikovsky classic running this weekend at the Somerville Theatre.
Created and directed by Vanessa "Sugar Dish" White, a well-known dancer in Boston and a former editor of Boink (the college sex magazine founded by BU students), the show tweaks the basic Nutcracker plot to fit the sexy, tongue-in-cheek standards of burlesque. After attending a boring Christmas party with her boyfriend, uptight Clara receives a sex toy that transforms into a prince, leading her on a magical journey of sexual discovery via dances that are by turns raunchy, witty, and empowering. Yet for all the nose-thumbing at traditional ballet, the choreography and dancing are first-rate, a mix of ballet, hula-hooping, and striptease performed by members of local troupes Babes in Boinkland, Thick, Ballet Lolita, and Can Can Revolution.
Last year's inaugural production earned the distinction of drawing snipes from both religious conservatives and art purists, but public appetite for The Slutcracker wasn't sated. The group doubled the number of shows this year, and performances have been selling out. Tickets are still available for this weekend.
The Slutcracker: A Burlesque plays Friday, December 18, at 8 p.m., Saturday, December 19, at 8 p.m., and Sunday, December 20, at 2 and 8 p.m., at the Somerville Theatre, 55 Davis Square, Somerville. Tickets are $20 (plus a $1 theater restoration fee) and may be purchased online or in person at the box office between 4 and 8 p.m. Additional information is available here.
Katie Koch can be reached at katieleekoch@gmail.com.